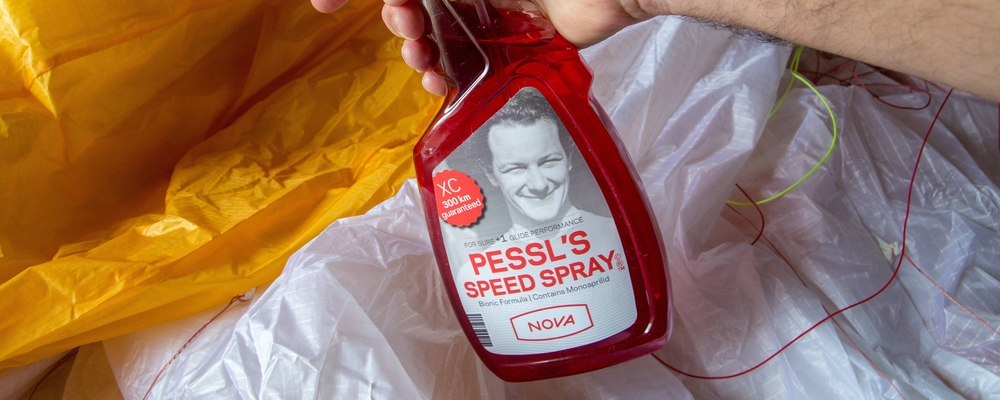 NOVA presents bionic spray for paragliding performance optimisation
[April Fool] Pessl's Speed-Spray
NOVA begins the 2018 XC season with a sensational innovation: Pessl's Speed Spray, a special compound, which is applied to a paraglider to optimise the performance of the wing. Depending on the wing model, the glide number can be improved by 0.9 to 1.27. Pessl's Speed Spray (PSS) was developed in collaboration with Berni Pessl – one of the world's top cross-country pilots. The spray is based on a bionic active substance, which contains 1.4-Monoaprilid, derived from the slime on eel skin. Thus, PSS is made from sustainable raw materials and is therefore also biodegradable.

On the 1st of April, NOVA launched the new Pessl Speed Spray at a press conference in the Dorfwirt pub near the company's headquarter in Terfens, Austria.
Philipp Medicus, Head of Design & Development at NOVA, explains: "Along with major manufacturers of sail cloth, we have spent a lot of time working on our vision of three-dimensional weaving or a finish. As a result, like sharkskin or a golf ball, intentional unevenness creates micro-turbulences that form a boundary layer, which is smoother than the actual fabric surface. Until now, all attempts did not produce the desired effect, made the cloth too heavy, or were completely unaffordable. Then Berni Pessl revealed his big secret."
Discovery by chance encounter
Pessl, a likeable young Austrian who works as a social worker, smilingly told us about his accidental discovery of the substance: "This nearly unbelievable story happened four years ago. As usual I was out flying XC, but unusually I bombed out. I landed right next to an angler on the shore of Lake Ossiach. He had just caught an eel and was attempting to get it off the hook. I don't know a thing about fishing, but when the angler asked me for help, I was more than happy to oblige. It's amazing how slimy eels actually are. Then I packed up my wing. The next time I went flying, my wing got a little wet – but some areas stayed completely dry. I looked more closely and saw handprints. They were my handprints where I got eel slime on the wing whilst I was folding it. It was crazy. I was like electrified. So I got an old wing, a bunch of eels and started doing my own systematic investigation on the effect of the slime. The result nearly knocked me sideways: the eel slime markedly improves the aerodynamic attributes of the cloth. I have to admit, that I used this to my advantage when I completed my 300 km FAI triangle on the MENTOR 3."
Pessl and NOVA started a systematic scientific analysis of the eel slime and discovered the active ingredient 1.4-Monoaprilid. This substance creates a so-called hyper-smooth surface – resulting in a real performance advantage.   
Cooperation with fish restaurant chain
Meanwhile NOVA has perfected the industrial production of 1.4-Monoaprilid. "We have signed a long-term contract with a chain of fish restaurants and buy up any waste products from the manufacture of smoked eels", says Medicus. "We then filter the slime and, using a sophisticated plasma procedure, we extract the 1.4-Monoaprilid."
This obviously raises the question why NOVA is selling the spray as an aftermarket product, rather than treating all new wings with the product? Typical for NOVA, the company is quite open about the disadvantages of Pessl's Speed Spray:
 
The longevity of the spray is still in doubt. As an organic substance, 1.4-Monoaprilid deteriorates quickly when exposed to UV-rays. After a good cross-country flight of eight to eleven hours in the air, the spray needs to be reapplied.
 
Pessl's Speed Spray also smells a little fishy. However, NOVA is working on masking this odour with a subtle cappuccino aroma.
 
The high costs. Wolfi Lechner, NOVA general manager, explains: "Firstly, there isn't an unlimited supply of eels. Secondly, the extraction procedure is onerous. And thirdly, we invested a lot of money in this project and want to really cash in. But I predict that in the near future it will be impossible to win a competition without Pessl's Speed Spray."
 
NOVA and Pessl will therefore work in conjunction with Paraclinic, a neighbouring repair and service workshop, to develop cloth spraying on an industrial scale – just in time for this season's Paragliding World Cup tour (PWC). Dr. Mag. Michaela Brandstätter of Paraclinic explains: "We can fully confirm all the claims NOVA have made. Pessl's Speed Spray is a miracle. It can be compared to the fluoride powders, which are now essential for winning ski races, whether downhill or cross-country. We are already being inundated with requests from the world's paragliding elite. But you know what they're like… None of them want to get their hands dirty. They'd rather pay us than have fishy fingers..." Will this mean a paragliding performance explosion in the near future? We're waiting with baited breath.
NOVA Pessl's Speed Spray will be available for purchase from dealers and from NOVA directly from the 1. April 2018. The 500 ml spray retails at 198 euro (recommended retail price including atomiser).