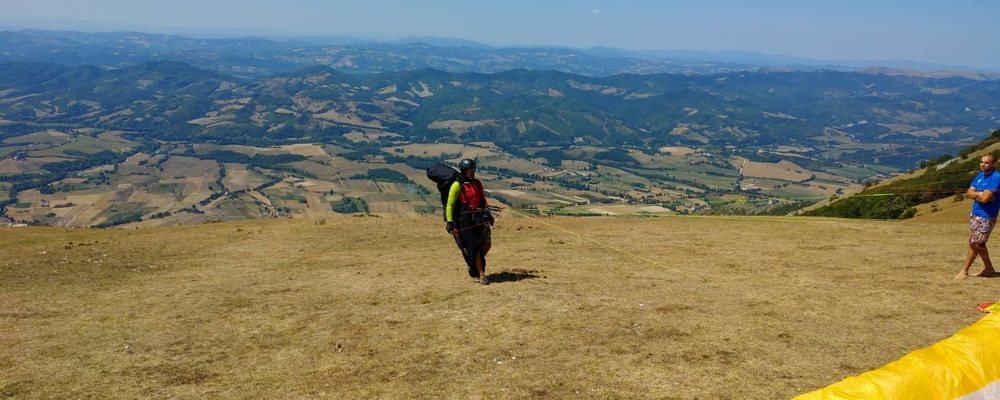 RINALDO, THE CONVERGENCE RIDER
On August 12, NOVA Team Pilot Rinaldo Vuerich flew a new site record from Monte Cucco take-off. Rinaldo launched his SECTOR (EN C) at noon and flew 171,69 km (open distance) in 6:10 hours, averaging 27,93 km. On his flight, he often benefited from the convergence between the Tyrrhenian Sea to the west and the Adriatic Sea to the east, riding high (up to 3336 m) above the main ridge of the Apennine mountains. Monte Cucco is situated halfway between Perugia and Ancona and a well-known site that has seen several national and international comps. His report: "On Saturday night (11th of August) the weather forecast was good for Monte Cucco – perfect to take advantage of the famous convergence between the Adriatic and Tyrrhenian Sea. Let's go!
Early in the morning, I drive by car to the train station in Orte. My plan is to take the train north, leaving the car in a convenient location like Orte – somewhere close to where I plan to land. At 10 am, I arrive in Fossato di Vico, where my hangglider buddy Stefano is waiting to drive to the take-off.
I launch at about noon – and conditions are sooo good! Some cumulus thermals in the beginning, and after about one hour I manage to reach the magic line! Soaring Castelluccio in Sibillini Mountain ridge is fantastic. After that Laga: a dream! Passing Campotosto Lake, which usually represents a big challenge, is incredibly easy. Until here my average altitude was about 3000 meters!
 
In front of me the legendary landscape of Gran Sasso and magic fields of Campo Imperatore. Passing this is easy and again like a dream. Finally, a little mistake makes me bomb out where the Morrone Ridge begins. My 200 km plan didn't work out. But the flight itself was simply sooo good. It will always stay in my mind!!! I am very happy that this dream came true, and I am very happy for having flown it completely relaxed with my SECTOR."
Link to flight:
https://www.xcontest.org/world/de/fluge/details/:v.rinaldo/12.08.2018/10:05