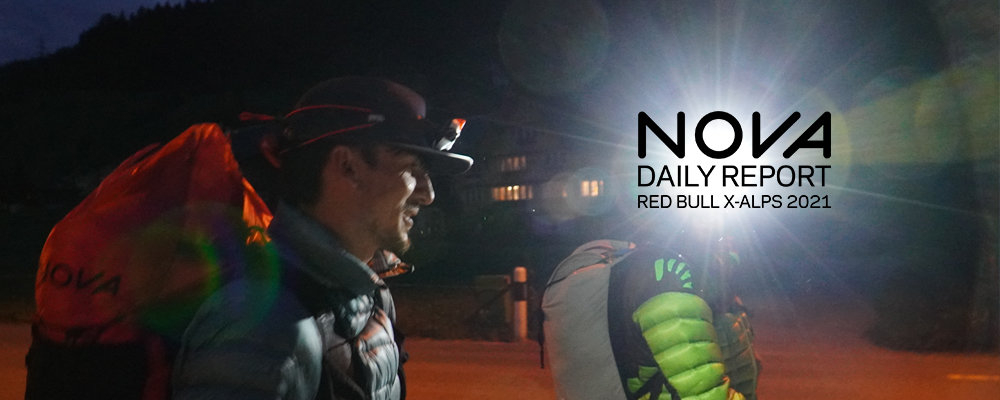 Day 7
NOVA X-Alps Blog: SAT, 26.06.21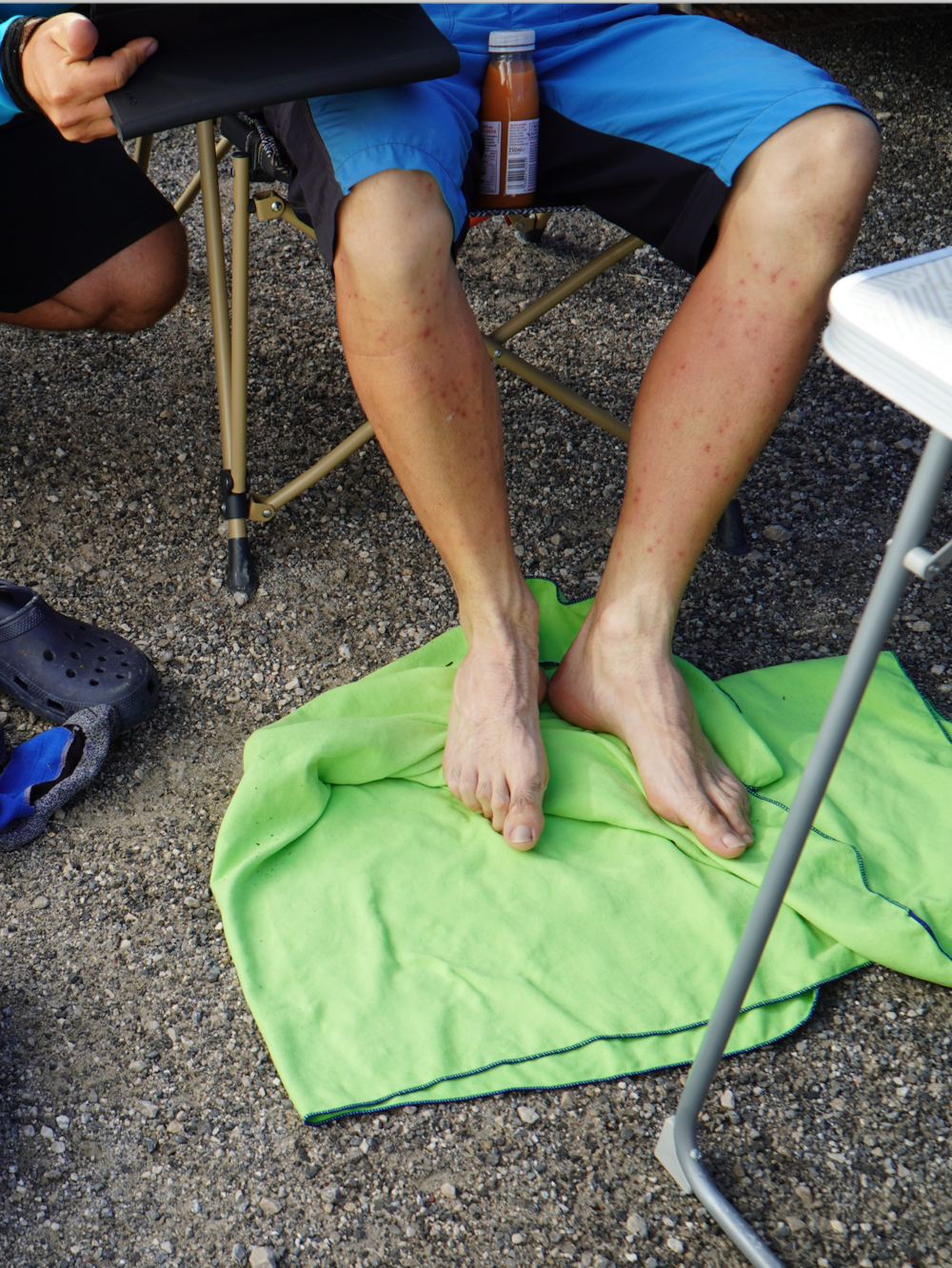 Review of yesterday evening, Friday, 25 June 2021
Nothing much really happened any more. Ceasefire. Obviously, the athletes were conserving their strength, hoping for a good flying day on Saturday. For whom it made sense, they climbed a few more metres, but even that was not a must. For there would be no glide & hike early in the morning. Everyone would wait to take off until the real chase was to begin.
And how could poor Nick Donini take advantage of his Night Pass? As expected: not very well. But that was not because of Nick, but because of the terrain between the Säntis and Lake Walen. It's simply not very suitable to munch miles as if it was leading straight ahead in the right direction on the valley bottom... Nick could only do a little good and certainly less than he had wished for himself.... 
Young Austrian Tom Friedrich was most likely even more disappointed. The Styrian, only twenty years old, had so far delivered a very spirited race, solidly ranking in the midfield. But during a hard landing he injured his foot and had to give up the race. Get well soon, Tom, and the greatest respect!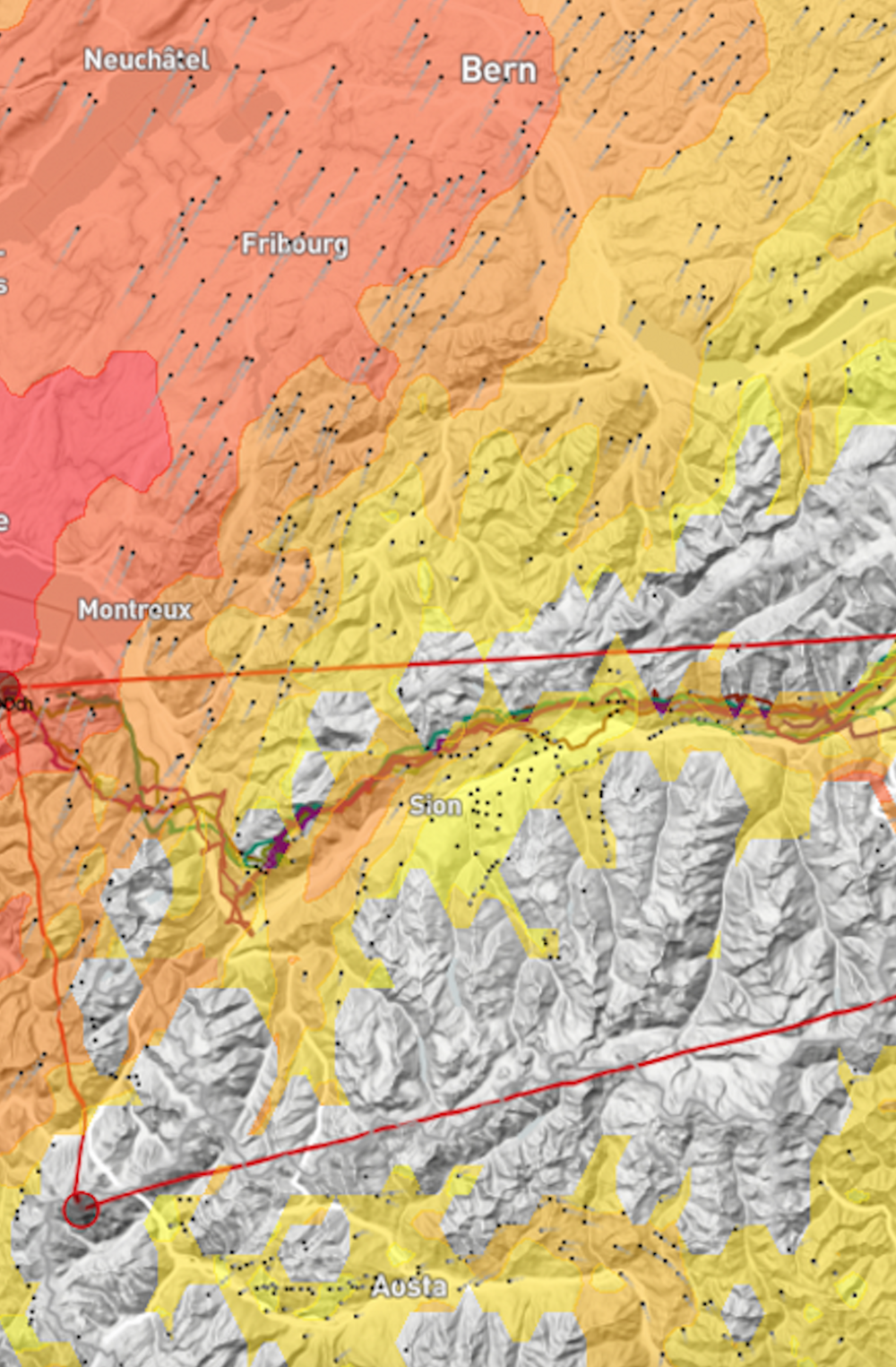 Saturday, 25 June 2021, 10 a.m.: The hunt begins
As one would expect, thermals work first above Fiesch - and nowhere else or a while. Michael Gierlach, Tobias Großrubatscher, Markus Anders and Damien Lacaze can start first and make up ground, while their competitors further in front and further behind still have to exercise patience.
Soon after, Maxime Pinot, Chrigel Maurer and Benoit Outters also get airborne at turnpoint 8, the Dent d'Oche. At first, they fly more or less in formation. Have Maxime and Chrigel connected with an invisible line? And how long is this line? Often their wing icons are directly above each other in the live tracking. They are watching each other: Is one waiting for the other to make a mistake? Or do they agree to fly together? Outters has to let go a little bit, but stays well on their heels...
Meanwhile, Patrick von Känel is storming up the mountain. From the bottom of the Rhone Valley he has to climb as quickly as possible so that he can thermal fly before the leading trio gets too far ahead. Meanwhile, Simon Oberrauner and Aaron Durogati team up. Initially they lose some ground before accelerating again. The crux in this region is that there are thermals in lower altitudes, but they are blown away further up. The pilots need a lot of feeling and patience.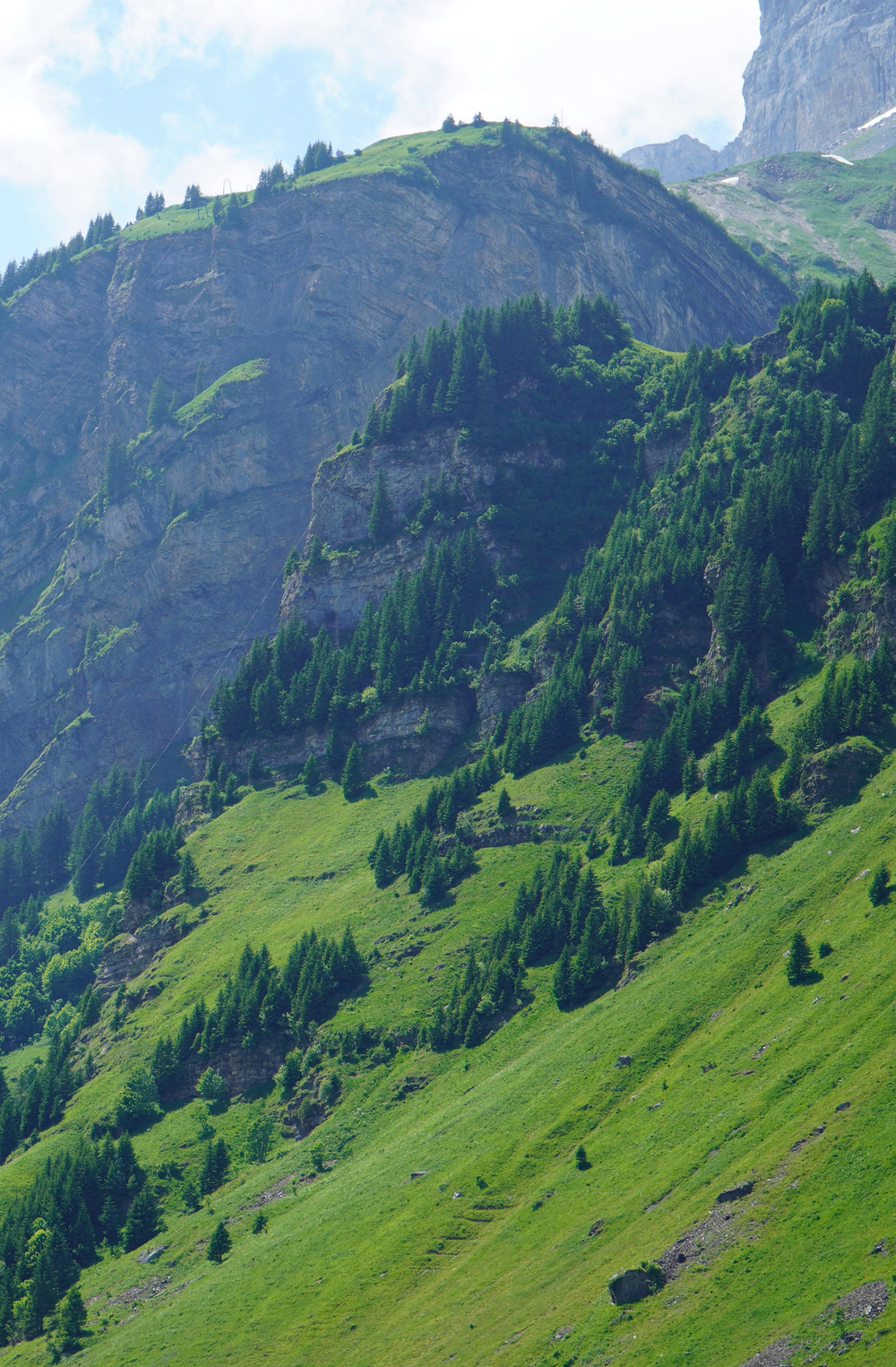 The second guard with the turbo
The situation is different on the eastern side of the Rhone Valley. Here, Tobias Großrubatscher and Damien Lacaze can build up plenty of altitude. They fly along the steep southern walls of Les Diablerets and head farthest north before they set off to cross the Rhone valley. Thanks to their good altitude and because the valley wind is not so strong yet, they can sneak up to 1650 metres on the west side of the valley. Superbly done! This brings them closer to the turnpoint than anyone else so far. That's how it works. They only have to climb a few metres to Col Vernaz by foot, where they immediately start again. As hoped, they catch up and are able to circumnavigate Turnpoint 8 in the air quite quickly. The two have turned on the turbo today.
Markus Anders and Michael Gierlach are less patient after their chase through the lower Valais. Or maybe they are just a bit unlucky. They cross the Rhone Valley earlier and with a lower altitude from east to west and are punished with a landing down in the Rhone Valley. And that is at 430 metres only...
Paul Guschlbauer crosses even further south. The old fox cleverly slips into the valley of Morgins. Protected from the valley wind by the over 2000 metre-high Pointe de Bellevue, he is able to slowly but steadily dig his way out and push forward. Great job!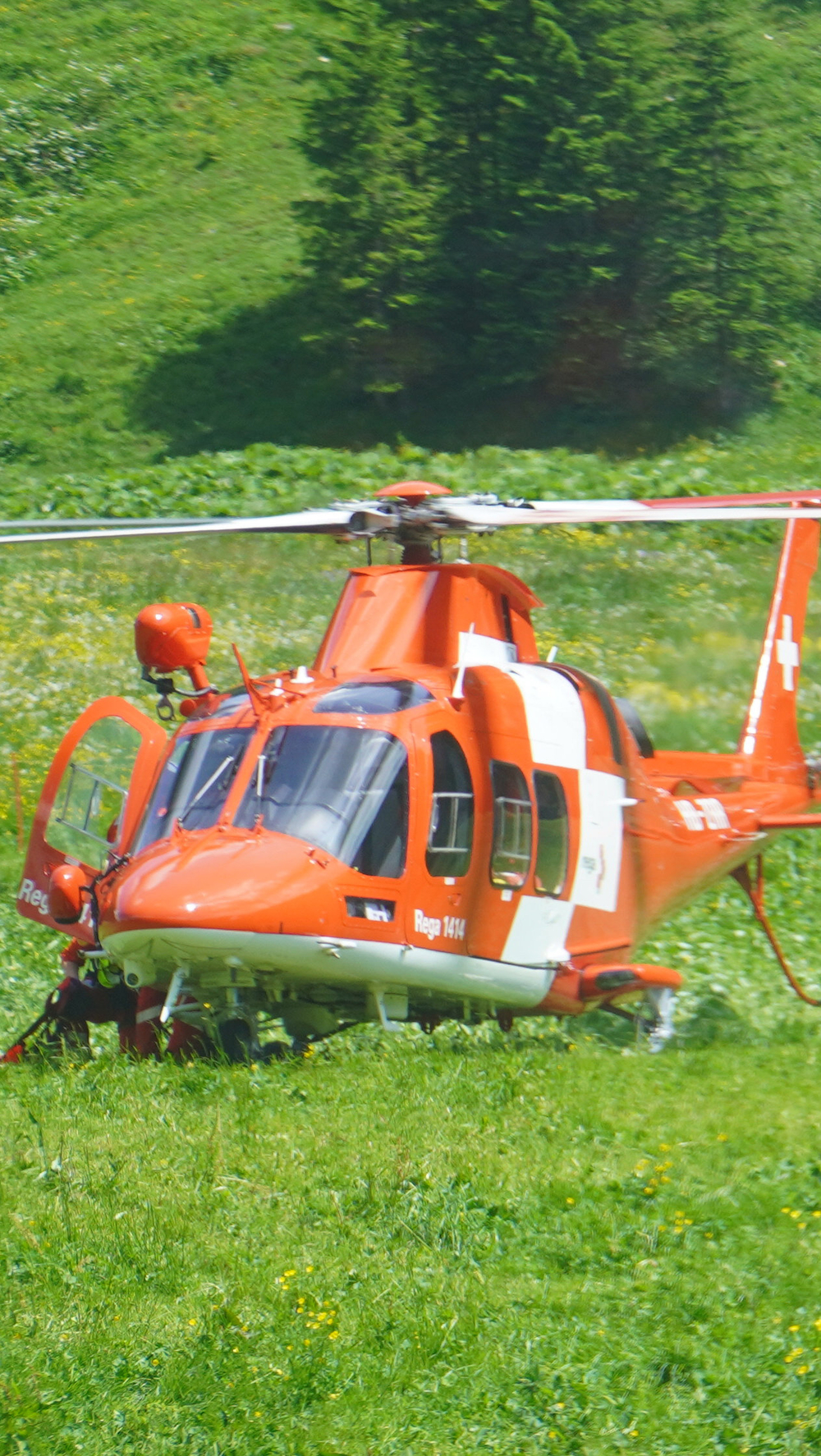 The backfield pulls apart
In the morning, Manuel Nübel, Michael Lacher, Eduardo Garza, Theo de Blic and - after a magnificent morning flight with an incredible amount of feeling and patience - Nick Donini initially form a quintet. They make quite good progress until the gaggle falls apart again before the Klausen Pass. 
Garza takes the battle line and turns south at the Klausen Pass to try his luck on the north side of Clariden, Großes Schärhorn and Groß Windgällen (which doesn't really favour him). The German duo Lacher and Nübel, who is having a good day today, fly an arc northwestwards. It's a bit longer, but it allows them to make steady progress. 
And our boys? Nick Donini unfortunately has a crash shortly before the Klausen Pass (Switzerland) and is taken to hospital as a precaution. According to his supporters, he tried to avoid a cable that he had previously overlooked and thus landed "ungently". Because of pain in his back he is flown to hospital by helicopter for examination. At least he climbs the helicopter on his own feet. We hope that Nick is not seriously injured and will report when more detailed information is available.
Théo de Blic was flying right next to Nick at the time of the accident and also into the cable! But the Frenchman was lucky: only his paraglider was damaged. He continues the race with his spare wing now.
The ladies go their own way
At the very back, the US-boys Cody Mittanck and Gavin McClurg try to catch up and both pull their Night Passes. Laurie Genovese and Yael Margelisch show courage and go their own ways. Unlike all the other athletes, they make a detour eastwards at Lake Walen and fly up the Rhine Valley! Some may have thought what this detour was all about, but all doubters are proved wrong: the two are making up a lot of ground! I think it's great when pilots have the courage to do their own thing. And it's nice when they are rewarded for it. Unfortunately, Kaoru Ogisawa is not so lucky in that respect. His choice of route leads through the middle, so to speak, but is perhaps a little too daring...
Leaders already heading course east 
Around 3 p.m. the leading trio approaches turnpoint 9, Mont Blanc, which has to be flown around to the west. Pinot and Maurer in front, Outters close behind. Maurer and Pinot then cut their invisible connecting cable and fly their own paths here and there - still close together. Beyond Mont Blanc they turn north again. Obviously, the plan to head towards turnpoint 10, Piz Bernina, on the northern route through the Valais and not fly through Italy. Around 6.30 pm Maxime Pinot is able to fly a few kilometres ahead of the still reigning X-Alps king Chrigel. For the first time Chrigel is under real pressure. Will he continue to fly flawlessly? And from behind, Benoit Outters is coming closer again. Even von Känel, Oberrauner, Großrubatscher, Durogati, Lacaze and Guschlbauer are not yet away from the place in the sun.
My God, this is exciting! When am I supposed to eat dinner? My wife complains: Are you glued to your screen?
Text: Till Gottbrath (Captain NOVA Team Pilots)
PS: This is the video of day 7. Find more clips in our Facebook playlist.