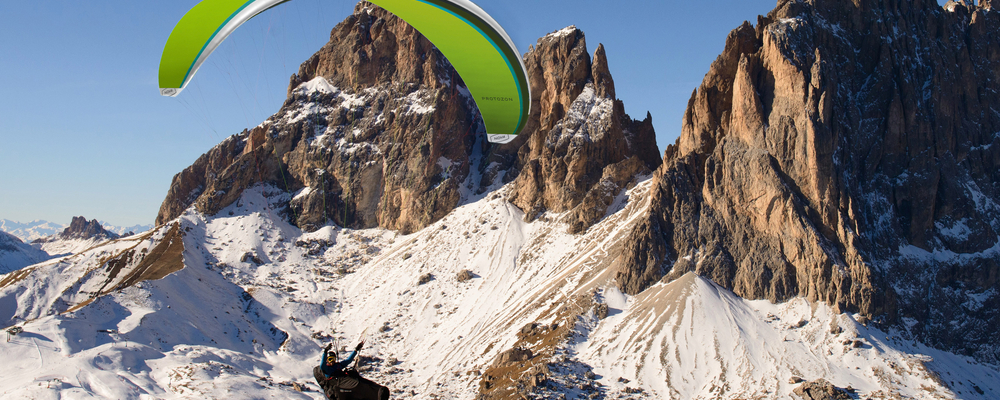 Amazingly simple – simply amazing!
[April Fool] NOVA PROTOZON - Challenging the sport of paragliding
With the PHANTOM, we raised the bar for paraglider construction complexity to a new level. 99 cells in a low-end EN B wing required a radically new design, which combined safety, performance and the sense of flying a high-performance glider in a way previously unknown in paragliding. But the complexity of production is immense.
This, of course, lead to lots of controversy in the paragliding community – as well as within the company. The resulting discussions haunted our chief designer Philipp Medicus' nightly dreams. During one of them, he came up with a brilliant new idea. Lead by the principles of bionic design, he developed the world's first ever single-cell wing and named it PROTOZON, of course. Nature always has the best answers. You just have to look to the natural world for inspiration.
Following the motto of "reduce-to-the-max", we began our radical simplification concept. After numerous hours at the computer, the PROTOZON started to take shape. We soon realized that: the performance is incredible, the wing weighs very little and the complexity of production is manageable. The PROTOZON is 99 times faster to stitch than its opposite, the PHANTOM.
The design highlight is the ACPT, short for 'Absolutely Constant Pressure Technology': The internal wing pressure is not restricted by cell walls and spreads equally across the entire wing span. We achieved this through the use of the innovative Monoaprilid cloth. This ultramodern fabric was devised in collaboration with the Austrian Textile Technology Centre (TTZ). It features two world firsts - the Monoaprilid fabric is manufactured through 3D weaving, a production technique, which is similarly used to make stand-up paddle boards. The 3D weaving  eliminates the need for additional cells.
The outer surface of the Monoaprilid fabric is also a bionic design. We call it Shark Skin Finish (SSF). SSF is applied as a plasma coating and creates a nanoscale texture on the cloth. Like a shark's skin, micro vortices in the upper layer create a hyper-aerodynamic surface. Thanks to these micro vortices, the air flows over the wing with far less drag than on cloth, which does not use SSF. This has resulted in a marked increase in performance.
Thanks to the simple construction, we managed to reduce the number of line attachment points and therefore the overall line length, resulting in another performance plus. However, we will not stop there! The first PROTOZON prototype was constructed as a one-liner. This increased the performance by a whole glide ratio point. But the handling suffered. And a one-liner isn't easy to accelerate. Roll, pitch and yaw behaviour also need to be improved - so more to come...