NOVA Full Service
NOVA Full Service
When it comes to checks we are very particular - that's why we don't just call it a check, but a NOVA Full Service. We check all the details of the paraglider: porosity, line lengths, correct trimming, etc. With our in-house developed software package, the Quality Assurance Database (NOVA QAD), the person servicing the wing can view previous checks. You too can view your glider's service history - which is obviously protected by password.
Like during the NOVA Trim Tuning, the person servicing the glider will measure all the lines and feeds the data automatically into the diagnostic software. Using the measurements, the software calculates the sail trim and suggests possible trim corrections. These are evaluated by the person servicing the glider and then implemented through loops at the carabiners.
All measurement and check data is held centrally and can be downloaded and analysed at any time using the Quality Assurance Database. This allows us to determine how, in what distribution and to what extent the lines go out of trim. Using this data we can draw conclusions and improve our know-how on lines for future gliders. As a technical and innovative company we are always concerned with further development and safety.
Guarantee terms and conditions ↗
Find your nearest NOVA Service Partner ↗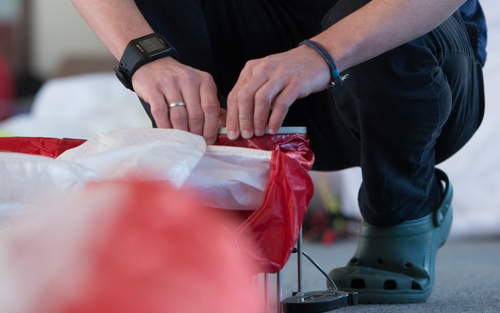 We service your wing!
You want to have a NOVA Full Service, a check of your wing, done? Contact your NOVA dealer or simply send us your paraglider. Fill out the Service sheet (download) and attach it to your paraglider.
Our Address:
NOVA Performance Paragliders
Pécsbányatelepi út 2.
7627 Pécs
Hungary
You'd like to find out more?
Guarantee terms and conditions ↗ 
Find your nearest NOVA Service Partner ↗