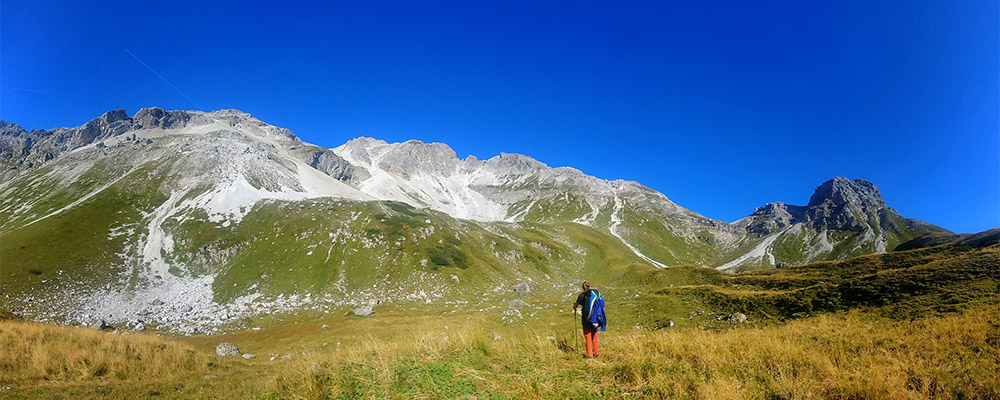 Irene and Remie challenged themselves
Vol-Biv from the Gerlitzen via Werfenweng to Mayrhofen
Vol-Biv is the abbreviation of vol-bivouac and means that you cover a distance over several days on foot and with a paraglider, spending the night in a tent in the countryside (usually up on the mountain). The necessary outdoor equipment has to be carried as well. This was Irene and Remie's first attempt at this kind of journey and they shared their experiences and emotions of the Austria Tour with us. So if you are also thinking of trying out Vol-Biv (over several days), you can certainly learn a lot from their story.
Who are you and why do you fly?
My name is Irene Weijers and my partner is Remie Denehy. I'm a mix, Panamanian and Dutch. I get asked often where I come from since my accent is not familiar to others. Remie is Australian as you can probably hear from his accent. As I grew up in the mountains of Panama before moving to Europe, I feel most at home in them. Remie has been chasing mountain sports since he was young, from Mountain Biking to Snowboarding, he loves learning how to move through mountainous terrain as efficiently as possible. We have been flying for a few years now, from Zillertal to Chamonix and through Spain as well. Both of us have our Tandem license as well and fly solo as much as we can. My laid-back style and love for mountains extends into cross country flying and now more than ever, Vol-Biv. Remie loves to find new lines through the mountains (the more technical the better), and loves a bit of Wagga Wagga (proximity flying) too.
 
How did you get the idea of doing a Vol-Biv from Gerlitzen to Mayrhofen?
2020 has been a strange year. Last winter we had made plans to do as many Vol Bivouac adventures as possible. But life can be strange, and instead we chose to work through the Summer. At the end of August we had some time, so we hitched a ride out of Zillertal toward Gerlitzen with our friend Martin, from where we could start our trip. This route would be perfect, as the halfway point would stop by some friends of ours in Werfenweng.
What did you learn about requirements on equipment?
Paragliding is a gear intensive sport, and even more is Vol-Biv. In the past we have skimped out on cheap tents and cooking setups and chose to soak food cold instead. None of that made us happy, and in the end happiness is the reason we do it. I enjoy the physical and mental struggle you go through when doing these trips, but in the end, if you make every portion of the trip miserable then you may struggle to motivate yourself to go on future adventures. Our most important comforts are a good sleep system (good tent, sleeping bag and sleeping pad) and a cooking setup (warm meals make you smile). One thing we were sorely missing was snack food, as we often skipped lunch simply because we didn't want to waste daylight cooking a meal. This will change next time.
 
How do you feel about your chosen wings as companions on your journey?
I chose to fly the NOVA ION 5, it has been a good companion of mine for about half a year now. The easy launch characteristics and calm flying style works well for me. It was easy to take off even on the toughest launches and as a trustworthy friend it gave me confidence to push forward. Remie flew the MENTOR 5. He has been flying it for 2 years and knows it well. I've heard him praise the wing on many occasions over the past 2 years for having his back in the best and worst of times. Remie is an avid believer that if you want to push your abilities, you better know your equipment as good as you can.
 
How were the weather conditions on your trip?
As you can expect, September weather can be pretty unpredictable. September wouldn't be our first choice but since we were free all month, we decided it was now or never. We both knew it would be an adventure, but I think that excited us even more. On a good summer's day you could possibly fly the entire 300 km distance between Gerlitzen and Mayrhofen, but that wasn't the point, instead we wanted a challenge. Some days were hard, low cloud base or super stable conditions. But that just made the good days even better. In the end we had a mix of reasonably fine days, and I was happy since we never once had to walk in the rain.
 
How did you manage to catch up with each other after landing?
Something that a lot of people may not know is how many valleys in the Alps have limited or even no phone reception. That caught us off guard a few times. We used a combination of phones and radios. The radios were good for in air communication, but also came in handy if we landed separately in the same valley with no reception. A general rule of thumb for us, is that if one lands down low, the above pilot lands high and waits for the other to hike back up. As Remie has 3 years and I have 2 years flying experience, we decided to be as safe as possible and always stay close by to each other.
What were the most emotional moments on your journey?
On one day, Remie told me he was quite scared for the launch on the south side of the Austrian divide. It was blowing a strong 25-30 km/h south wind and we launched at 2.600 m high. It was similar to Föhn but it was not forecasted to be.
On the last day I landed just after launching. A combination of tiredness and fear put me on the ground, however I didn't feel bad for long as an hour later the skies opened and a huge thunderstorm enveloped the valley.
I think we both had a few tears of happiness during the flight from Zell am See to Wildkogel, as by that point in the trip we had almost given up on making distance in the air. It was a complete surprise considering we couldn't launch until close to 2 pm due to the stability.
 
Do you already have planned the next project, and will you do anything different?
We are planning to do another Vol-Biv in France next summer in May. The plan is to start in the south and move north toward Geneva. Next time we would like to improve our timing more, as we were often walking when we should have been flying or flying when we should have been waiting. With any trip we do, we learn more about each other and how to work better as a team.
Do you have any tips for Vol-Biv newcomers?
Surprisingly, you really don't need to be Antoine Girard to do a Vol-Biv. All you need is an idea, be motivated and come prepared. Being a confident pilot, knowing your equipment is a must, and you need a good understanding of mountain flying too. Start small and move up, don't try to fly the length of the Alps for your first trip. Vol-Biv simply means "fly-camp", it encompasses everything from an overnighter to grand adventures in mountains far away.