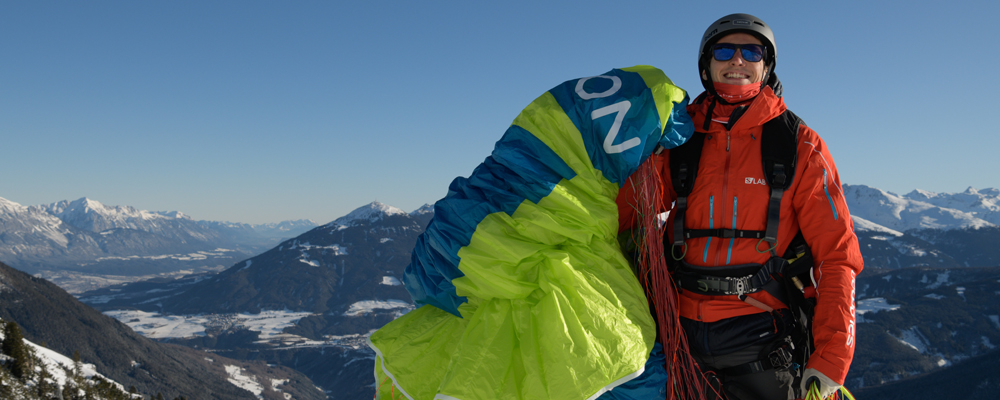 The secret is revealed
Théo de Blic joins NOVA
Théo, why did you decide to work with NOVA? 
"It all started at Coupe Icare 2019. My contract with Gradient was ending on 31st of December 2019 and I began talking to various paragliding manufacturers.  NOVA was one of the potential partners I was particularly interested in.
Being a professional pilot, the company I fly for is my most important sponsor. So, I have to take really great care with whom I team up with. I have several criteria, which are really important to me. What I love the most is flying, my passion for paragliding is absolutely endless! So, I want a partner where the people are as passionate about paragliding as I am. I want to be on the same wavelength with the team because I work with them all the time. It needs to feel like a family – a flying family. 
Then I want a company that is actually interested in having me and who also have the need for my skills and for what I do. You know, I want to be useful for my partner. 
Another very important thing is the feeling that the company is able to develop a good wing for me. I have a lot of experience in trimming acro wings, but I need to have the support of a company to develop the basic wing. The R&D team, designer and the factory need to work with me – from the first prototype ideas all the way to the final product. I also want a company that has the skills and is fully motivated and focussed on fulfilling these criteria.
Last but not least, I also need a company that is a serious, professional partner - with a long company history and a god reputation. I have a photo from when I was two or three years old, standing in front of a NOVA banner. So, I am familiar with the history of the company. They have been a major player within paragliding for a long time. They are trustworthy."
Sounds very strategic and professional. But how did it actually happen?
"Well, after the first contact with NOVA, I started to check all my criteria even more thoroughly. I instantly felt that the entire team is extremely passionate about flying. Except the bookkeeper, every NOVA staff member is a pilot. We speak the same language!
They were also highly interested in having me on board and benefit from what I have to offer. I felt that they were simply happy to welcome me. One of the things that also definitely convinced me to join NOVA was the fact that they invited me to visit them at their headquarters in Tyrol. I could meet all the people working there, learn more about the company and their vision. I spoke directly to Philipp Medicus, the head of R&D, and Fabian Gasteiger, the test pilot, who is a good acro pilot too. I was immediately seduced by what I saw there and could imagine that it would be really nice to work in such a team. So, all in all, I am really happy to be joining NOVA. They fit all my needs and wishes and I really feel welcome! You know, there is a lot of gut feeling involved in these decisions. And it feels right."
Sissi, how do you view this cooperation? Because NOVA isn't an acro brand and Théo is primarily known as an acro pilot.
"We feel similar to Théo. We carefully consider who we want to work with and what our expectations are.
We didn't choose Théo because he is the best acro pilot. This is a long-term cooperation which far exceeds acro. Théo is also expected to be a NOVA brand ambassador. He will exclusively fly NOVA wings, present our products and also, for example, he will produce tutorials that are about general paragliding skills, not just about acro moves.
Théo doesn't have a sponsorship deal with any "lifestyle" brands. This means that in everything he does, he is completely focussed on paragliding. He doesn't need to make videos or perform spectacular stunts to appeal to a wide audience. This is a critical issue for both of us - a complete focus on the pilot community!
He also impressed us with his attitude. With his discipline and determination Théo has completely changed the acro scene – similar to what Chrigel Maurer did years ago with the X-Alps. Théo has elevated the sport to a new professional level. With this attitude he is a perfect fit for the NOVA team – we (no longer) have alpha males on the team, everyone pulls their weight and we work hard and professionally towards our goals. Exactly the same as Théo. It feels good."
Does this mean NOVA will enter into the acro market?
Philipp Medicus, Head of R&D at NOVA: "We'll see. First of all, we will design the perfect wing for Théo. To my own surprise, our "normal" wings benefit from the work on Théo's proto. The more I work on the acro wing, the more excited I get. There are more similarities with a standard wing that I initially thought.
At first glance, Théo's acro proto is a high aspect ratio, 12 m2 glider with a special aerofoil and four line levels. So, it doesn't have much in common with our other NOVA wings. At a second glance, it turns out that some requirements are very similar, e.g. the glider must be very collapse-resistant. It has to reliably exit parachutal stall at high angles of attack. Even a high L/D ratio is relevant.
As a wing designer, I approach these requirements and problems from a completely different angle, because the basic concept is completely different. This new perspective allows new insights, which are also beneficial for our "normal" gliders. Additionally, Théo's perspective and insights are very interesting, because he has a lot of experience with acro glider development."
Théo, you are a professional acro pilot and your equipment is essential for your competitions. Where you worried that NOVA has little experience in this area?
Théo: "It's true, acro is my specialty and my passion. That's where I started and what I am most known for. And if I fly for a company, I then fly only wings from this company. So, obviously I will fly a NOVA acro wing. 
I have to admit that at first, I wasn't 100% sure about a NOVA acro wing. But when we started discussing it, I immediately felt confident. I was convinced that together we could build a great acro wing. We actually already have a prototype and it works quite well!  Philipp and Fabian did a really great job. I am impressed by how much potential the wing has. Considering that this wing is the first acro glider they made, they really did an amazing job. I cannot wait to explore all the things it can do!"
Théo, what exactly will you do for NOVA? 
Théo: "My main job for NOVA will be to promote the brand, to create content, to speak to pilots, to fly NOVA wings, and introduce them to flying schools and dealers. Basically, I will be a showcase for NOVA by doing what I am already doing everyday: flying and being within the paragliding community. 
I will also keep on competing in the acro competitions. It is my main job and what my whole image is about. So, it is important that I keep competing – and hopefully winning… The good thing is that NOVA and I have made a long-term agreement. For sure, this will give us time to create great things!"
Sissi Eisl: "With his videos Théo has a wide appeal – both with young paragliding pilots as well as non-flyers. Many non-flyers first come into contact with paragliding through acro videos! And for many young pilots acro is a motivator to begin the sport. But during instruction everyone begins with an EN A wing. When acro pilots become older, they often develop into very good cross-country or competition pilots. Anyway, technically they are the best pilots. Every acro pilot eventually becomes a potential customer for an XC or comp wing."
Talking of cross-country flying… Will you do more XC from now on, Théo? 
Théo: "I don't do a lot of XC-flying. I do it sometimes but I am more of a hike & fly fan. I love walking as far as I can and then flying. The majority of my cross-country flights are therefore part of a hike & fly tour."
...and what about hike & fly comps? 
Théo: "Yes, I really love hike & fly comps. I did some in the past years and definitely want to do more in the future. I love to run in the mountains and I love to fly. 
This year, the acro comp calendar is pretty full. As a result, I won't have the time to participate in as many hike & fly comps as I would like to. But I will definitely include some in my plans. I would also love to do some of the hike & fly comps like the Dolomitenmann. I have never had a glider to do this kind of competition, even though I always felt attracted to them. But now with the BANTAM, I have the perfect wing for that. I am really excited to give it a try!"