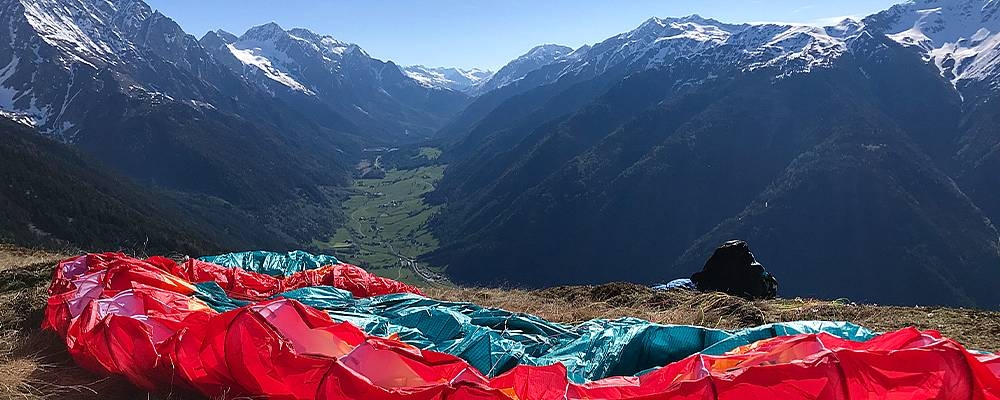 A review of the 2nd of June 2019
On an epic day… think NOVA!
Whether on a tandem or not… the joy of cross-country flying and NOVA go hand in hand. This means we design our wings so that on epic days pilots have the perfect tools for success. We have minimised unwelcome pitch, roll and yaw movements which limit performance. At the same time the handling is optimised to allow the pilot to comfortably fly for ten hours or more. We call this "actually usable performance", which is something that can't be measured with gadgets, but which can be seen in the XContest on days like the 2nd of June 2019.
Stefan and Uli Lauth: 232 km FAI triangle, average 26.54 km/h,   BION 2
Stefan and Uli are multiple tandem German champions. How well this pair fly is proved by this flight. Stefan says: "This was the first time we were at the Grente with the tandem and we managed to pick a mega day. Apart from the north wind in Sterzing which was a bit on the limit, it was an all-round great flight. No big collapses or stalls - just a nice flight. However, active flying was obligatory. Tandem cross-country is a bit of a niche, so I will explain in a little more detail: on this day there were two other tandems who wanted to break the tandem world record at the Grente, Kilian Insam and Martin Oberhofer. The other two arrived in Sterzing a little late and were blocked by the wind and lack of sun. We squeezed through and were able to complete our flight. The resulting 232 km FAI triangle is definitely a new German tandem record in the "Free distance around a triangular course" category. I know that of sure, because we have the current 137 km record. I think it is also a European and world "Free distance around a triangular course" record. The current record is held by Julien Irilli with 222 km. I need to check if the FAI will accept the record submission, as they have not yet approved Julien's record. I hope the rules have not been changed. According to my research, this is the longest FAI triangle with a tandem in all the online XC contests. Either way, we are super happy with our flight and can skip the gym this week."
Werner Schütz: 259.28 km FAI triangle, average 30.94 km/h, SECTOR
The reigning German EN-C champion in cross-country flying is currently leading this season's league with 1311 points. The SECTOR pilots are proving that it is an exceptional cross-country wing with three NOVA pilots in the top 7.  Werner's flight from the Grente has a particularly interesting backstory. He "flew to fly". He says: "Despite good weather conditions in the mountains, I decided to fly from Hochfelln to Antholz. Luckily, I was not able to cross the main ridge (foehn from the north) and landed at the Felbertauern tunnel. The remaining distance was done by hitch-hiking and post bus. In the evening I walked up to the Grente for the opening party at the inn - very nice! After a couple of beers I set up my tent near the launch. Ideal conditions to be rested, hydrated and make the most of the excellent flying conditions." And Werner did exactly that.
Hannes Kronberger, 258.38 km FAI triangle, average 26.95 km/h, MENTOR 6
Due to work and study, Hannes has had to put flying on the back burner for the last three years. But the MENTOR 6 pilot has certainly not forgotten how to fly.  He says: "Mario (Mayr) wanted to go to the Grente again… Not a bad idea, it doesn't count towards the Austrian league so just for fun and without stress… but it's also about the flying - not just the points. The 2nd of June was a dream day, with less wind than the previous day, high cloud base and mighty climbs.  Until kilometer 185 I was flying my MENTOR 6 with an average speed of 30+ km/h! Then I started making a few mistakes. First I did a little sightseeing tour on the way back from Sterzing and then I nearly blew it at the Kreuzkofel. Sadly, the large shaded areas there didn't allow me to progress in the direction of the Falzarego pass. If I had got there, there would have been a lot of possibilities open to me. Thankfully it wasn't a scoring flight in the Austrian league. But yes, it was OK."
As well as these flights, on this first big day of the season there were some other extraordinary flying successes.  At NOVA we celebrate the great flights of each of our pilots and congratulate them on their ability to pick the finest of the flying days. We wish everyone more fun and success and cross our fingers that the weather continues to play ball!