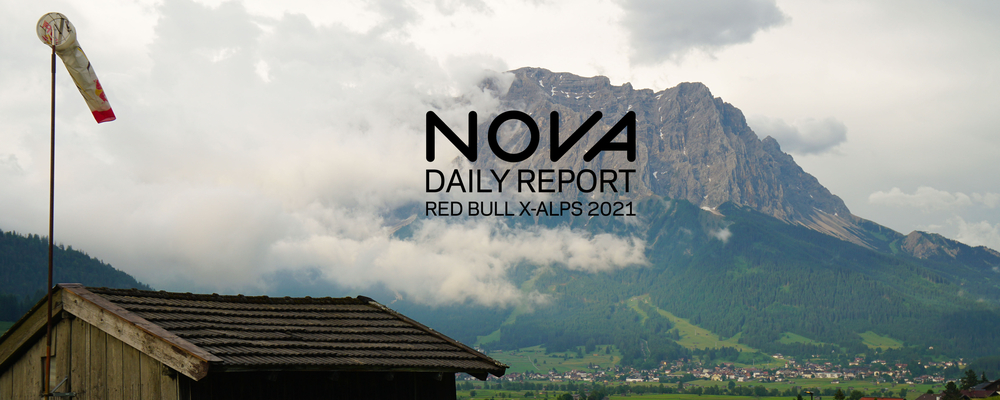 Day 12
NOVA X-Alps Blog: THU, 01.07.21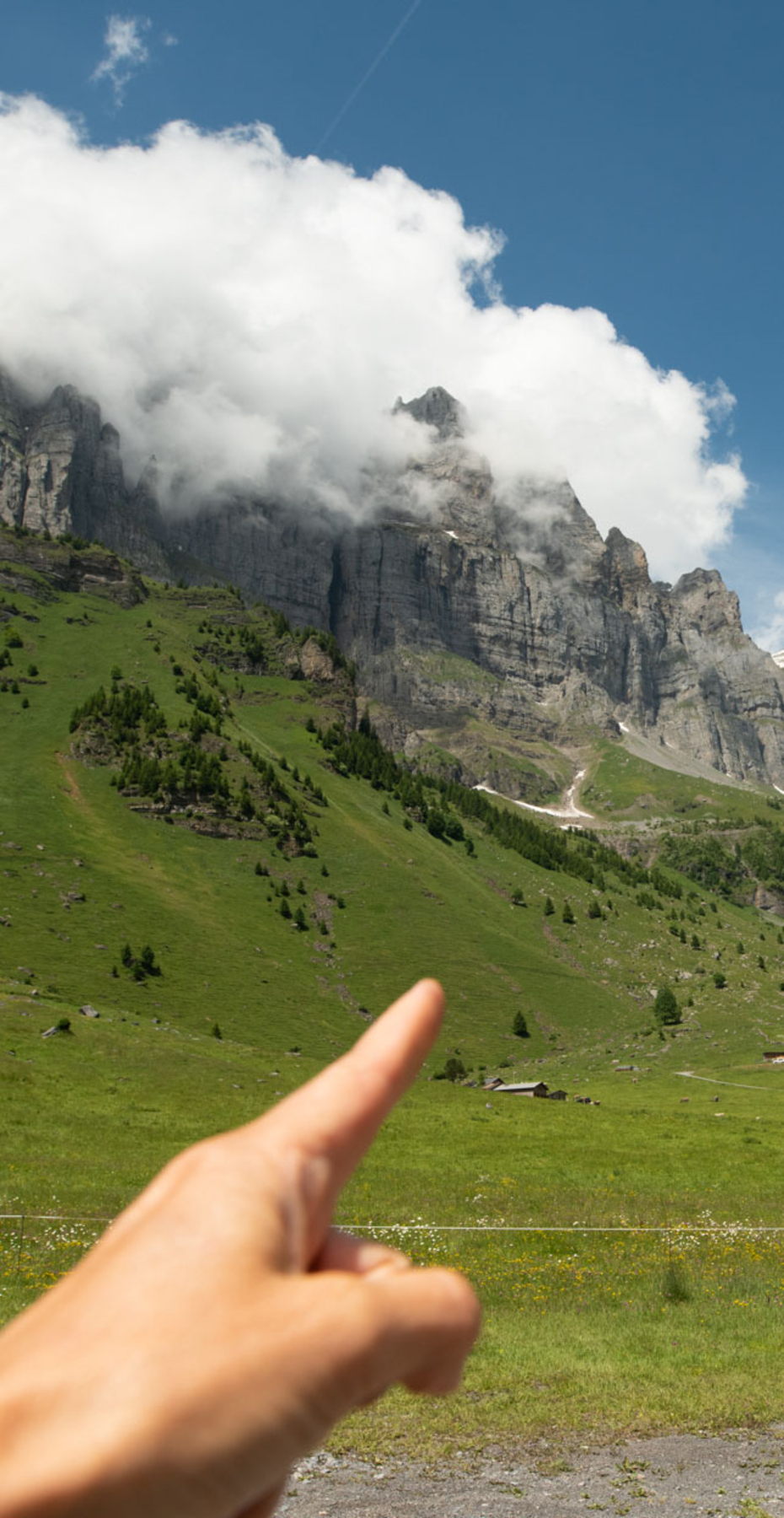 A super route – XC flying at its best
Never before have so many pilots fought for so long for the victory. That was super! Even on the day before, the pursuers almost had a chance to catch up with Chrigel. Maxime Pinot is said to have been completely shaken when he learned after his outstanding flight that the Eagle had already landed on the raft. 
During this race, we could follow perfect alpine paragliding in all its variations. Also, long hikes in beautiful mountain scenery, because that's what the X-Alpers love too, for which they have trained thousands and thousands of altitude metres. 
Théo de Blic was not able to scout the route through Switzerland, which he had originally intended to do. Other athletes too - because of the Covid travel restrictions. This may have been a reason for one or two accidents, airspace violations or tactical mistakes. In France and Italy, apparently less hay and wood is fetched from the mountains by ropeways for goods. Otherwise the pilots would have heard about it on the spot from us locals. I almost feel guilty for that... Because that's something you can train, no, something you have to internalise when you fly in Switzerland - especially on this line through central Switzerland. 
The lack of a French route down to the Mediterranean ironically helped the winners this time. Before, it was often the case that they had to fly longer in bad weather at the back, while at the top there was an improvement from the west - just in France. When the good weather moved further to the east, those at the back were able to catch up again. This time the good weather moved on to the east together with the leading pack. And in the west, the athletes were grounded by rather doubtful flying conditions. Little to nothing was possible.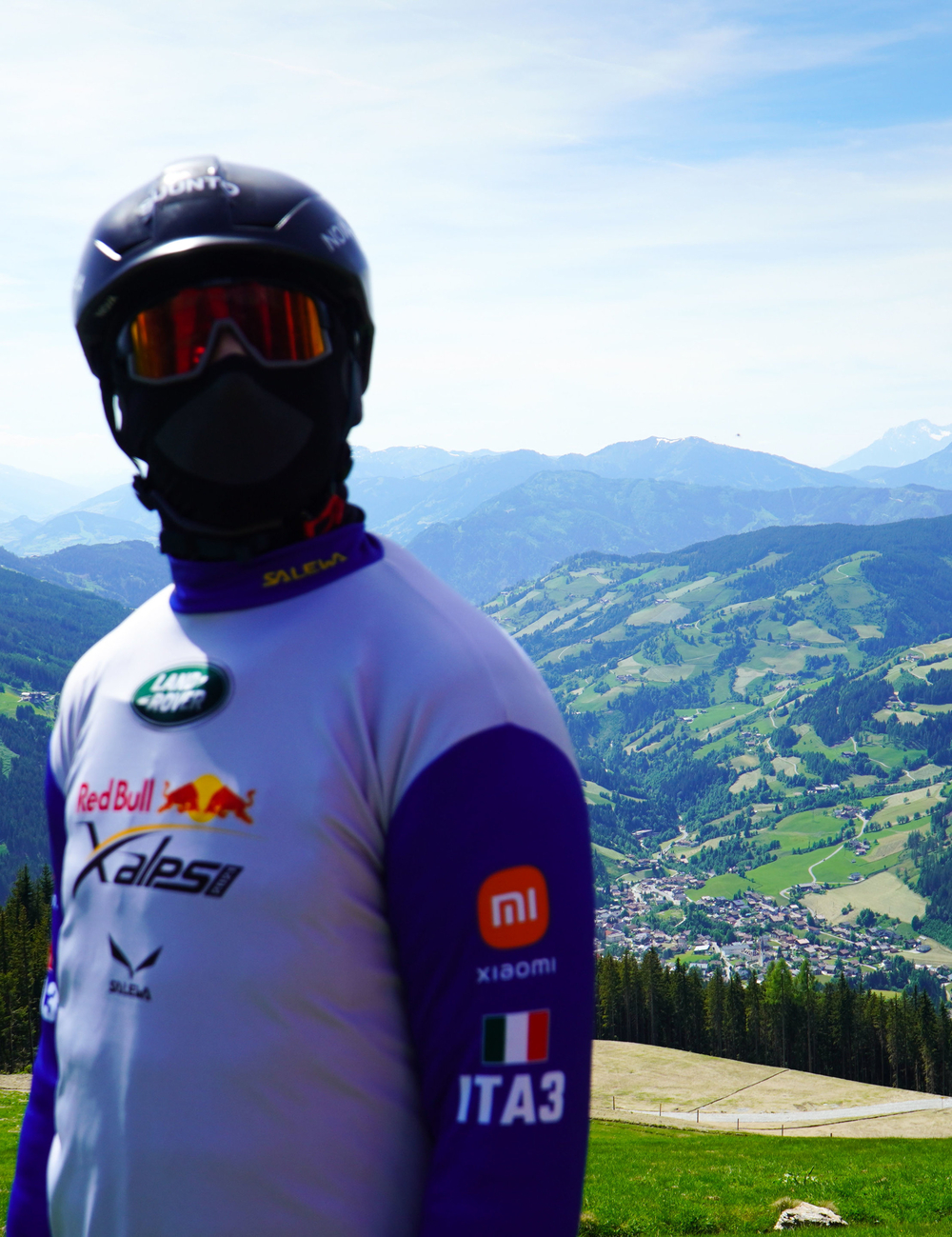 Stable – unstable – wind: too much of everything
Despite the exciting race, the weather opened up big gaps among the athletes. One would have wished for more good flying days for the mid and rear field, the ones behind the few who finally reached the finish line, a luckier hand in the choice of route with regard to the weather, more luck with the daily flight timing, which sometimes created blatant red-light phases. 
The wind was often dangerous enough. The accidents and horror landings found on the net - not on the official Red Bull site - resulted in injuries without serious physical consequences. What we heard: Ken Oguma had surgery on his metatarsus and will be released from hospital tomorrow. He is in good spirits, excited about the event and already thinking about the X-Alps 2023. Tom Friedrich landed rather unspectacularly and bruised his heel. He hobbles around the "paddock" on crutches and smiles. Markus Anders clearly had too much "momentum" during his last landing. He rolled over several times and injured his hand. Nothing serious, luckily. Nick Donini was lucky in his encounter with the cable of the ropeway for goods: He has micro fissures in two vertebrae, but again nothing serious. His therapy will consist of four to six weeks of doing nothing. He is also already thinking aloud about the X-Alps 2023...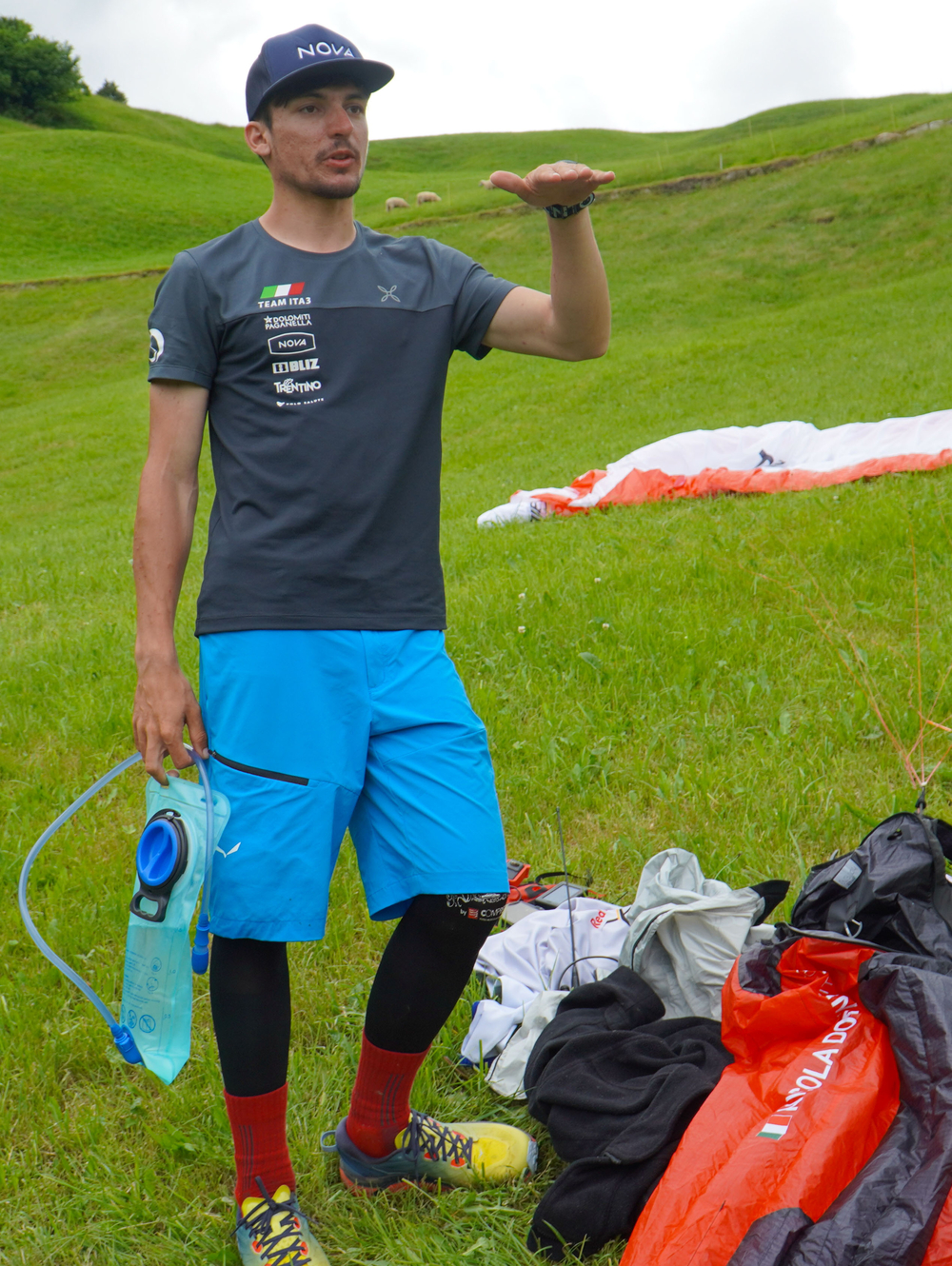 Speed landing as a discipline?
Hike & Fly is booming and so are such competitions. This is taken to the extreme by the hut competitions like the Eiger Tour in my backyard. The participants have to land at the turnpoints, and these are SAC huts, i.e. high alpine mountain shelters. They stand on rocky outcrops, in windy saddles and on sharp ridges - avalanche-proof above all. Their suitability as "landing sites", on the other hand, is, let's say diplomatically, "limited".
Among the rookies and two-year-olds at these X-Alps are quite a few who already have a lot of experience with such extreme competitions and landings. They practice speed landings, i.e. uphill landings with a tailwind and on full bar. Of course, they get a lot of clicks in the social media. It is hair-raising what take-off and landing skills the boys and girls show. The skills accelerated the X-Alps again and again in between. More kilometres were flown, even if it didn't go far, because you quickly ran up to a but-funny take-off, somehow managed to launch and then land in front gardens, back yards, construction sites, car parks, streets or narrow forest aisles where not even the whole width of the glider would fit.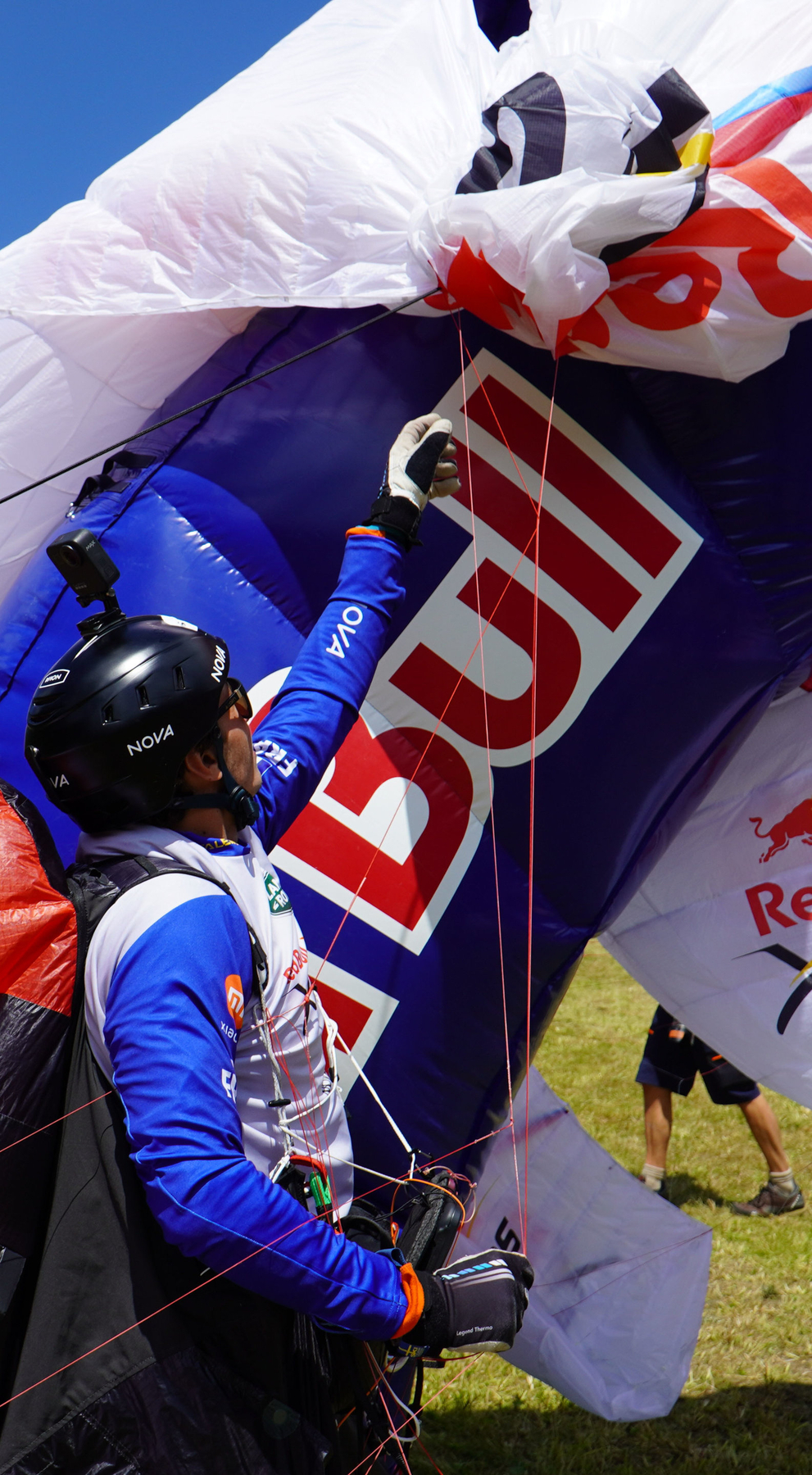 More risk - more accidents?
Knocked on wood - "only" five injured (I count Kinga, who couldn't start because of injury), makes 16.66 % of the 30 athletes. In my opinion, even more risks are taken than before, especially during take-offs and landings. Markus Anders spoke thoughtfully into the camera after one of his many spectacular landings failed and he hurt himself from bottom to top, fortunately not more than that. "Now it just didn't go well once." He was well aware that this could happen. 
What scares me most is strong wind in the air. I had a rodeo at high altitude myself once in the lee of the Simplon Pass, and it was terrible. I watched many an Alpine crossing during this race on my computer with an uneasy feeling. 90 km/h above ground! Too often they flew very close - or actually too close - to the ground with too much wind in the lee. But maybe it wasn't a real lee. I wasn't there, I don't know for sure. The fact is that a paraglider can do things in a large lee of a mountain that require a lot of altitude before flying stable again.
The accidents, thank God, only resulted in minor injuries. But I saw take-offs and landings on various channels as well as high sink rates or high speeds in narrow valleys on the live-tracking that definitely scared me. There was also luck involved, not too little, that it turned out all right. It's a pity that the flights can't be rewound or are available as IGC files, as in previous editions (maybe one or the other athlete will upload them later). One could learn from this.
But you also have to look at it soberly: If you want to win in paragliding, you have to risk a lot. This is no different from downhill skiing, downhill mountain biking, motorbike or car racing.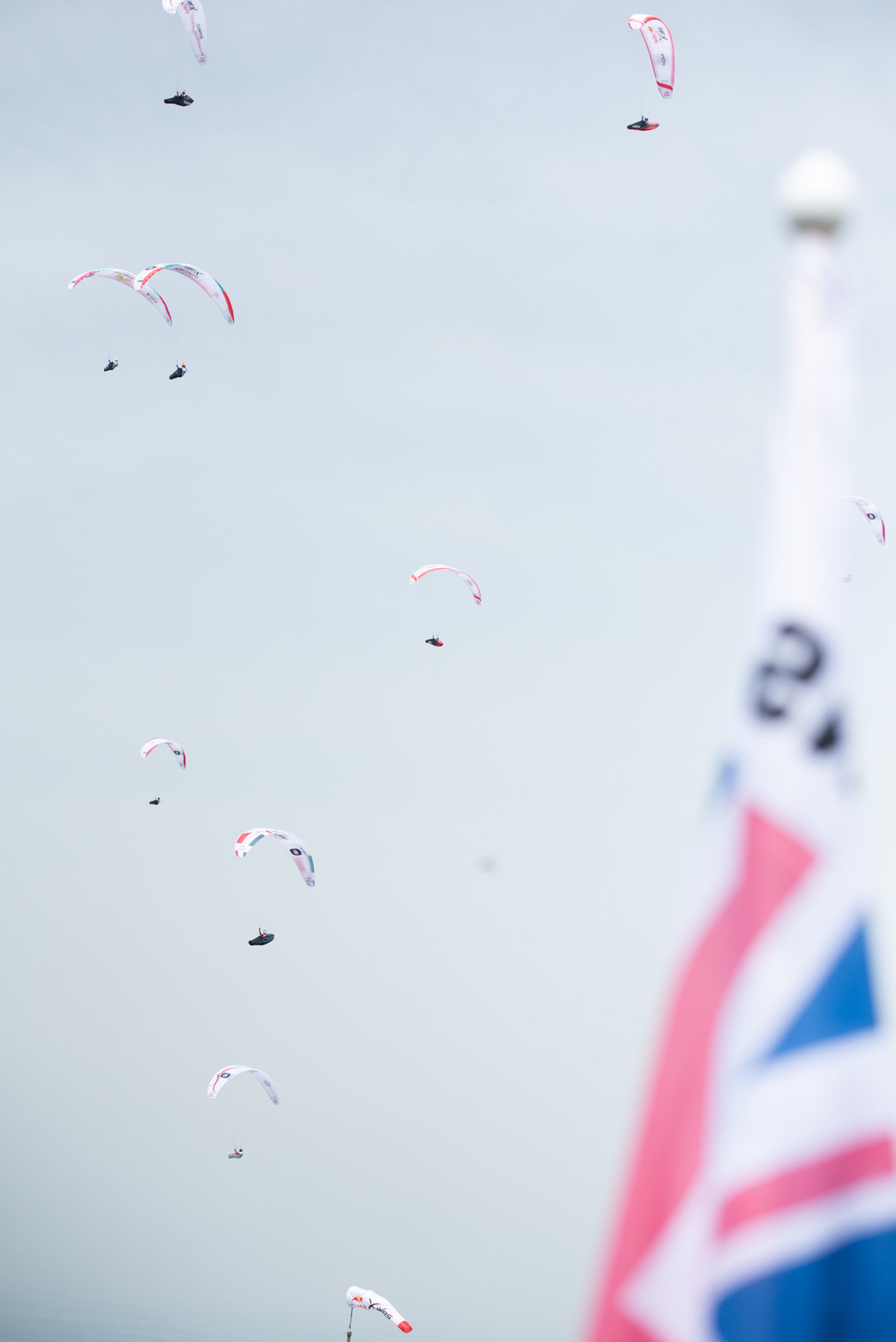 Bird, fly or die!
Oh, isn't that the Red Bull motto? The thrill, the adrenaline, even the danger of death are firmly anchored in the DNA of the sugary energy drink from Austria. Red Bull puts a lot of pressure on the athletes to go hard and fast. Personally, I often had a hard time finding reasonable information on the official channels, despite their multitude, when important (negatively important) things happened. Accidents were not explained, which would be instructive. Airspace violations were only coded and not communicated pictorially and described in short messages. I would like to see more transparency. Airspaces could be played into the live tracking like on XContest, for example. I use that regularly. 
People think that it's only beginners who have airspaces issues: That's almost true! But in 2011 it also happened to Chrigel. The one-and-only was a second-year "student", when he climbed in a thermal from below into a horizontally layered airspace of the Locarno military airfield. Most athletes made long detours and hike this year to stay away from the confusing restrictions. In Switzerland, we also create additional confusion with our inactive and active airspaces, whose activity also changes during the day! Red Bull meanwhile standardises this with some justice: equal opportunities for the athletes! All such airspaces are to be considered as permanently active, i.e. also outside the operating hours and on weekends, when normal pilots romp there, while they are forbidden for X-Alps athletes.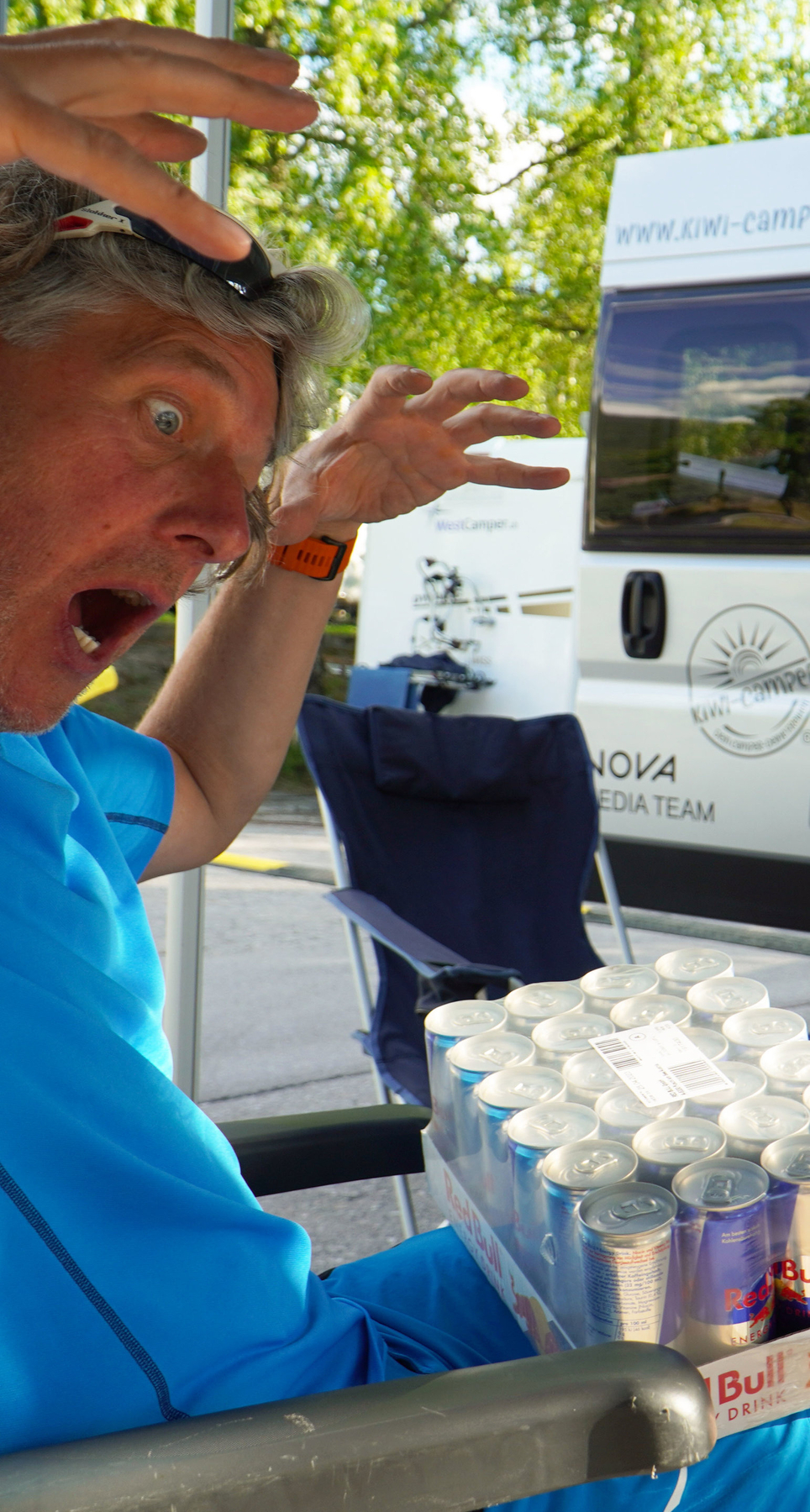 Clean boys - clean picture
Some teams now have absolutely professional YouTube channels and blogs. The teams of Paul Guschlbauer, Markus Andres and Chrigel Maurer report really well every day. Respect and recognition! But I ask myself: are they actually always and exclusively in a good mood? Or is it a requirement of Red Bull or their sponsors that everything always looks so positive? In one of the last reports, Paul's spirited gang made fun of it, just a little bit. After all, they want to participate again, next time... 
Red Bull shows the advertising and marketing industry how perfect event marketing works. The drink itself almost mutates into an event. This feeling is the elementary component for the success of Red Bull. In my opinion, the success cannot be due to its taste... 
But it pains me a little how the athletes are instrumentalised in this respect. Of course: no one forces them to be harnessed to this cart (just as no one forces NOVA to support them). But I do feel a bit wistful: some things - and the emotions the athletes experience out there are some of the most intense imaginable - simply belong to those who experience them. And a little to those who enjoy watching it. Football also belongs to the players and their fans - and not to UEFA or FIFA. Sometimes it's a pity that it's not the case with this great Alpine race. On the other hand: without Red Bull the X-Alps wouldn't exist at all! 
Last but not least, I am convinced that those out there under their wings and on the mountain trails have fun despite everything. A lot of effort, a lot of work - and sometimes a little humour and self-irony. They are in the "flow", as Markus Anders put it. And every now and then, demonstratively,  a sip of beer in front of the camera or, in Markus' case, a whole bottle at the abrupt end of his race.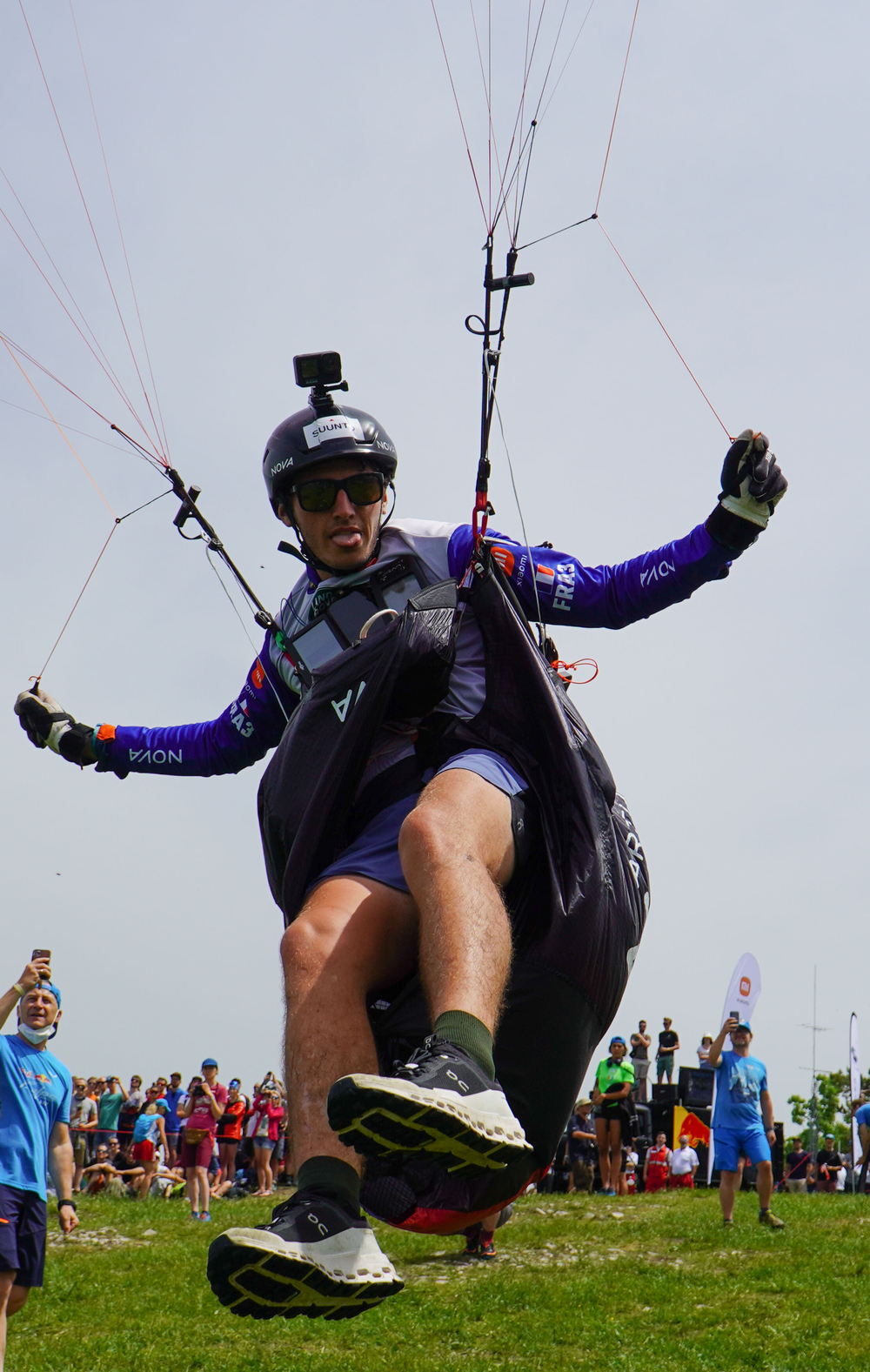 The race report from today
For Théo de Blic, his penalty finally ended, but that didn't help him. In the meantime, he was overtaken by the still highly motivated Gavin McClurg and Kaoru Ogisawa and thus fell victim to the Red Bull scythe man. Bygones, Théo! (We reported.) 
Since the south-east side of Mont Blanc allowed no flights, Yael Margelisch spent the night with her loved ones at home in Verbier yesterday. Today she tried her luck in the Valais, following in the aerial footsteps of Chrigel Maurer and Eduardo Garza. As expected, given the forecasts, she didn't get very far. She was already biting into granite at the Dent de Nendaz (of which the lower Valais consists on the south side).
Further south, the weather forecast today was quite good in parts from west to east - but with a great cap north wind. If some flew today as if they were wandering around in the Alps, it was perhaps due to this north wind. Paul Guschlbauer, who was first in the race, got it the worst. He progressed infinitely slowly over Meran towards Kronplatz, wandering along a high-altitude path at less than 2000 metres towards Meran. Up ahead, the windsock at the Hochmuth mountain inn showed a tailwind, the webcam image to the southeast displayed confused clouds, no cumuli where they belonged, but unstable conditions and: wind!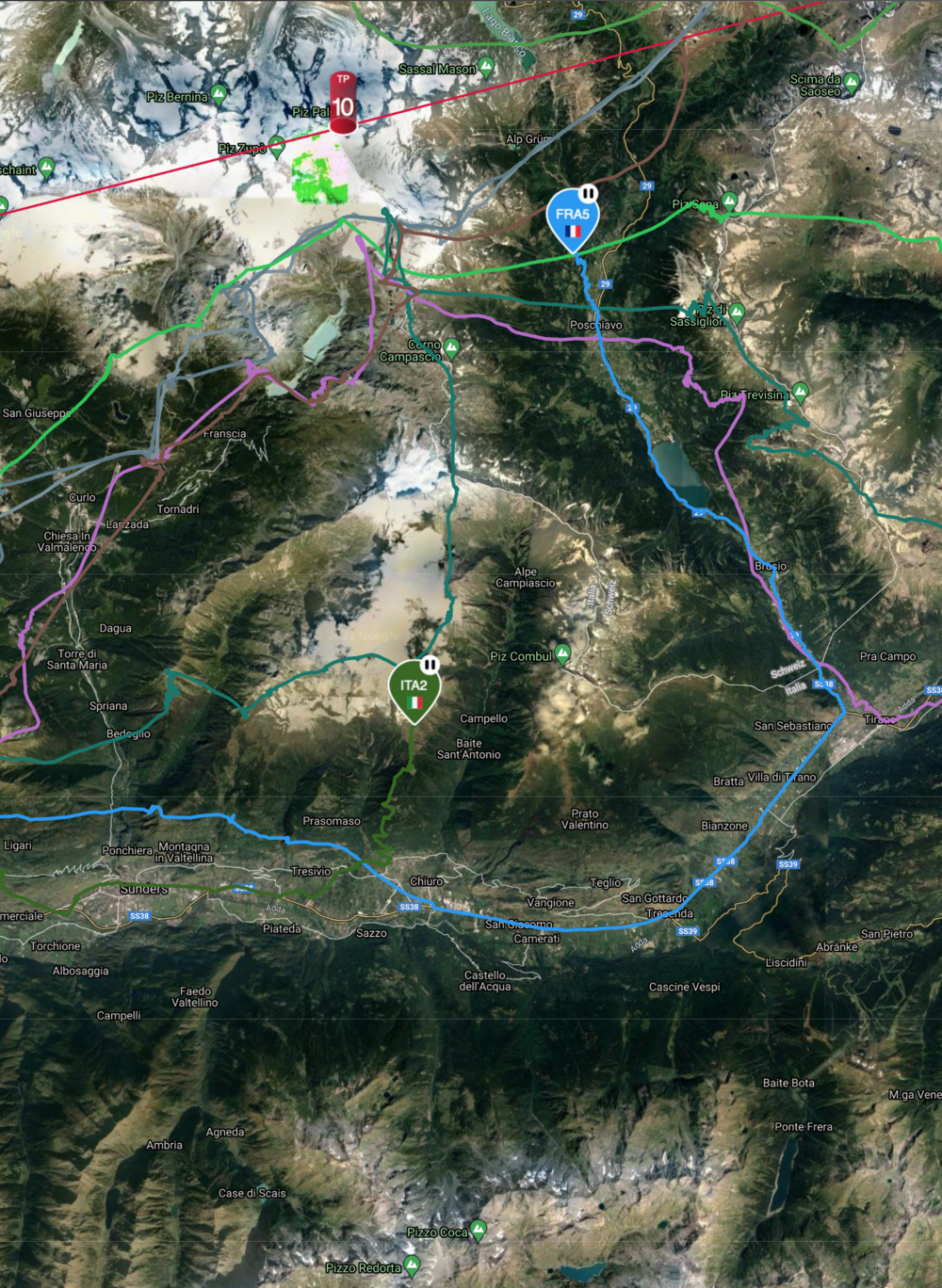 Who dares wins. Sometimes...
Behind Paul, an unparalleled battle for XC kilometres broke out. From Valtelina to Vinschgau, no less than seven or eight pilots showed what cross-country flying is like under the most difficult conditions in the Alps. All of them, except Aaron Durogati, who is already through, still have to pass the mighty Piz Palü. Let's devote ourselves today to this group of fifteen still in the race.
Tobias Grossrubatscher's (ITA2) daring tactic of not hiking up so high, but rather thermalling up, works: Tobi is able to get higher and higher over the slopes, and with a beating heart catch up with Michal Gierlach as well as Ferdi van Schelven. The boyish South Tyrolean spares himself the mighty alpine hike of the two flatlanders on this twelfth day. Michael and Ferdi perform things on the ground far beyond what Chrigel Maurer had to endure during his seven lightning victories. They fight to the last drop of sweat. They are not the winners, but athletes like them are the true X-Alps heroes. Hopefully they still enjoy it! Tobi certainly does. I can really feel him trembling, wondering if he would get to Piz Palü, from dubious low altitude, the long walk ahead of him if it doesn't work out.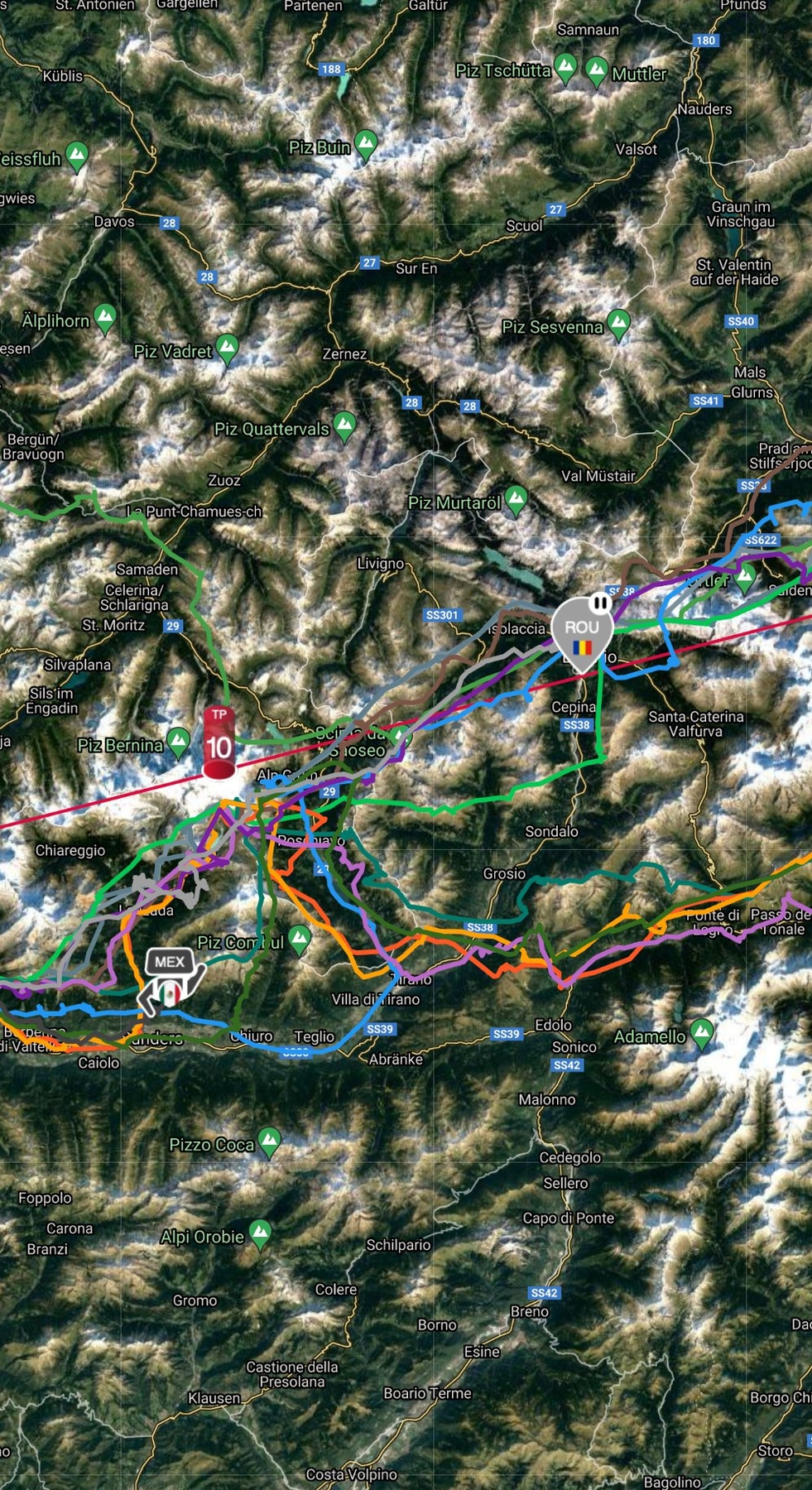 The crux at Piz Palü
At the moment, Damien Lacaze is ticking of this turnpoint on foot at the lowest point of the cylinder, on a high alpine pasture to the east of Piz Palü. He, too, finally has this buoy in the bag and would certainly like to fly away from there at great altitude like the others. But it seems to be denied him for the time being. He descends from the high valley with the backpack on his back. A strong wind blows down from the passes in the north, perhaps even a north Foehn. The pressure difference north-south could be considerable in this region. 
Ferdi is the first to fly almost to Tirano, where he cranks up at the last peak before the valley floor. No circle is above the other, undoubtedly difficult wind conditions. All three have to descend the Puschlav to Tirano, far away from the ideal line. The north wind is too strong. Tobi is lowest of the and tries a traverse to the east beforehand, but has to follow the others down the valley. On the more than two-kilometre-high slope above the town, Tobi finds lift without a north wind: 4 m/sec climb rate!
Aaron, meanwhile, benefits from westerly winds at the head of the Ulten Valley, which leads him directly to Meran and up to Paul on the way to Kronplatz. An interesting detail for both veteran X-Alps pilots on their last proper cross-country flying day, I'm sure. Paul has not yet found a launch site in Vinschgau when Aaron gets into trouble in the Ulten Valley. North wind again? He has to glide down deep into the valley, finds thermals that bring him back up on the south (!) side of the valley. Still, the wide valley traverse over to Meran is ahead of him, which Paul doesn't have to do. He could fly from slope to slope in the north of the city - if the wind lets him. Aaron has to land. So, it seems to get more difficult, whether in terms of location or time.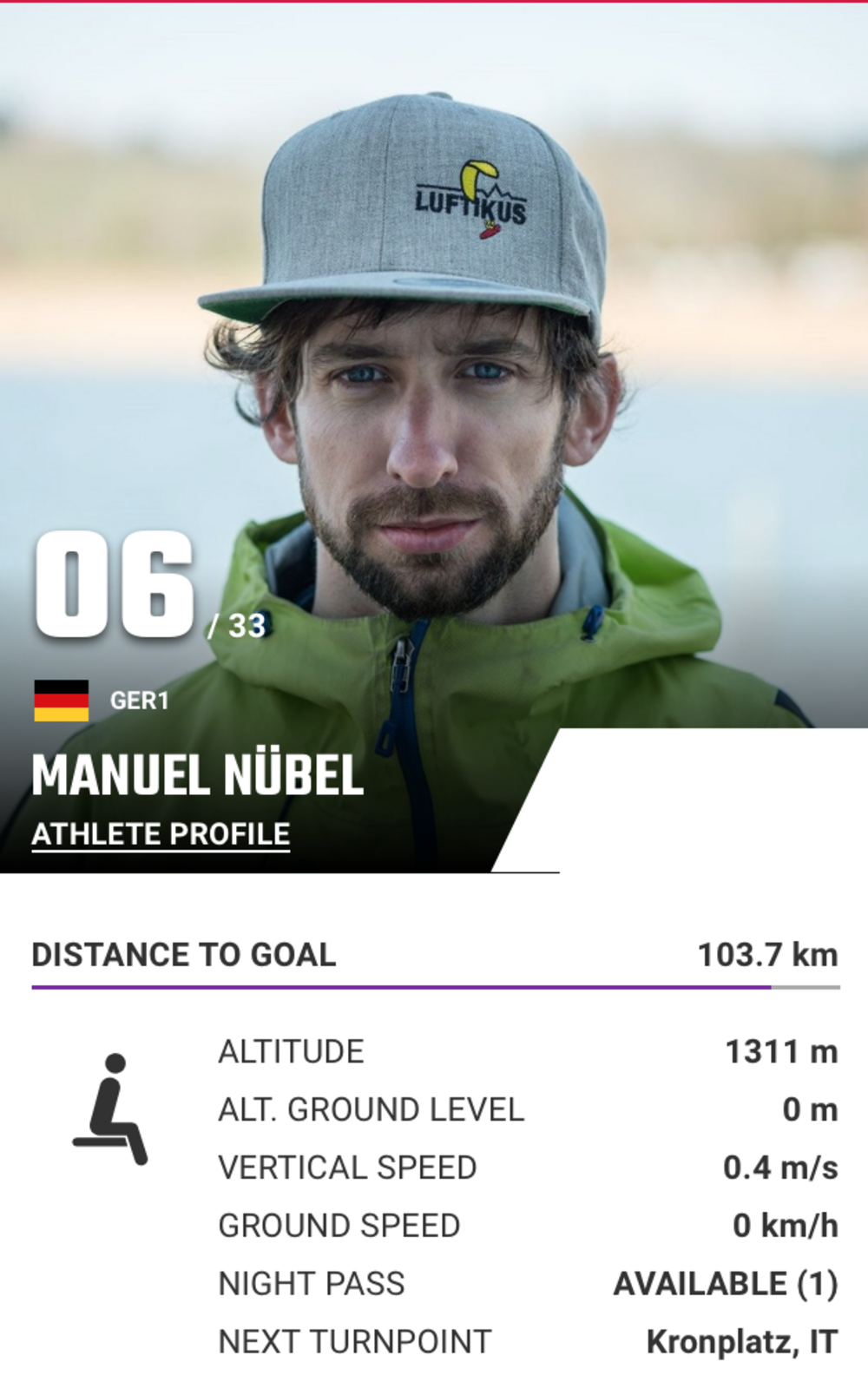 Stage win for Germany?
Meanwhile, Manuel Nübel comes out of nowhere – in the air. He started a fabulous catch-up far back in the Valtellina with Toma Coconea and in front of Eduardo Garza, flew into the cylinder of the Piz Palü without landing! He rolled up the group in front of him from behind in the course of the day. At around 2 p.m. he crossed the Stilfserjoch into South Tyrol at a tremendous altitude! He might possibly even catch up with his veteran colleagues Paul and Aaron in South Tyrol.
The flying Dutchman Ferdi van Schelven has also caught up with Aaron. No, that's unfair. Within a few dozen kilometres, the XC flying conditions now change dramatically. But unfair? What is fair weather-wise in this and many X-Alps races? The athletes know that, are happy when things work out and have to take it calmly when not. 
What an international group now in Vinschgau and the surrounding area: Paul AUT1, Ferdi NED, Aaron ITA1 and Manuel GER1. Behind them, three more teams are close together at a rather good altitude. A real race is going on, the biggest so far between Piz Palü and Kronplatz. Will even one more pilot fly in or run there? That would be a very conciliatory ending. Tomorrow we will have a last look at the situation.
Text: Roland Mäder (NOVA Team Pilot)
PS: Check out our X-Alps clips in the playlists on YouTube and Facebook.