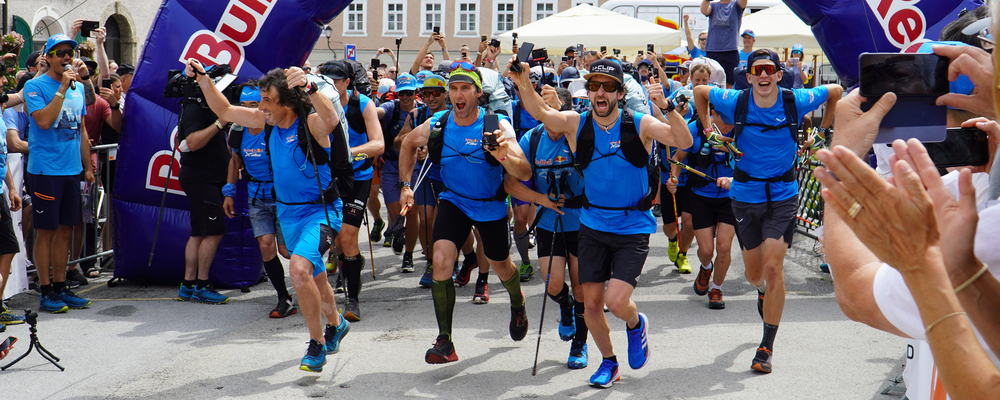 Follow the adventure
NOVA Red Bull X-Alps Blog 2023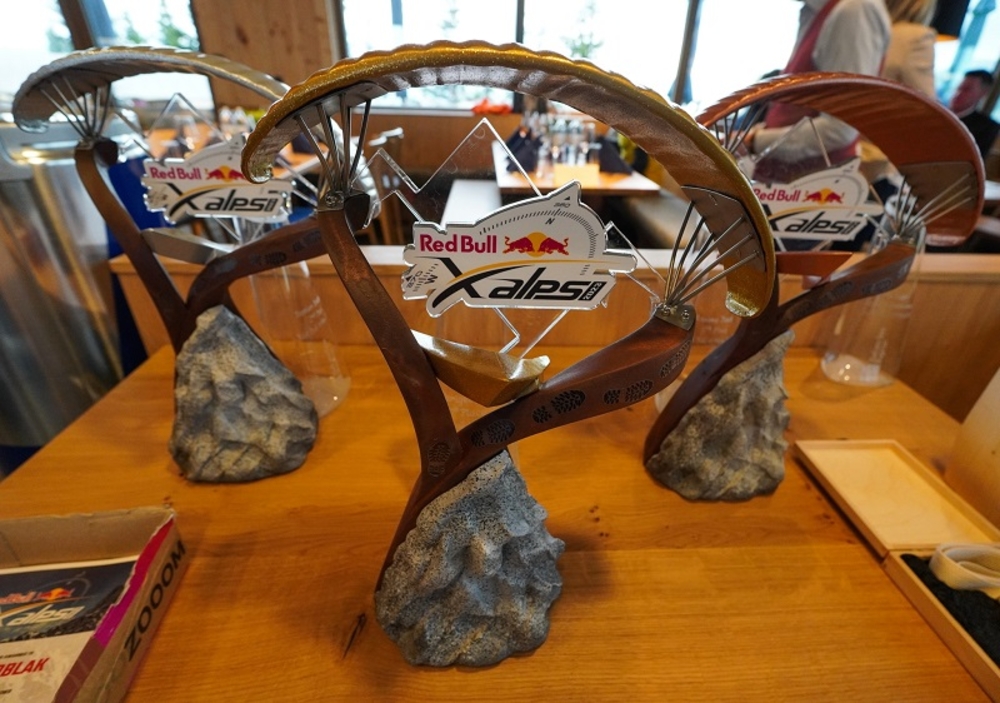 Celebrations 24/06/23
After two demanding weeks on the road, chasing the athletes in the world's toughest adventure race, Red Bull X-Alps came to a close on Friday. It has been an incredible two weeks for everyone involved. Thankfully, there were no serious injuries, and astonishingly, 23 pilots made it to the finish in Zell am See, including Eli Egger (AUT4), who became the first woman to finish the race.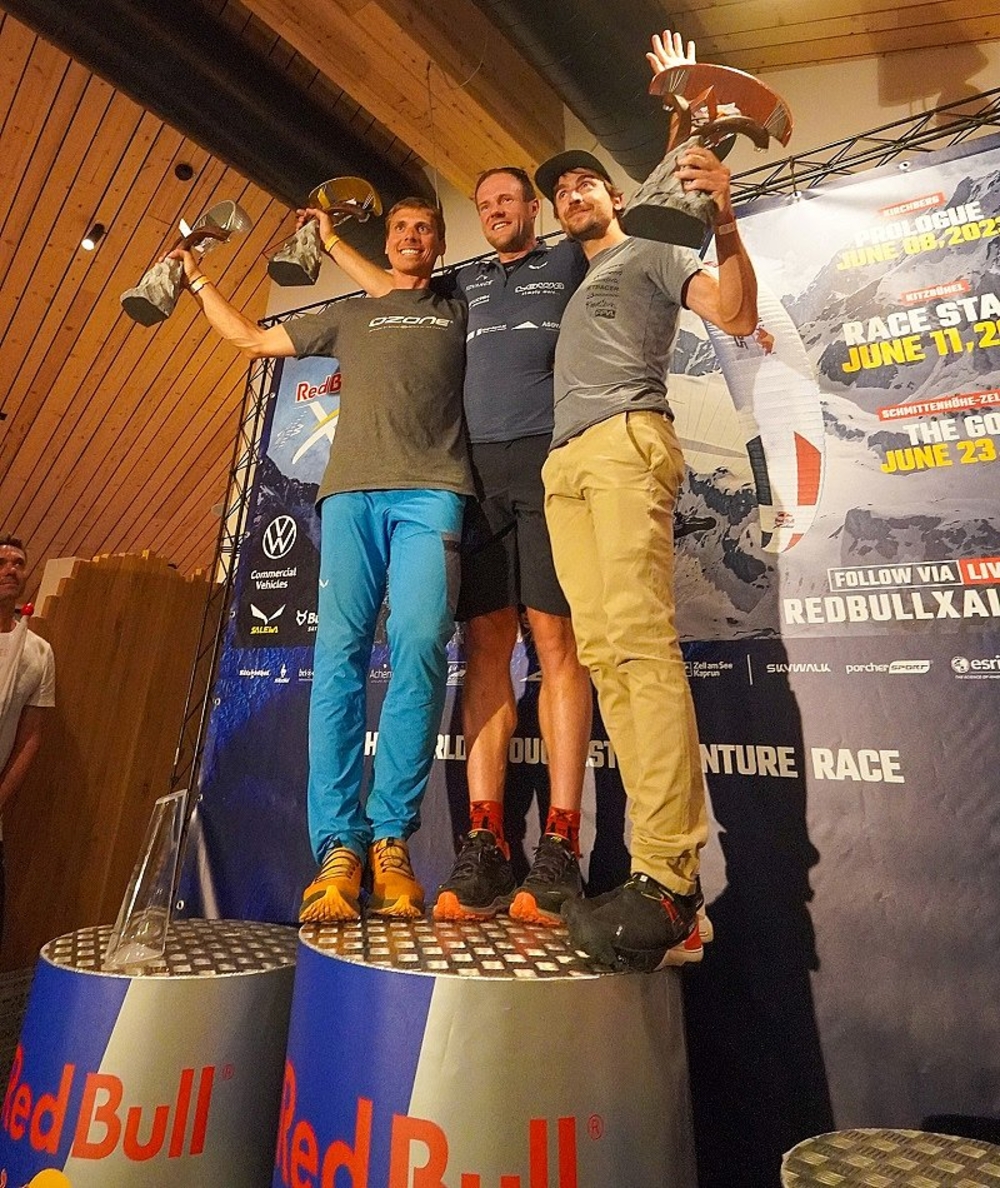 On Friday evening, we had the opportunity to meet everyone again and celebrate at the award ceremony. Our congratulations go to Chrigel Maurer (SUI1) at 1 place, Damien Lacaze (FRA2) at second place and Maxime Pinot (FRA1) at third place.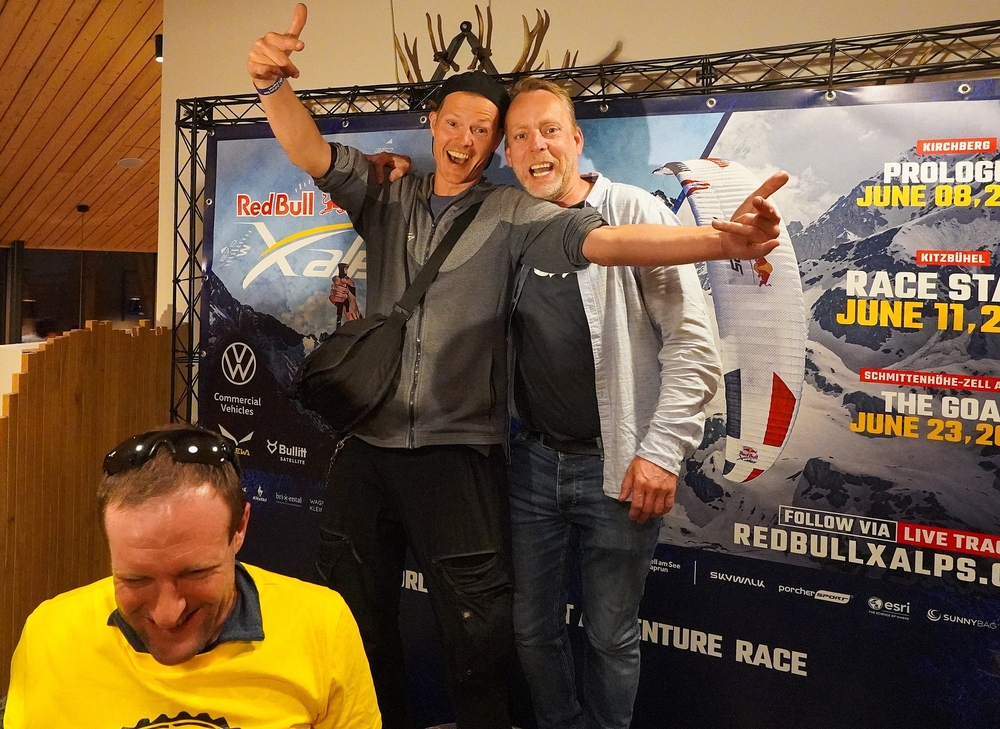 The NOVA Media Team consisting of Mario and Agata from Spain, and Øyvind and Ole from Norway, would like to express our gratitude to everyone involved, as well as NOVA Performance Paragliders for giving us the opportunity to cover the race. A special thanks goes to the talented NOVA pilots Nick Donini (ITA3), Richard Binstead (AUS), and Junming Song (CHN) for their assistance in making our media work.
We hope to see everyone again at Red Bull X-Alps 2025!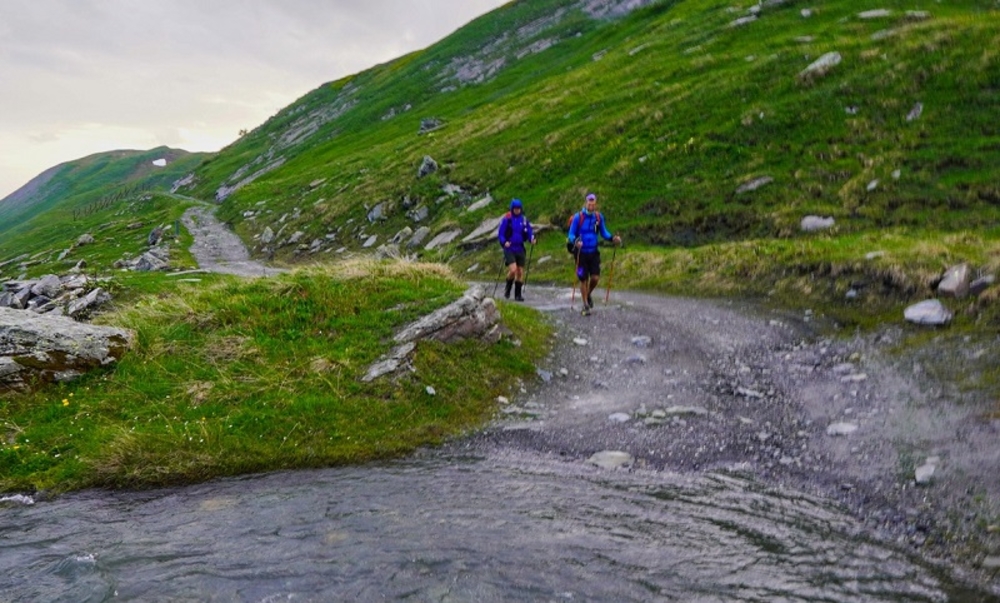 "The most important thing is not winning but participating." 22/06/23
- Pierre de Coubertin, IOC Founder. 
All three NOVA pilots have now completed or been eliminated from the race, as Richard Binstead (AUS) was eliminated this morning. James Elliott (CAN), Emoto Yuji, and Jordi Vilalta (ESP) are still racing towards Zell am See. If all three make it, a total of 24 athletes will have reached the finish line in the 2023 Red Bull X-Alps.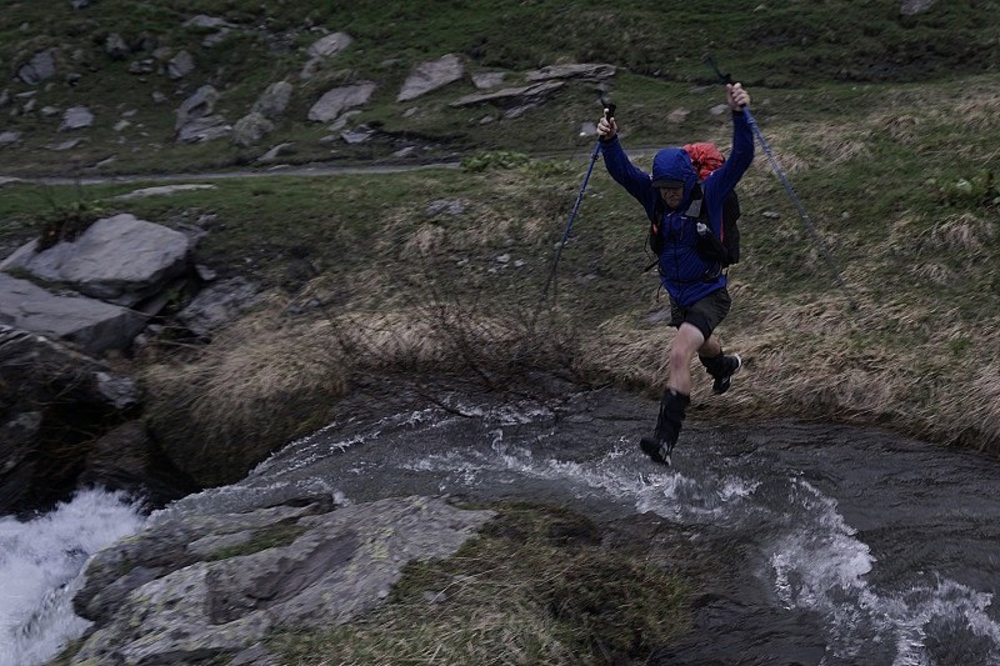 The NOVA media team accompanied Richard in the past few days as he circled around Mont Blanc. Due to strong winds, they primarily hiked. While making their way to turnpoint 10, Col du Petit Saint Bernard, they encountered challenges such as hiking 45 degree slopes in snow and melting water in the rivers. Unfortunately, David Grindler, his supporter, tripped while crossing a strong river and was dragged several meters downstream.
Fortunately, he managed to get back up, and they continued their hike. After a full day of hiking, they received a warm welcome upon arriving late in the evening.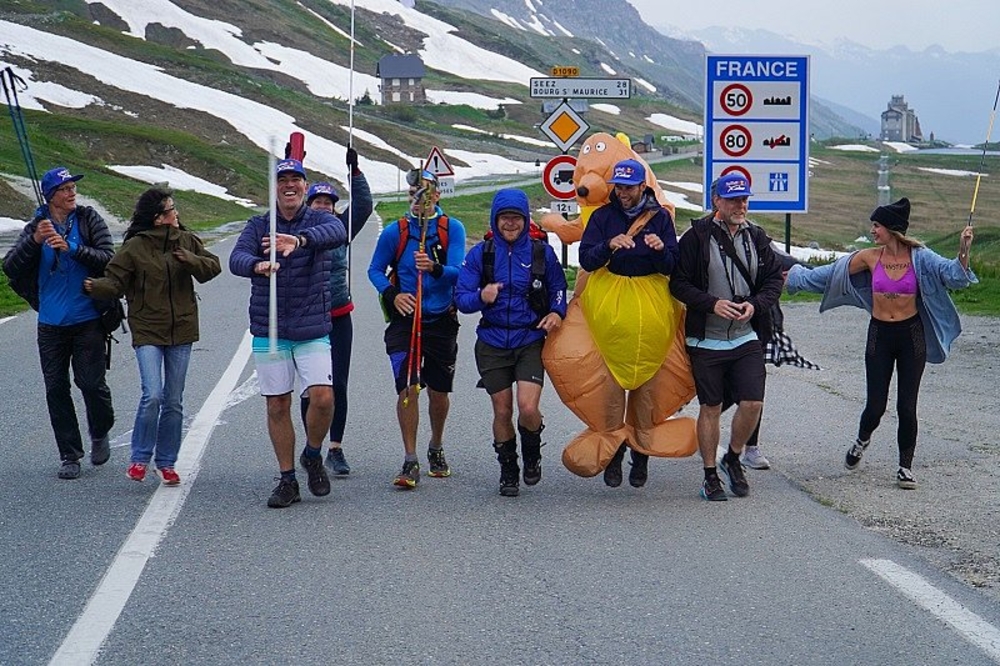 Richard was able to continue a few kilometers further into Italy yesterday, although his position in the race had already been established.We have all experienced an incredible journey during the race, including athletes, supporters, and the media team. We are excited to reunite with everyone at the medal ceremony in Zell am See on Friday.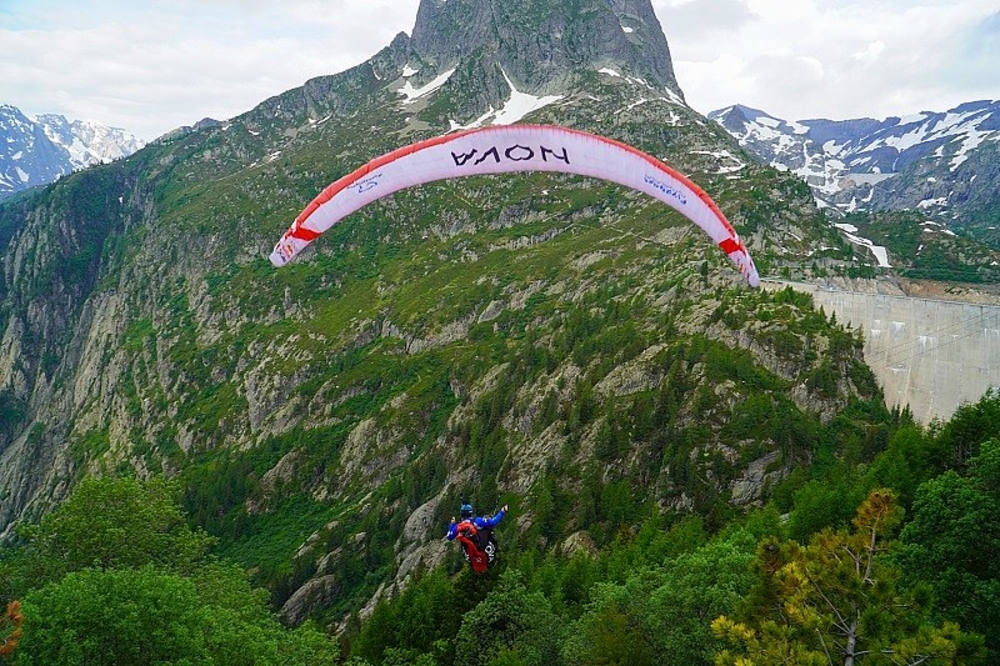 The most important thing is not to win, but to beat New Zealand
Richard Binstead (AUS) is still competing and enjoying his adventure, showing great determination. He currently holds a comfortable 57 km lead over Kinga Masztalerz (NZL) with 332 km remaining to catch up to the Spanish athlete, Jordi Vitala (ESP), which seems somewhat impossible. However, Richard has found additional motivation to continue pushing forward, solely to beat Kinga from New Zealand, where he currently resides. Today, he launched from the beautiful Lac d'Emosson into France. Despite challenging weather conditions, he hiked up again and had a second glide to Chamonix. As the weather improved, Richard managed to successfully tag turnpoint 9, Mont Blanc, during his third flight of the day. He is now heading towards Turnpoint 10, Col du Petit Saint Bernard (FRA), and will be entering Italy tomorrow. The pace has slowed down, and the pressure is not as intense anymore. Nonetheless, the race is not over yet, and Richard has some exciting ideas for the final days, including becoming the first athlete of Red Bull 2023 to reach Monaco.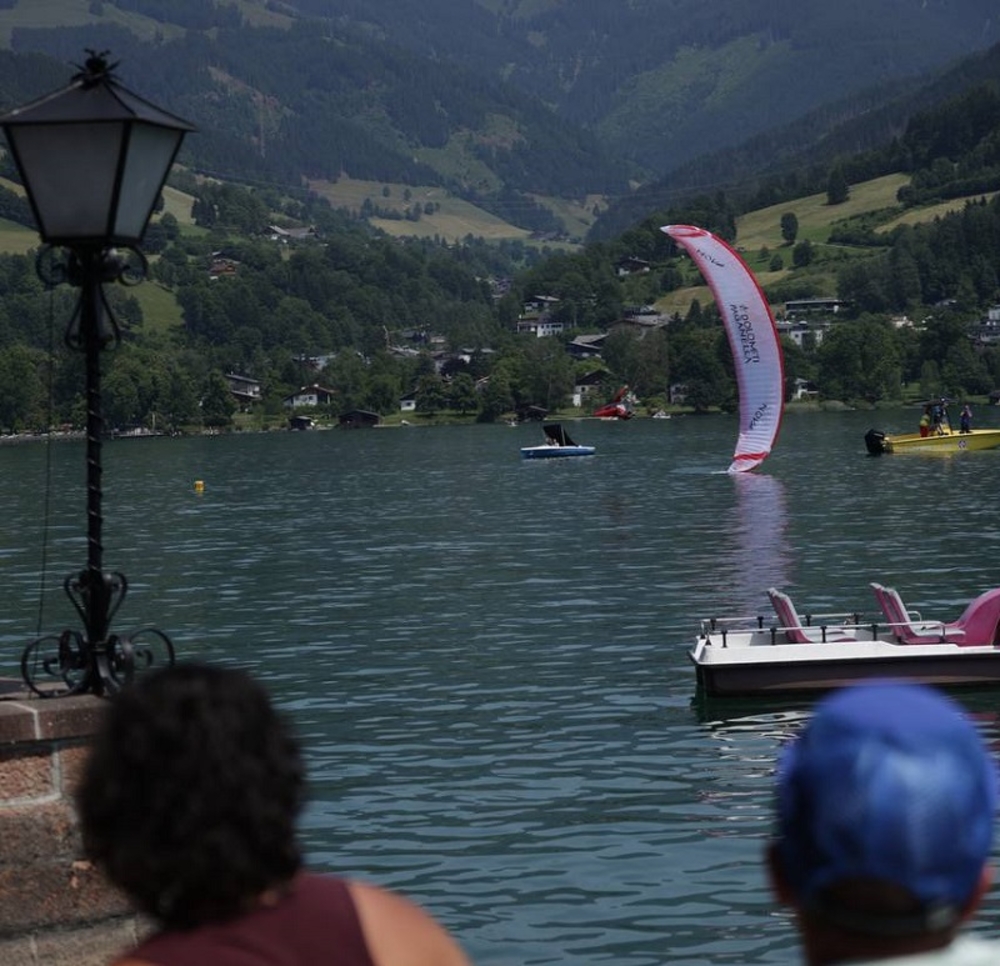 Nick Donini lands in Zell am Zee   18/06/23
The most important thing is not to win but to reach Zell am Zee. Today, Nick Donini (ITA3) accomplished that! He covered the entire 1223km and landed at the float in Zell am Zee. Nick finished in 7 days and 2 hours, securing the 16th position. He was 20 hours behind the winner, Christian Maurer (SUI). We congratulate him on his excellent performance.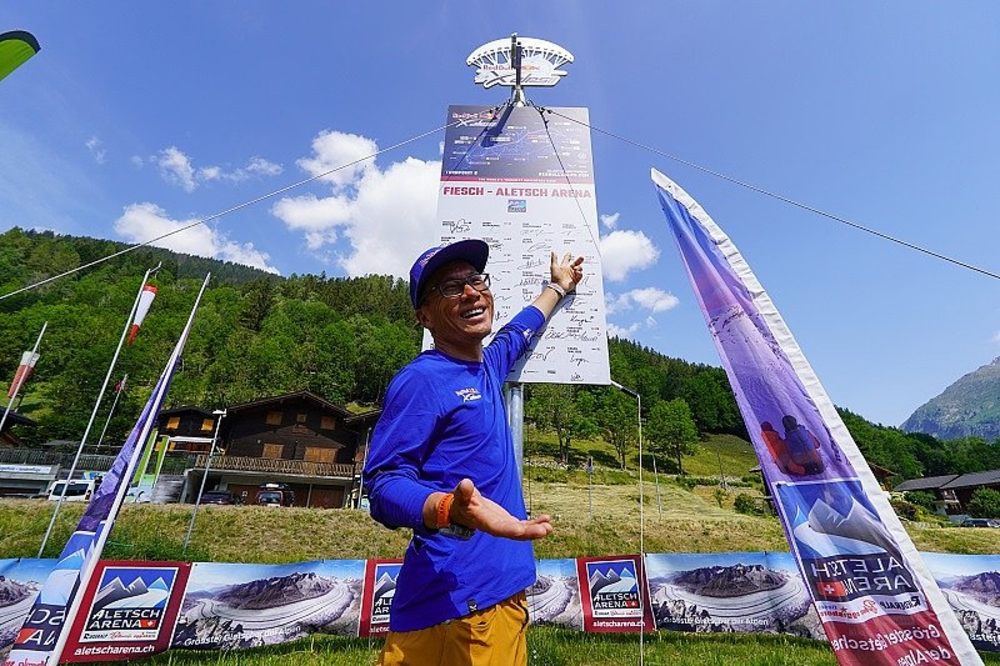 This morning, Junming Song (CHN) was eliminated. Although his flight yesterday was really good, it wasn't enough to surpass Kinga Masztalerz (NZL). Junming landed close to Realp, not far from turnpoint 6 Fiesch (SUI). We met a happy and satisfied Junming in Fiesch. We hope to see him again in Red Bull X-Alps 2025! Watch the interview here.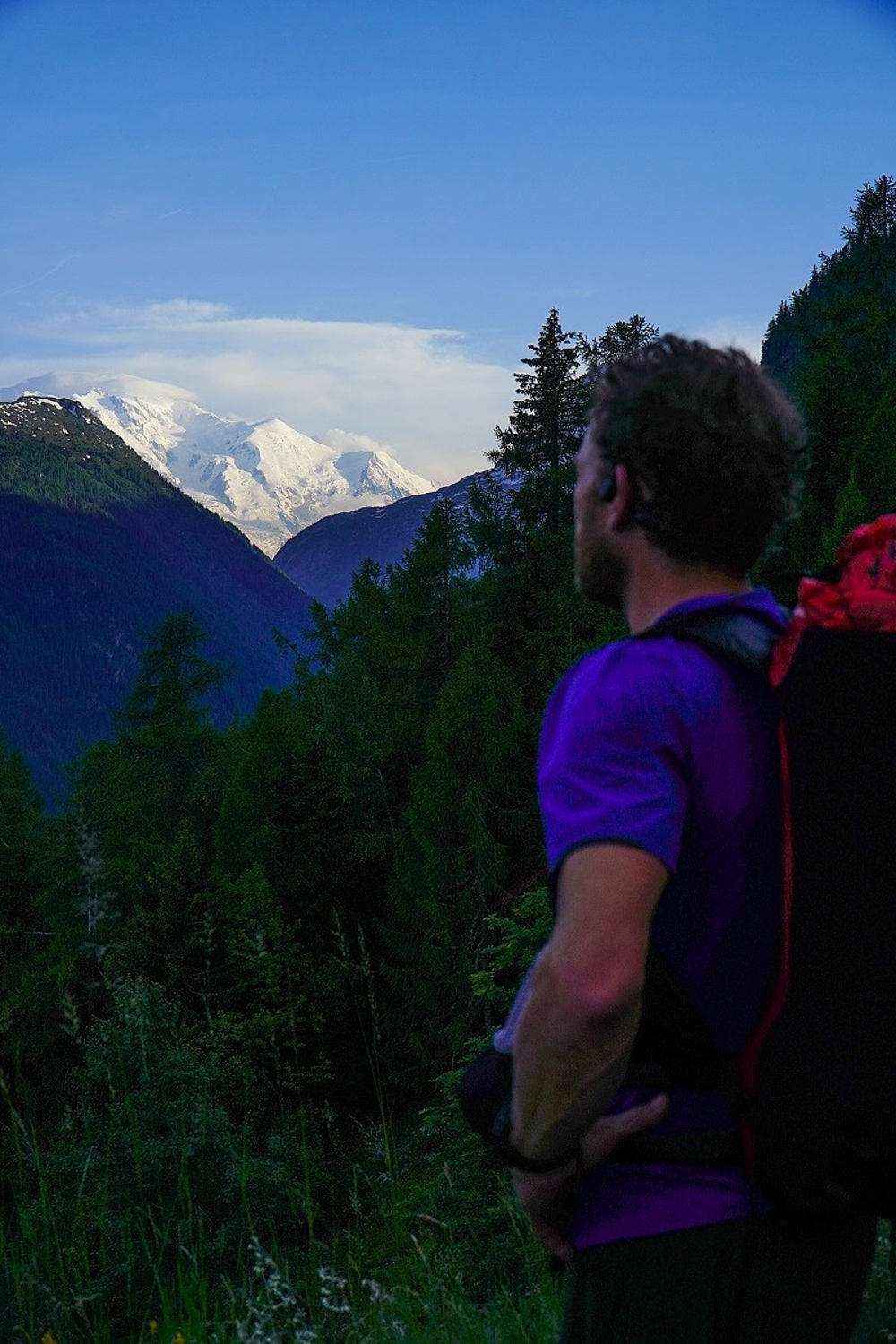 Richard Binstead (AUS) had a challenging day of flying due to stable air conditions. He had to engage in ridge-to-ridge flying. After landing on one ridge, he hiked up and flew to the next. After a pleasant evening hike, he is now resting at the beautiful Barrage D'Emosson, near the Swiss-French border with Mont Blanc in sight. He is expected to take off and glide into France tomorrow at 06:00, heading towards turnpoint 9, Mont Blanc (Fra). Richard is still in the Race and we will continue to follow him!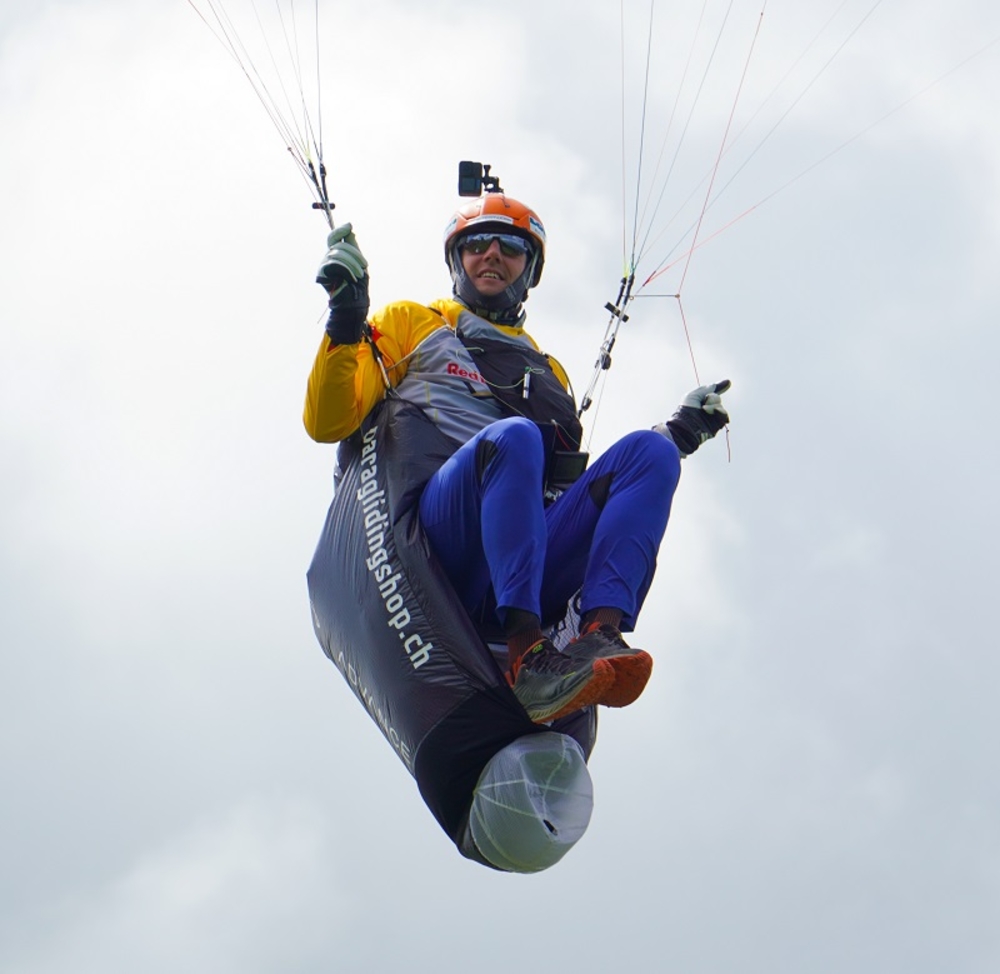 Christian Maurer wins Red Bull X-Alps 2023
For the eighth time in a row, Christian "Chrigel" Maurer has emerged victorious in the Red Bull X-Alps 2023. He achieved this remarkable feat in a record-breaking time of 6 days and 6 hours. The competition remained tight in the top for a until yesterday, when Christian surged ahead of his rivals. We extend our congratulations to the Swiss legend for his triumph and outstanding performance throughout the race.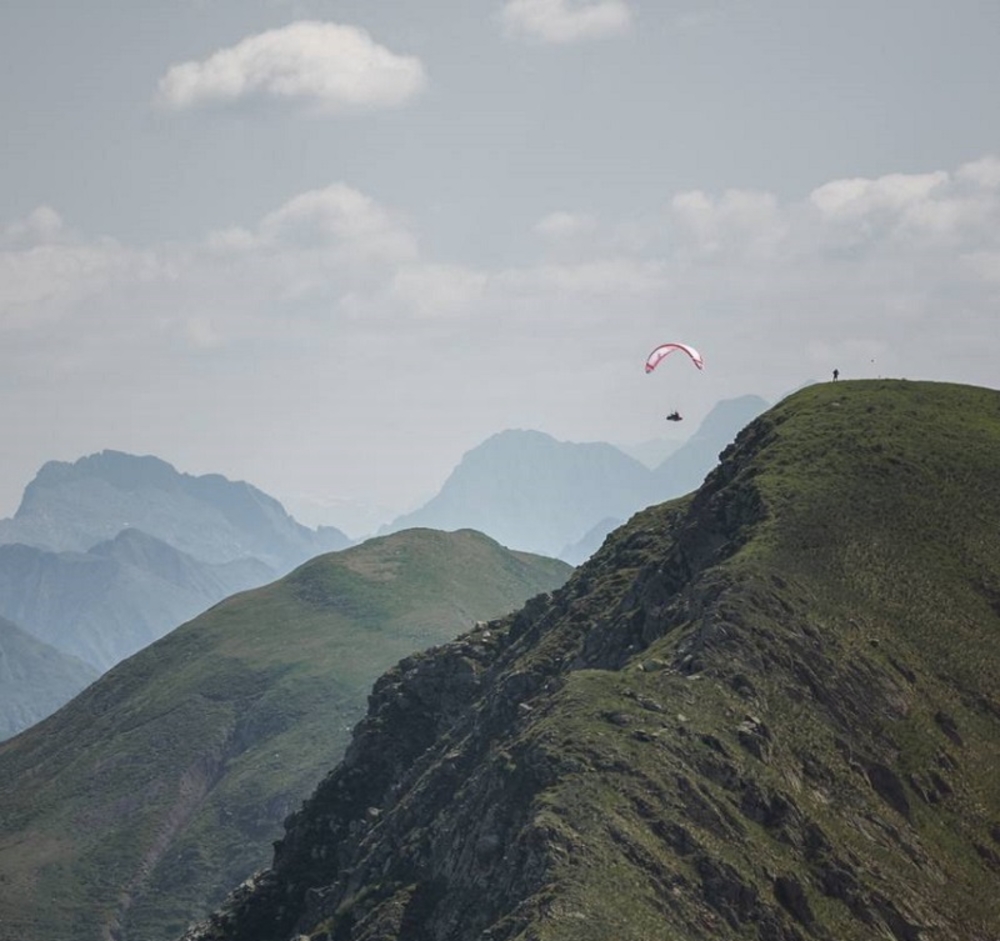 The highest-ranking NOVA athlete, Nick Donini (ITA3), is between turnpoint 12 Cima Tosa (ITA) and turnpoint 13 Zinnen (ITA). He has 132km left to go. With his flight taking place in his home field, it is highly likely that he will complete the race. We anticipate his arrival in Zell am See tomorrow or Monday. Nick is currently holding the 16th position.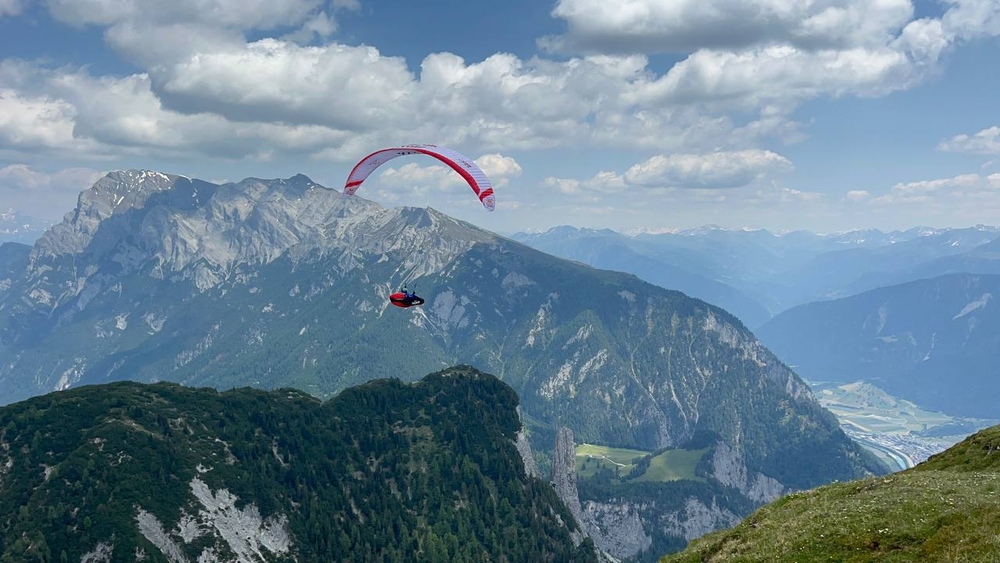 Junming Song (CHN) managed to avoid the first two eliminations and currently sits at the bottom of the rankings. Today, Junming is enjoying an exceptional flight and is heading towards Turnpoint 6 Fiesch (SUI). He trails Kinga Masztalerz (NZL) by 55km, who is also performing well in the air. Although Junming's chances are slim, we are amazed by his performance today. We are in the area and will attempt to secure an interview with him tomorrow.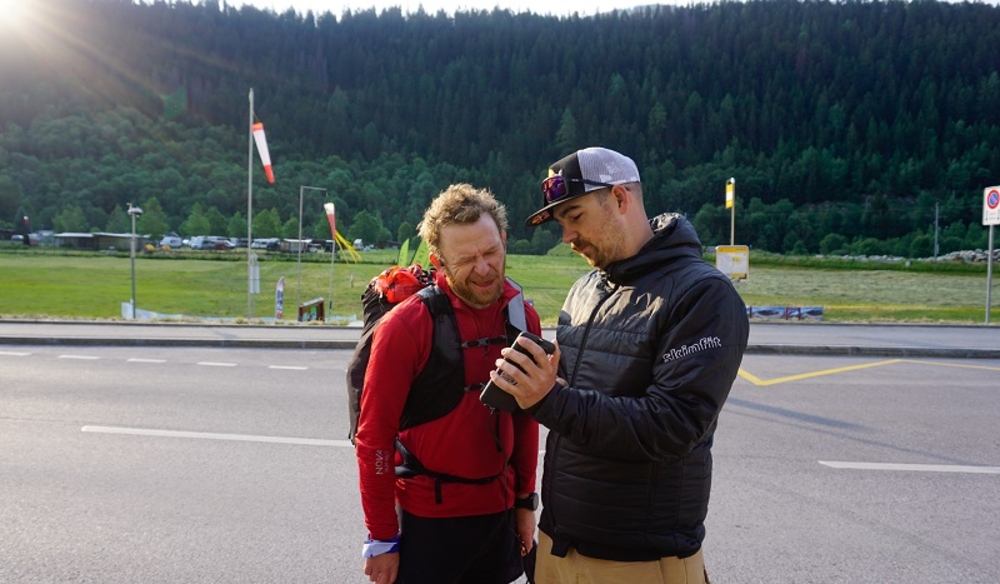 Richard Binstead (AUS) is having the flight of his life. After walking almost the entire day yesterday, he began today by reaching Turnpoint 6 Fiesch (SUI). After a short check by the Red Bull X-Alps Medical team, he launched himself into a flawless flight to Turnpoint 7 Frutigen (SUI), following a visit to Turnpoint 8 Niesen (SUI).  Richard is now en route to Turnpoint 9 Mont Blanc (FRA), Stay tuned! The race continues until Friday!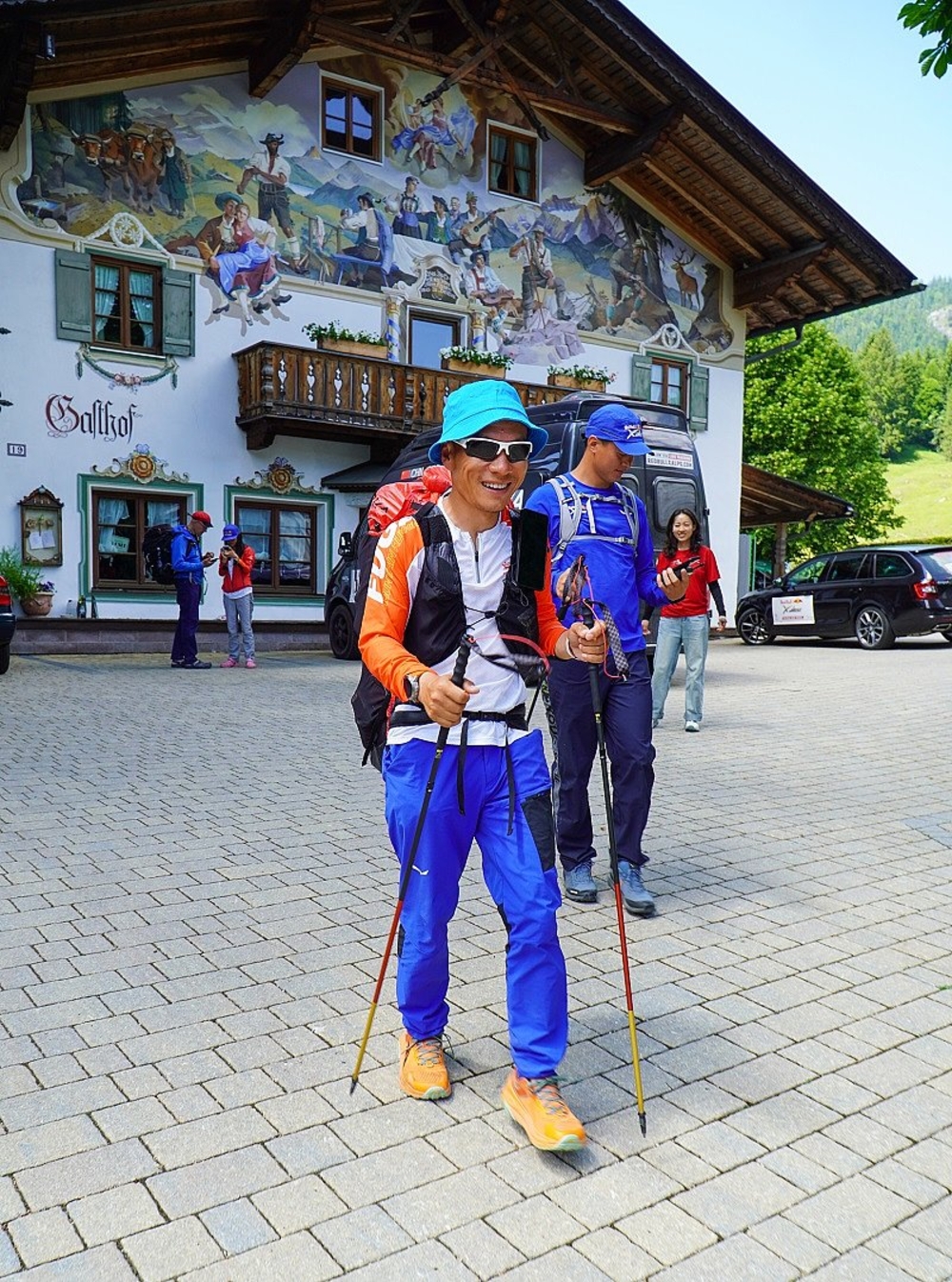 Superman Junming survived two eliminations  16/06/23
On Wednesday, Junming did an incredible achievement. He ran all night and secured another 48 hours in the race, as he outpaced Ondrej Prochazka (CZE), who was eliminated on Wednesday morning. The team recorded over 100km of hiking in 25 hours, which is impressive, like that of an ultrarunner. We met Junming while he had only slept for 2 hours. Surprisingly, he was in really good shape, checked by the Red Bull X-Alps medical team, and started hiking towards a launch site close to Garmish Partenkirchen. He managed to have a good 25 km flight to turnpoint 4, Lermoos, where he rested well. Junming started Thursday ranked last, so he had immense pressure to overtake at least one athlete to avoid Friday morning's elimination. After a successful flying day, he managed to tag turnpoint 5, Piz Buin, and overtake Laurie Genovese (FRA3), who was eliminated on Friday morning. He now has two days to catch up with the next athlete, Kinga Masztalerz (NZL), if he wants to survive Sunday morning's elimination.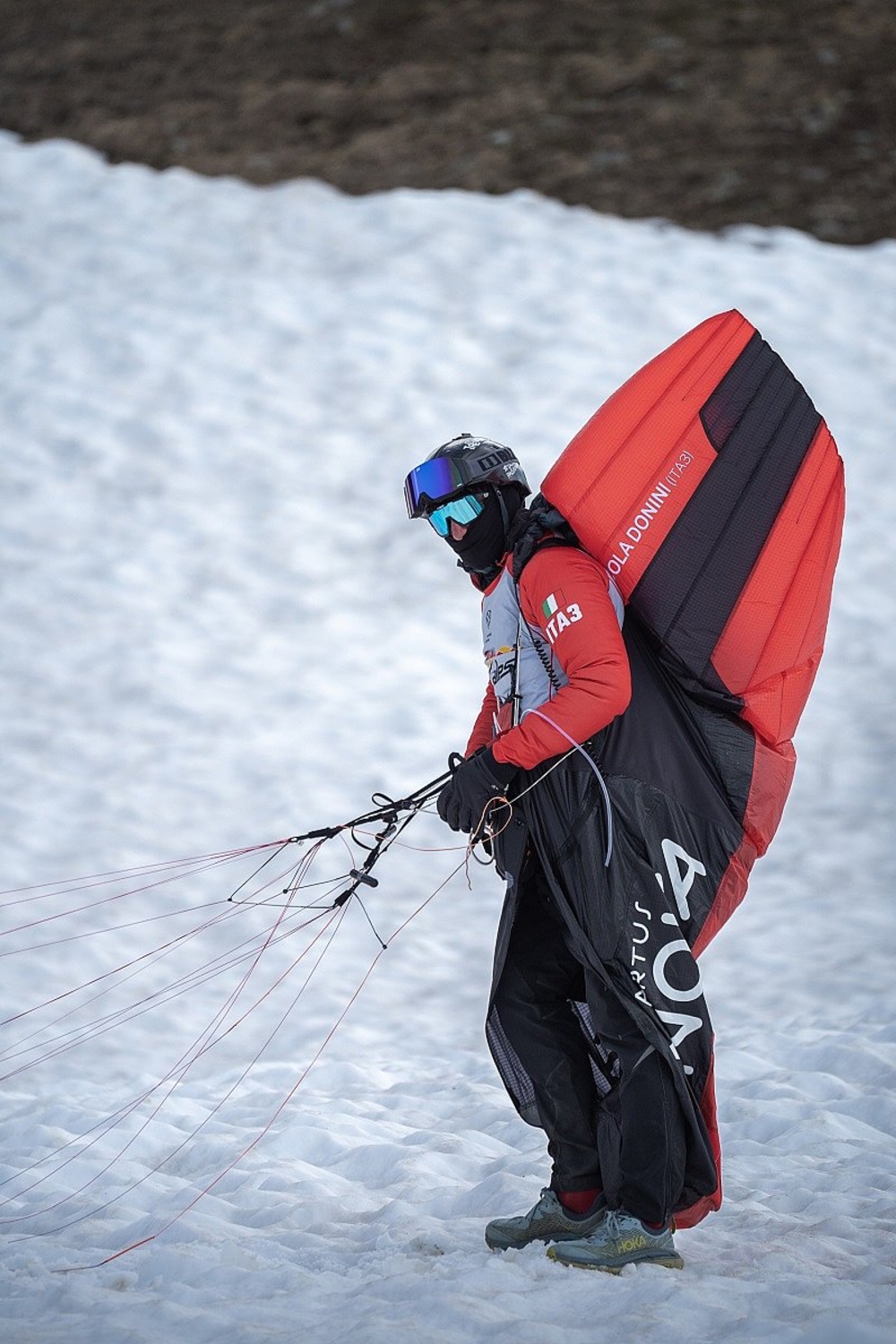 Nick Donini is heading back towards Zell am See
Since the last update, Nick has done some amazing flying, passing turnpoint 6, Fiesch (SUI), 7, Frutingen (SUI), 8, Niesen (SUI), 9, Mont Blanc (FRA), 10, Col du Petit Saint Bernard (FRA), and 11, Duforspitze (SUI). At the moment, he is 165km behind Christian Maurer (SUI), who is currently ranked number 1. Nick has completed 857 out of 1223km and stands a good chance of reaching Zell am Zee in the next few days. He is reported to be in good shape and still going strong.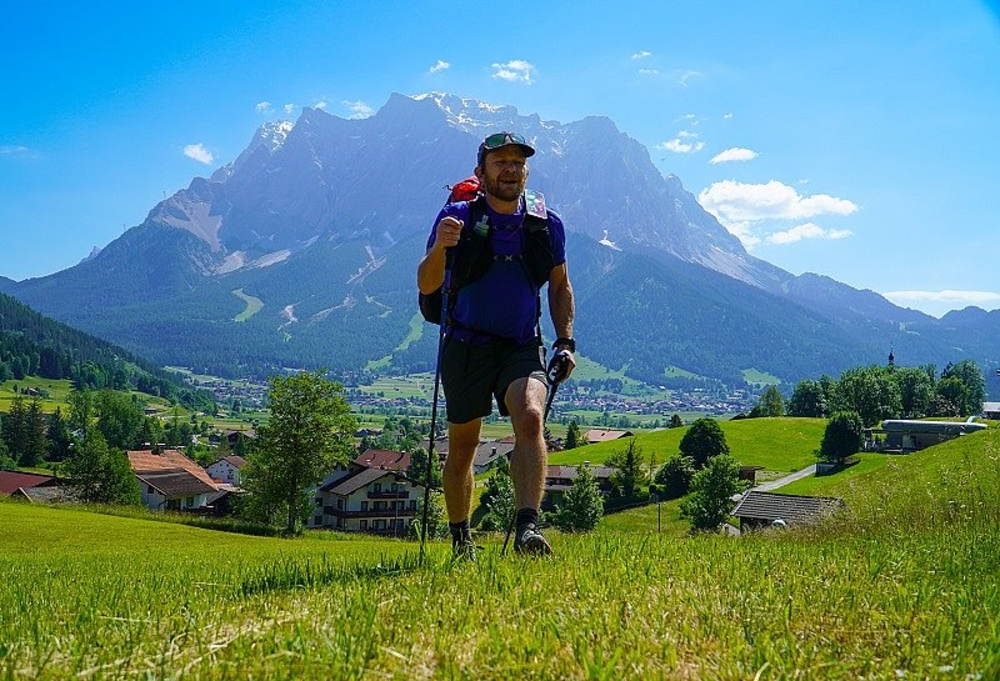 Richard: "Life is short, but not that short!"
Richard Binstead had a good flying day on Wednesday. He started close she day signing Turnpoint 4 Lermoos, hiked up and flew towards the swiss border. However, he had to land to tag turnpoint 5, Piz Buin (SUI), due to strong northern winds. It was impossible to relaunch, so he hiked down to the valley for dinner and a good night's sleep, much needed after walking through Tuesday night. Thursday morning, we watched Richard take off and head for Davos. He managed to find some nice early thermals and continued his journey. He top-landed twice that day to refill water and had one descent down the valley close to the city of Chur in Switzerland.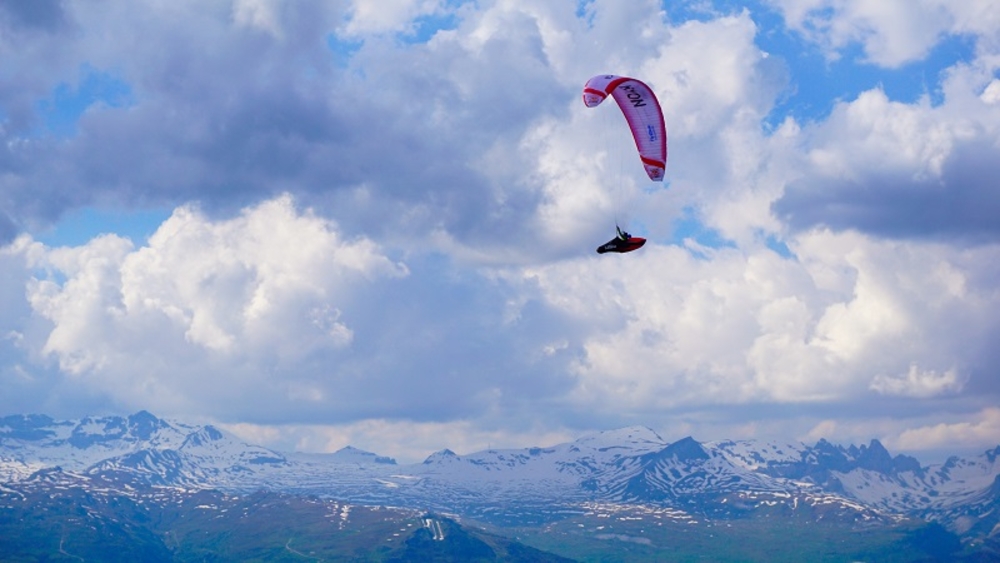 The NOVA media team hiked up with him as he launched again. Today, the weather is challenging with a lot of rain. He glided down to Andermat and has hiked up to the Furkapass. The wind is a bit turbulent up here, so he is hiking to check out a lunch clear of the turbulence.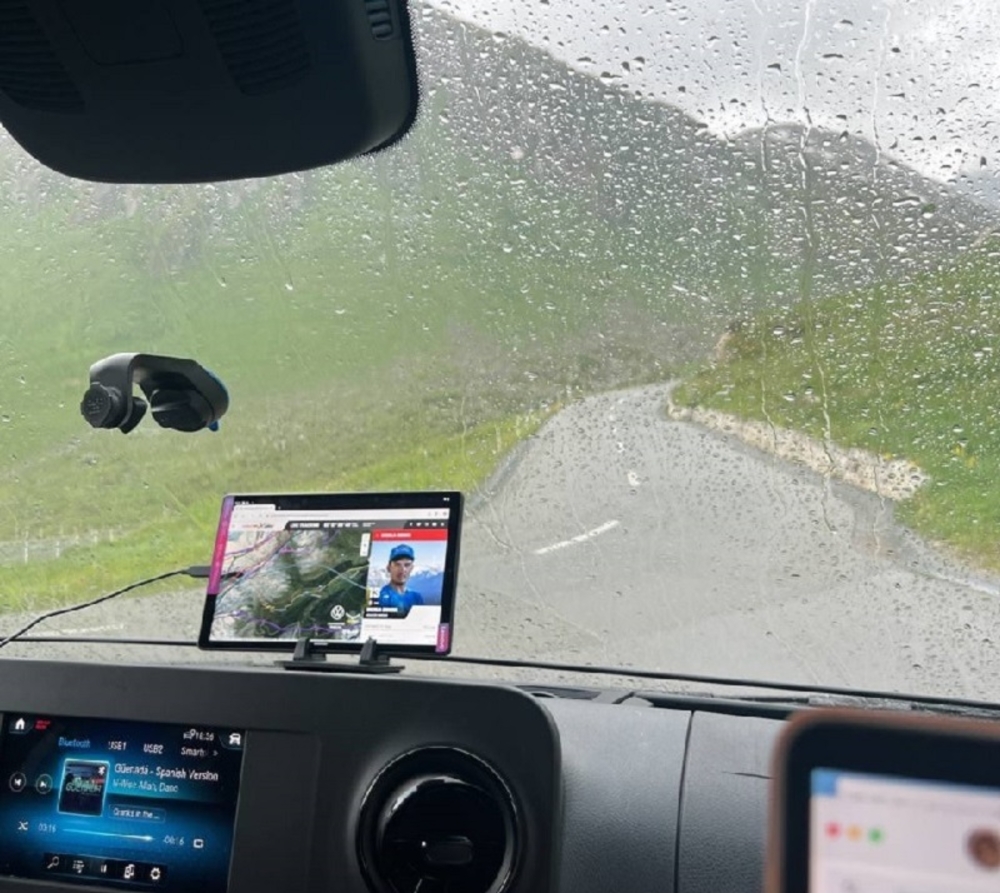 Fantastic day for Nick Donini  13/06/23
Nick Donini (ITA3) had a fantastic day of flying. He started his day around 9 am and quickly checked in at turnpoint TP5, Piz Buin. He managed to overtake many pilots and is currently in 14th place as of 20:00. Nick landed near Tujetsch, facing heavy rain, after flying approximately 110 kilometers.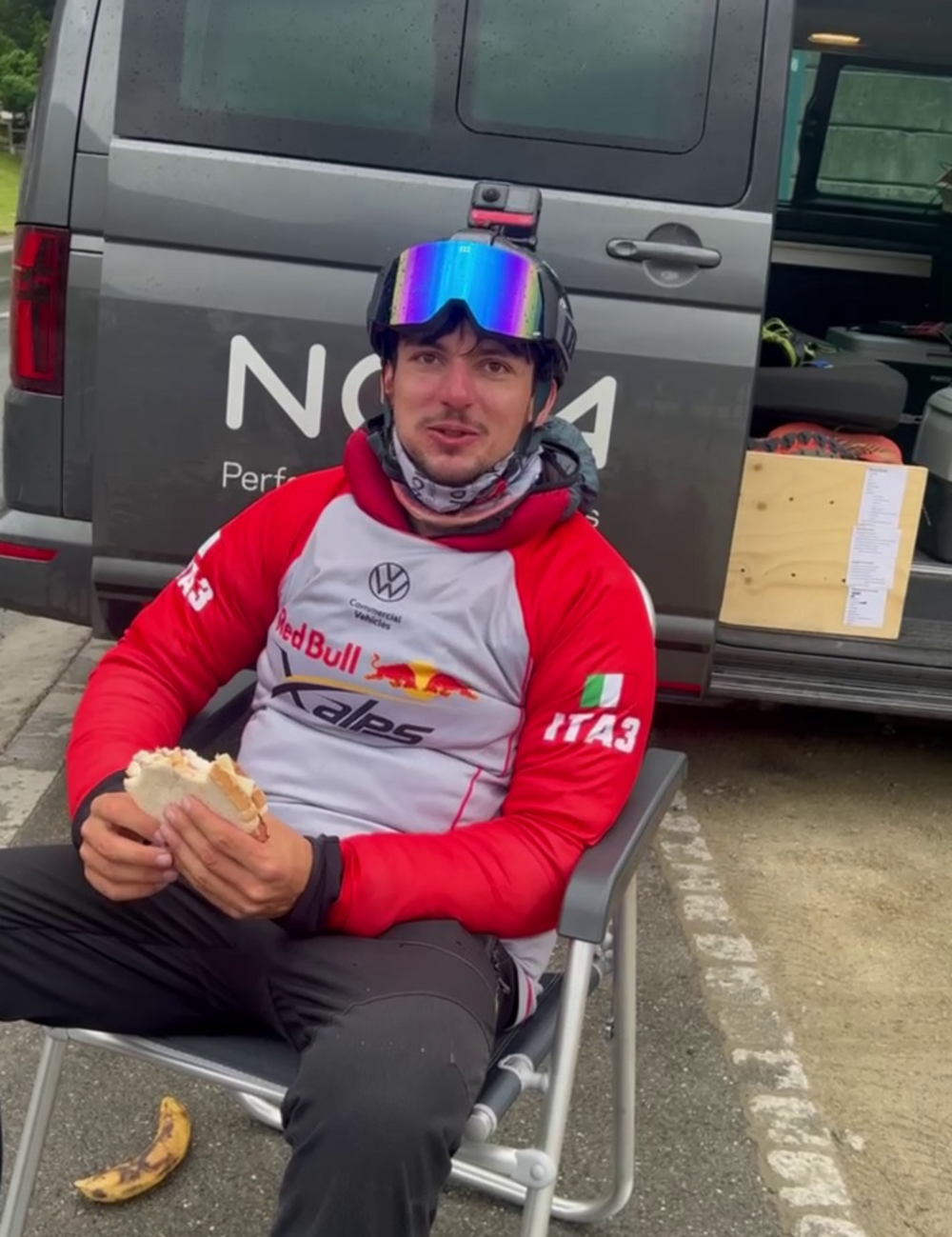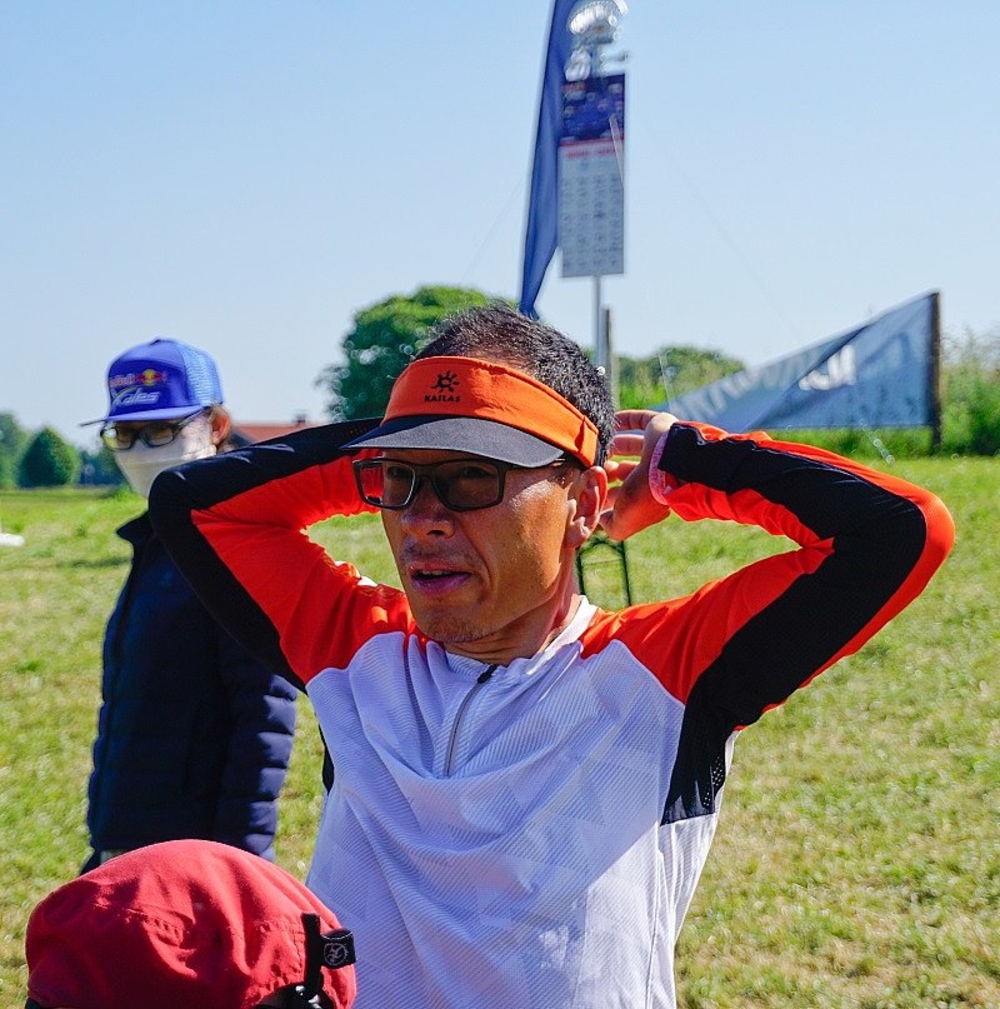 The most important thing is not to win, but to avoid elimination
Junming Song (CHN) finally reached turnpoint 3, Chiemgau – Achental, around 9 in the morning. He seemed a bit concerned about his achievements from yesterday. We witnessed him launching his glider and heading towards turnpoint 4, Lermoos. Junming managed to overtake a couple of other competitors earlier today but is currently in last place (32nd). He is at serious risk of being eliminated tomorrow. To avoid elimination, he has used his last card, a night pass. However, he still needs to surpass another athlete. Unfortunately, the two closest athletes, Kinga Masztalerz (NZL) in 31st place and Laurie Genovese (FRA3) in 30th place, have also pulled a night pass. It's going to be an exhausting night for all of them.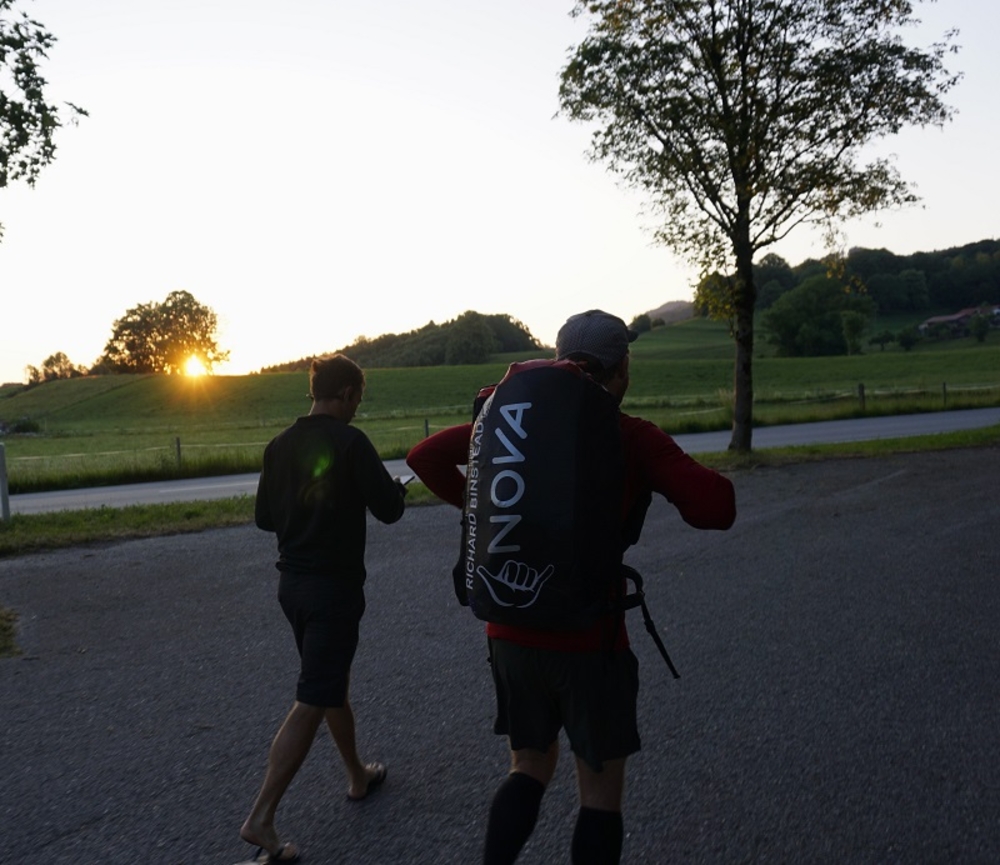 The NOVA Media Team camped together with Richard Binstead (AUS) and observed him start hiking this morning. He was in good shape despite yesterday's allergic reaction and has an EPIPEN added to his equipment in case of another incident. After two flights today, Richard is currently ranked 28th, near the bottom. In order to secure his position, he is also using his night pass.
Good luck everybody!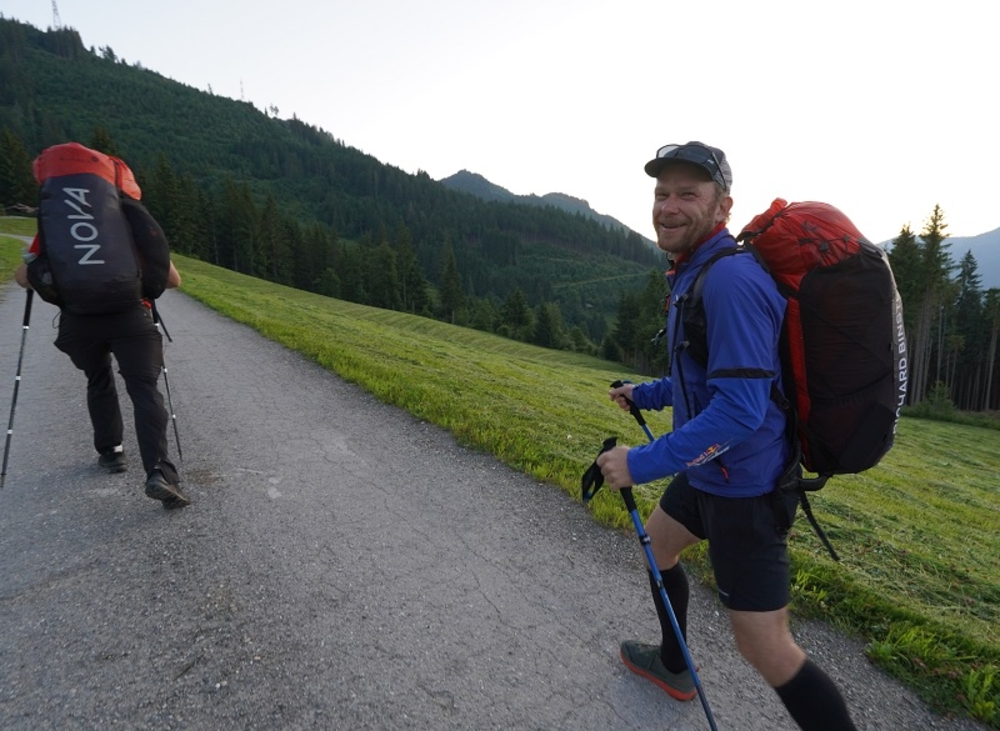 Breaking News! 12/06/23
The day started off well for Richard Binstead (AUS) with a smooth flight. He was in excellent shape when he left camp this morning. However, due to a mistake, he had to make an unplanned landing 12 km before reaching turnpoint 3, Chiemgau Achental, leaving him with no option but to continue on foot. A few kilometers before the turnpoint, he experienced an allergic reaction, resulting in hives, swelling in his face, lips, and tongue. Rich said "I nearly fainted and had to lie down." He was promptly assisted by his supporters, who arranged for medical help. The situation became quite dramatic as throat swelling can lead to breathing difficulties. Fortunately, he recovered sufficiently to reach the turnpoint, where he rested for a couple of hours.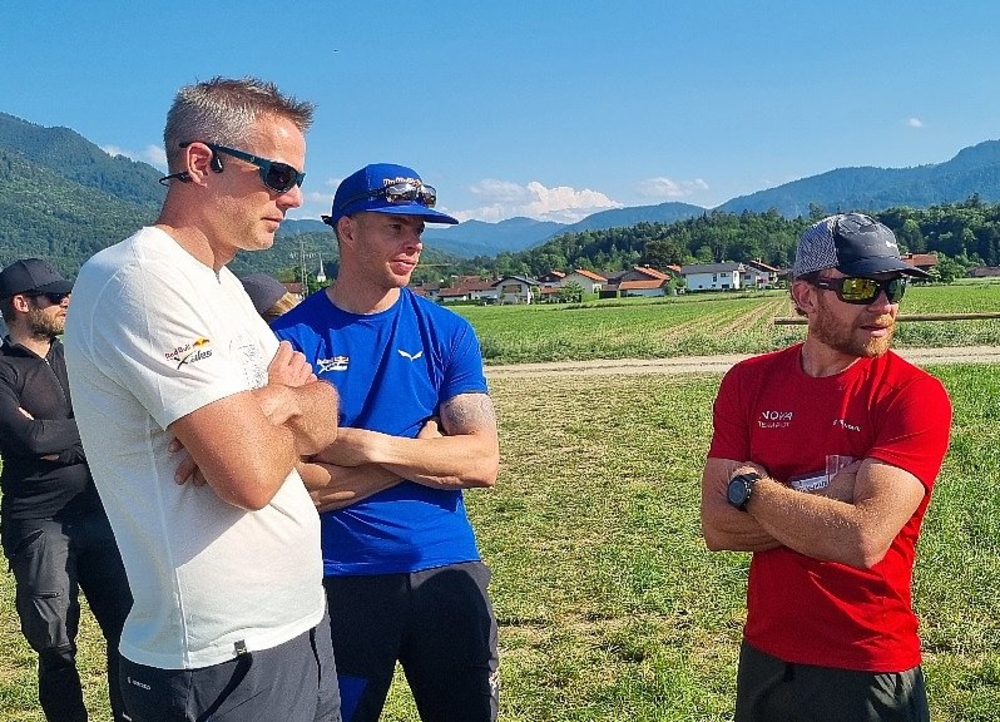 Following an examination by the Red Bull X-Alps doctor, the decision was made for him to continue the race. However, he will refrain from flying for the rest of the day and instead walk in the flat area towards a more suitable starting point tomorrow morning. The Redbull X-Alps medical team is closely monitoring him.
We sincerely hope that Richard can regain his full strength and resume the race tomorrow! 
Nick Donini (ITA3) showcased some incredible flying today. He successfully checked in at both turnpoint 3, Chiemgau – Achental, and turnpoint 4, Lermoos. Flying a more southern route this evening, he will approach turnpoint 5 Piz Buin, from the south tomorrow.
Junming Song (CHN) has been facing difficulties due to strong northern winds and had to make an early landing. Unfortunately, he where unable to relaunch and is currently hiking towards Turnpoint 3, Chiemgau – Achental. We are waiting there to give him a warm welcome.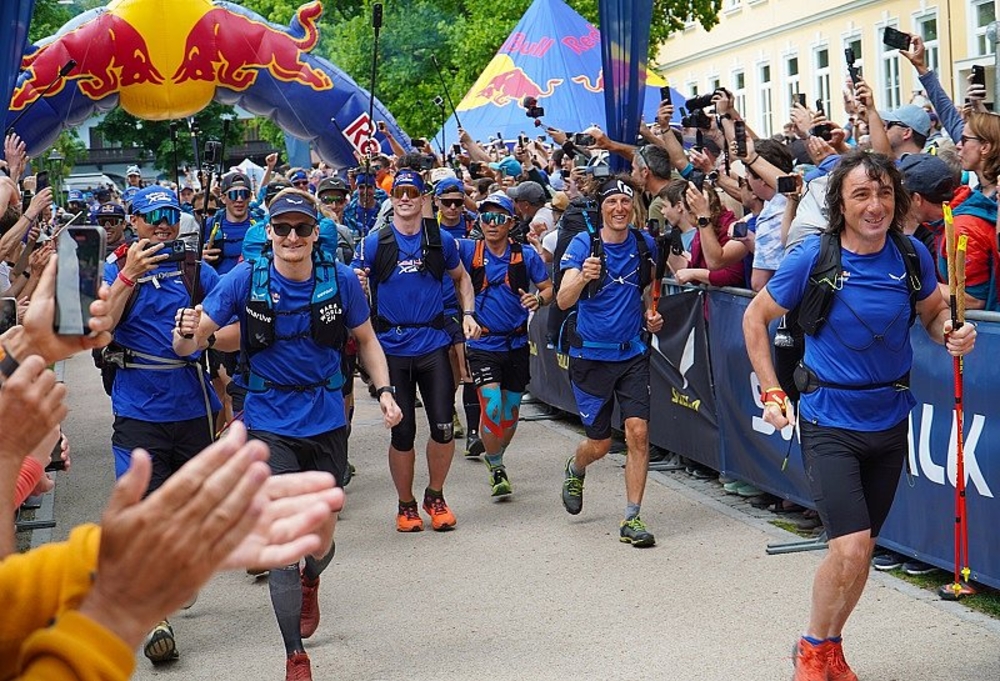 The world's toughest adventure race has begun 11/06/23

In an enormous media circus, the athletes ran an entertainment lap for the cheering crowds in the city of Kitzbühel. They then embarked on the challenging ascent of the famous steep Hahnenkamm slope. After approximately an hour, the athletes began to arrive at the signboard, preparing for takeoff. Lenart Oblak was the first to arrive. Pàl Tàkats (HUN) received a huge applause from the audience as he launched first into the air.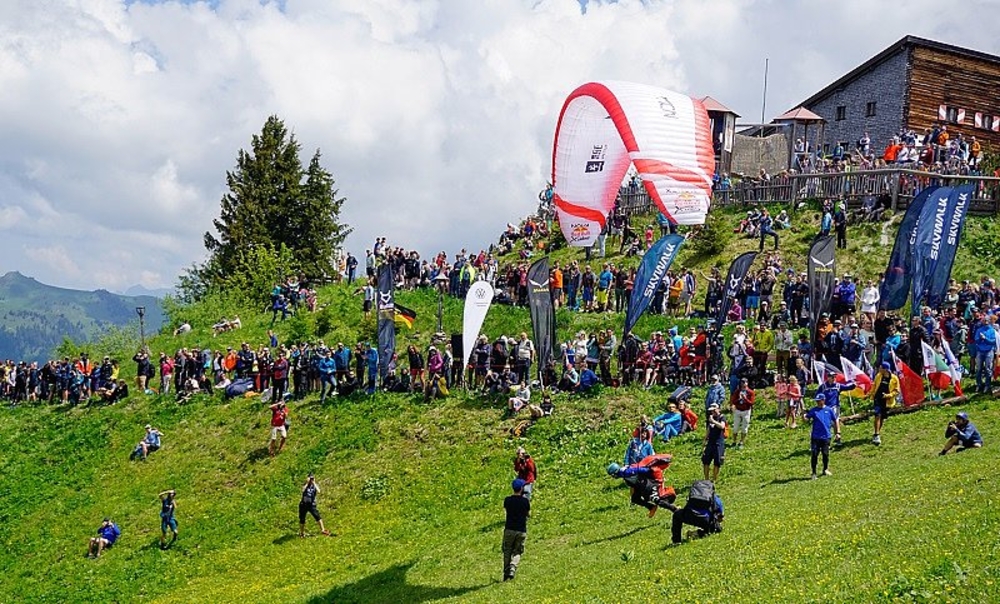 A few minutes later, all three NOVA athletes were airborne, joining the pack of gliders. Pàl Tàkats left the Hahnenkamm well ahead of the group, maintaining his lead until turnpoint 2, Wagrain Kleinarl. Around 1900, the pack caught up with him, but he still managed to hold onto his lead at 2100.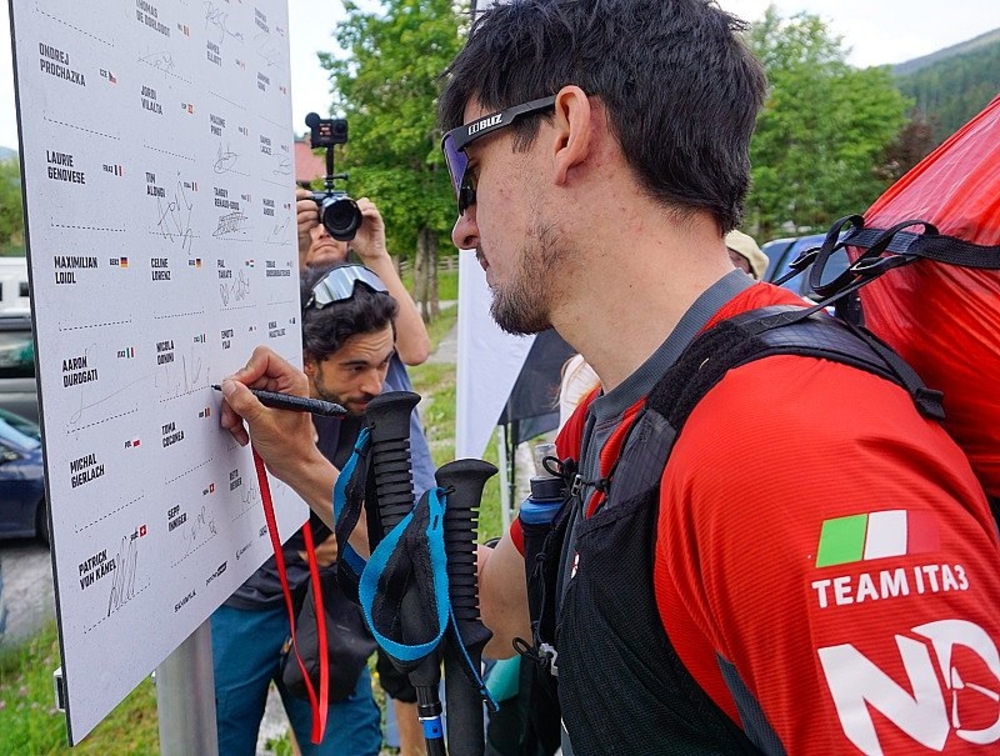 The NOVA Media team were able to track all three NOVA athletes as they reached turnpoint 2. All three had to touch the ground before reaching the turnpoint. Currently, Nick Donini (ITA3) is the highest-ranking NOVA pilot, at the 18th place. He is approximately 25 kilometers behind the leader, but there is still alot of time to catch up. Tomorrow holds endless possibilities!  
See more pictures from today here!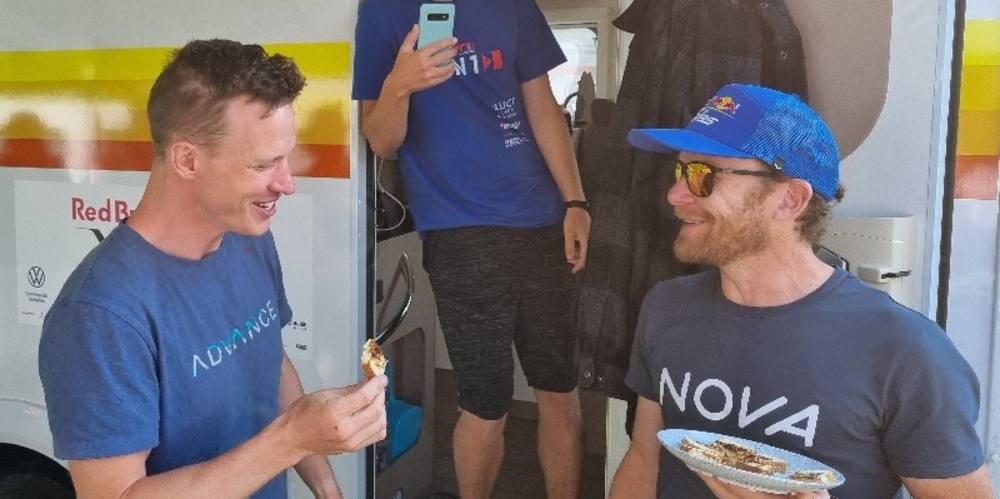 "Not entirely offensive" 10/06/23
Our Australian athlete, Richard Binstead, has a unique method for replenishing lost calories: Australian Vegemite. He shared some of it with fellow athletes during breakfast. James Elliot (CAN) commented, saying it was "not entirely offensive." Chrigel Maurer (SUI) expressed suspicion about whether Vegemite might be on the doping list, but he still ate the entire portion served on fresh bread. Meanwhile, team member Nicola Donnini (ITA3) began speaking in Italian while tasting. Probably not satisfied with the cuisine.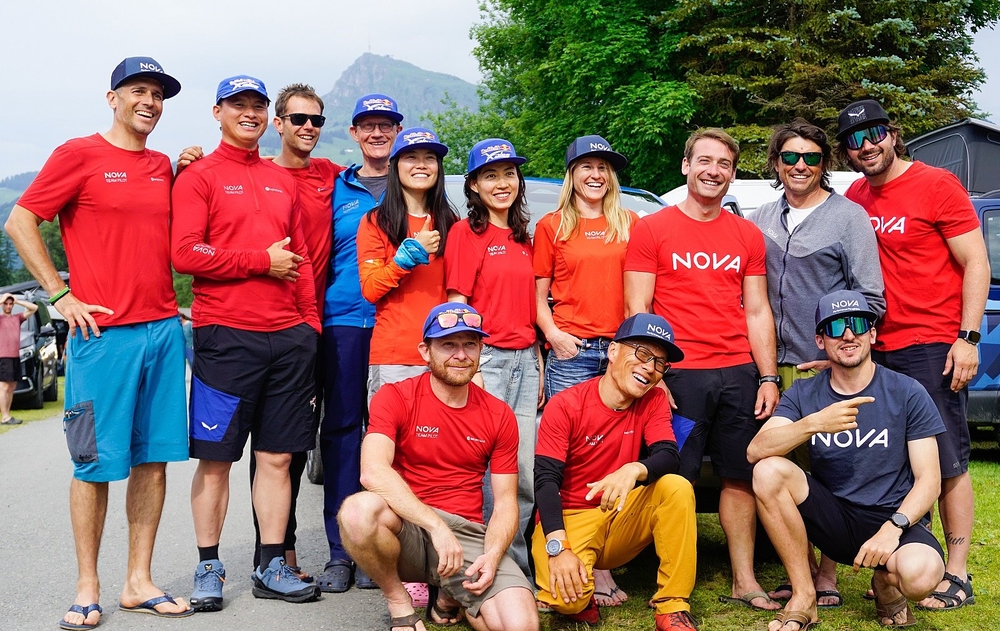 You can watch the video from the breakfast event on Facebook here.
The atmosphere in the camp is calm today. Athletes and supporters are relaxed as they prepare their equipment for the main event tomorrow. In the afternoon, we managed to gather the entire NOVA team for a photo session. It's unlikely that we'll be together again until Zell am Zee for the finish.
We wish all the athletes good luck tomorrow!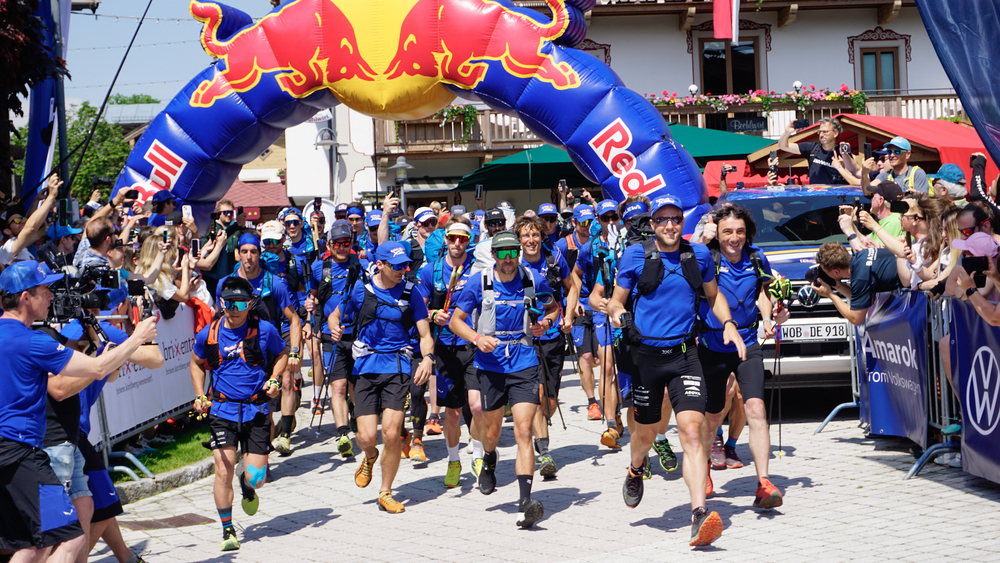 08/06/23 - The Prologue
The Prologue for this year's Red Bull X-Alps race kicked off in Kirchberg amidst favorable weather conditions. Although rain was predicted later in the day, the organisers decided to shorten the route by eliminating two turnpoints. The race leaders remained in close proximity throughout the event, resulting in a chaotic landing and a thrilling finish.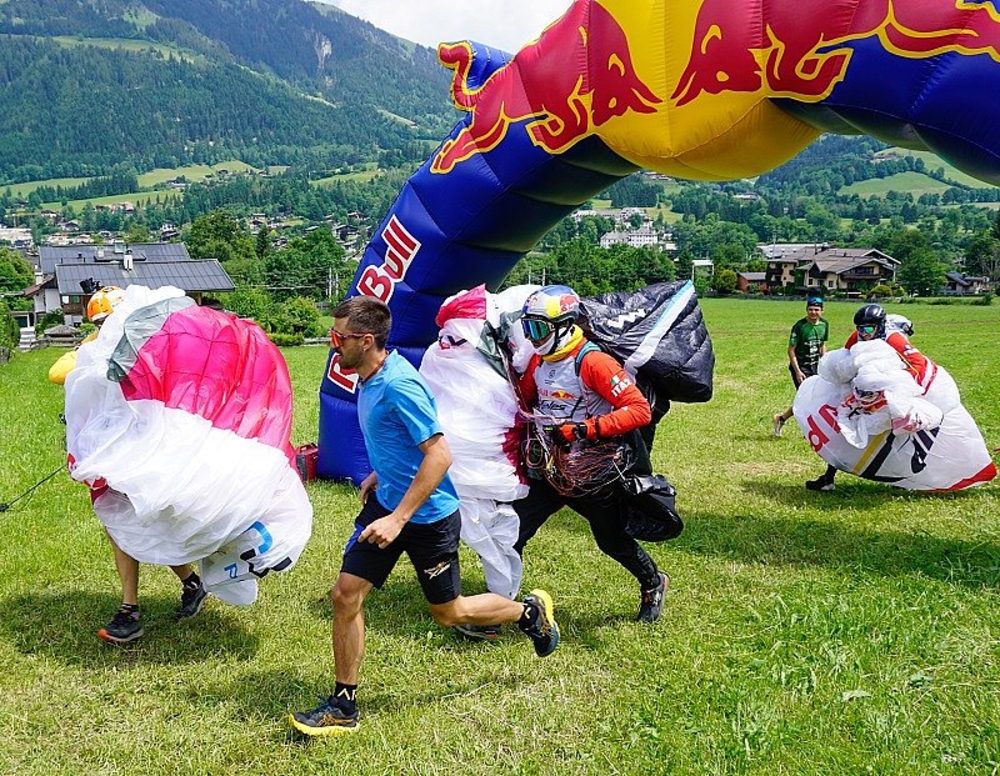 In an incredible display of running, Maxime Pinot (2h 17m) emerged victorious, closely followed by Chrigel Maurer (2h 18m) in second place. Aaron Durogati secured the third place.
NOVA athletes: The NOVA athletes showcased their talents and resilience throughout the Prologue. Richard Binstead demonstrated his flying skills, securing a commendable 21st place (2h 46m). Junming Song displayed great determination, finishing at a commendable 27th place (2h 53m). Despite facing an additional challenge of not reaching the last turnpoint and running extra kilometers, Nick Donini persevered and secured 28th place (2h 59m). Overall, our athletes expressed satisfaction and happiness with their performances, setting a positive tone for the upcoming competition.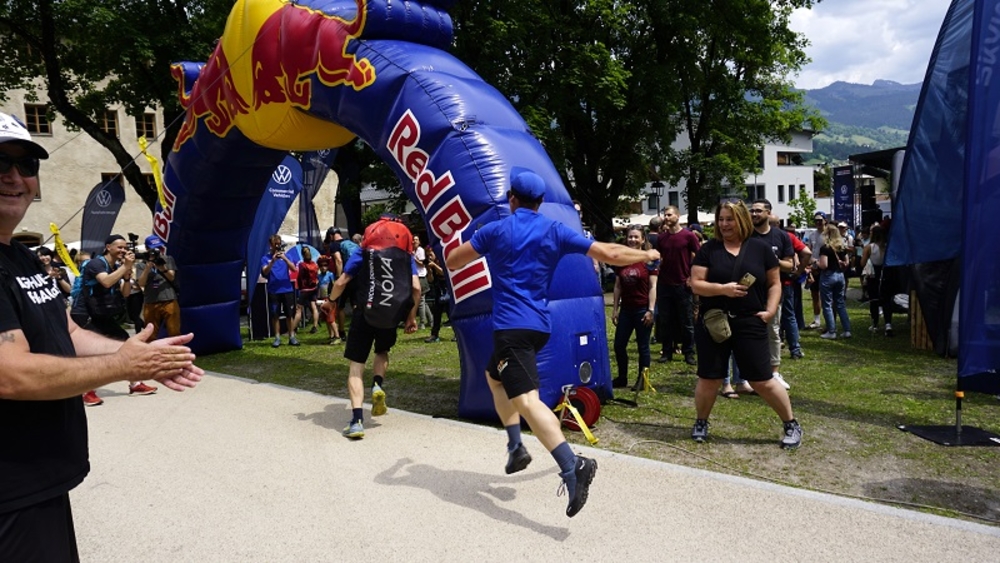 The Prologue not only provided a thrilling spectacle for participants and spectators alike but also served as a means to remove some of the pressure and nerves before the main event commences on Sunday. Athletes had the opportunity to test their skills, adapt to the course, and gain confidence, setting the stage for an exhilarating competition ahead.