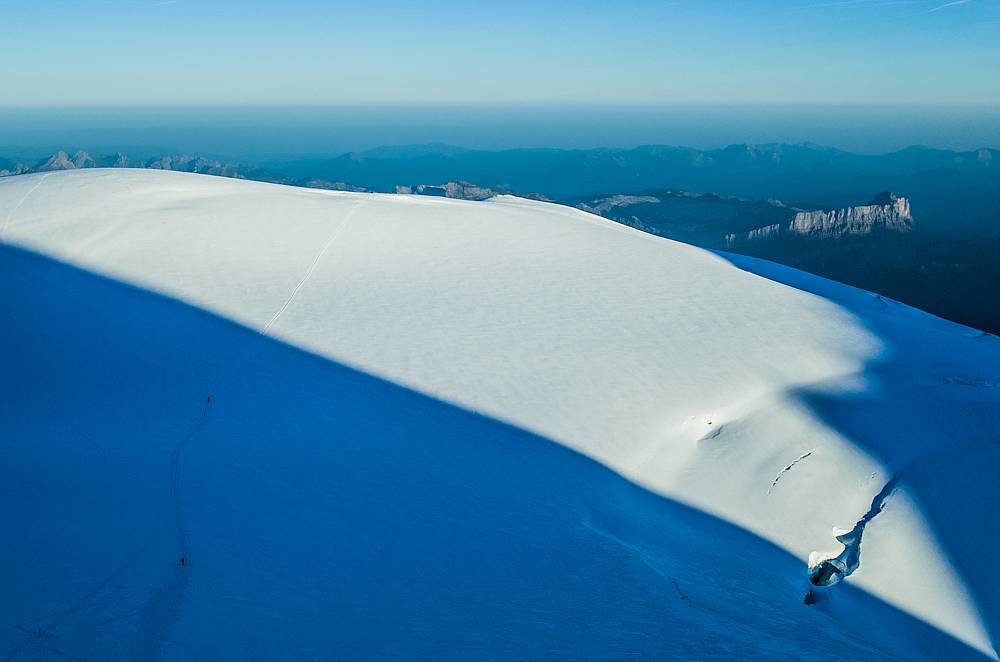 "Luis, do you fancy a quick stop in Chamonix to climb and fly down Mont Blanc on the way to the Coupe Icare?"  The question wasn't entirely serious because with only two days available, the probability of a good weather window wasn't great…
However, on the day of departure the forecast is perfect - there is no cloud development and the forecast are for 15 km/h north wind at 5500 m.  Below this altitude wind speed is forecasted even less.
Luis and I finish work early and head towards Chamonix.  We aim for a parking area in Les Bettières, which I have seen on Google Earth - southwest of Chamonix, at an altitude of approximately 1400 meters.  Wearing our head torches, we set off from there a little after 10 pm.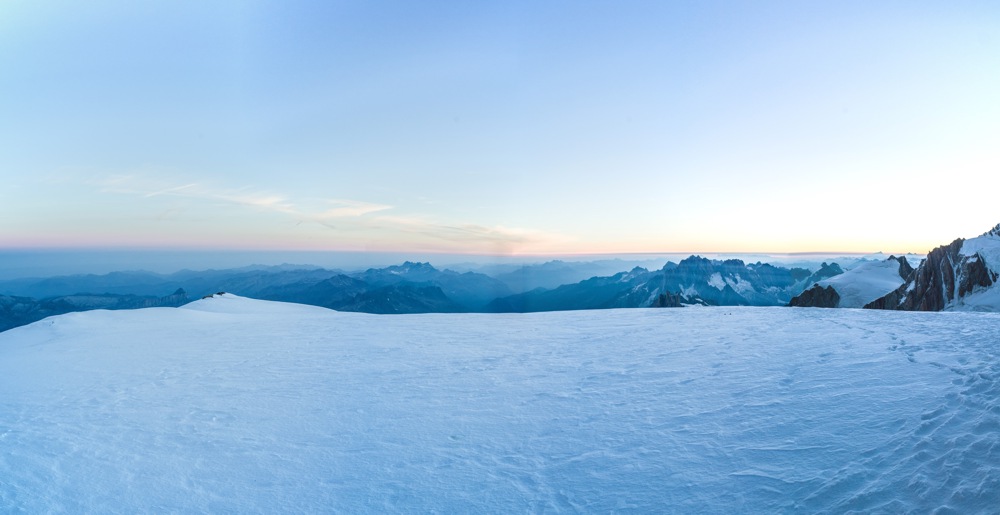 My high-altitude mountain experience is limited to a few three-thousanders in the Eastern Alps.  This means, I have no clear picture what to expect on the much higher Mont Blanc… So to begin with, we chose a very slow walking speed.  Our ascent route takes us past the Nid d'Aigle and Tête Rousse refuges, which we pass after approximately 4.5 hours.  Thanks to our GPS device, the navigation is no problem.  And despite the advanced hour, the hike is fun.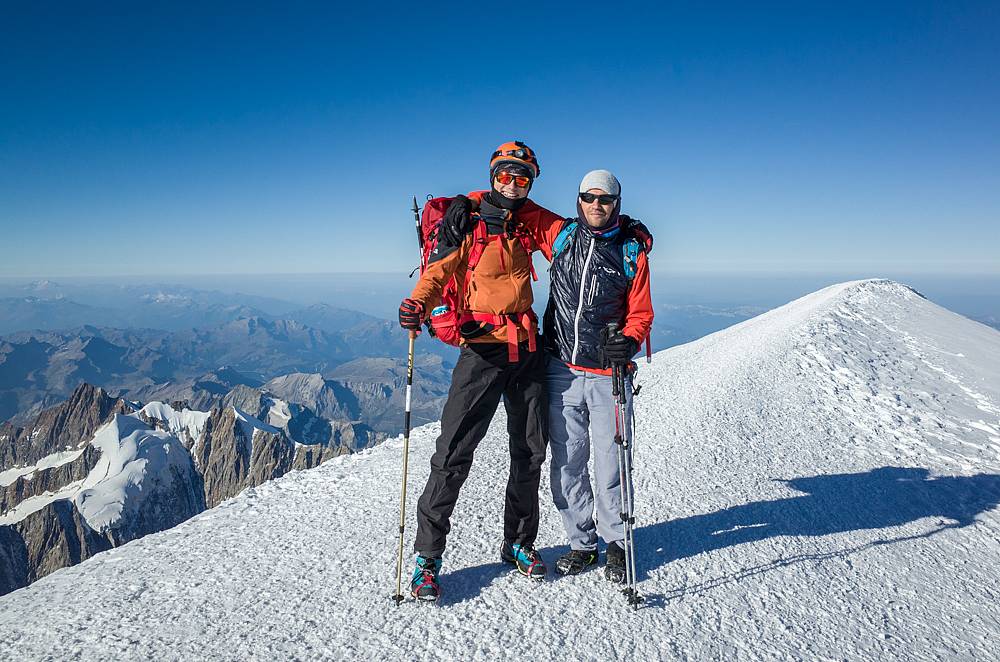 In terms of altitude gain, we have now passed the half-way stage.  We are confident we can easily accomplish the second half.  Soon we have crossed the rockfall prone Grand Couloir and follow the rocky ridge to the Goûter refuge at 3800 meters.
The altitude offers a unique view of the stars - but it also reduces our walking speed to a surprising extent.  The next 500 meters of ascent to the Vallot refuge are technically without problems, but despite our great effort require about two hours walking time.  Our reward for a long night is an impressive sunrise over the Aiguille du Midi.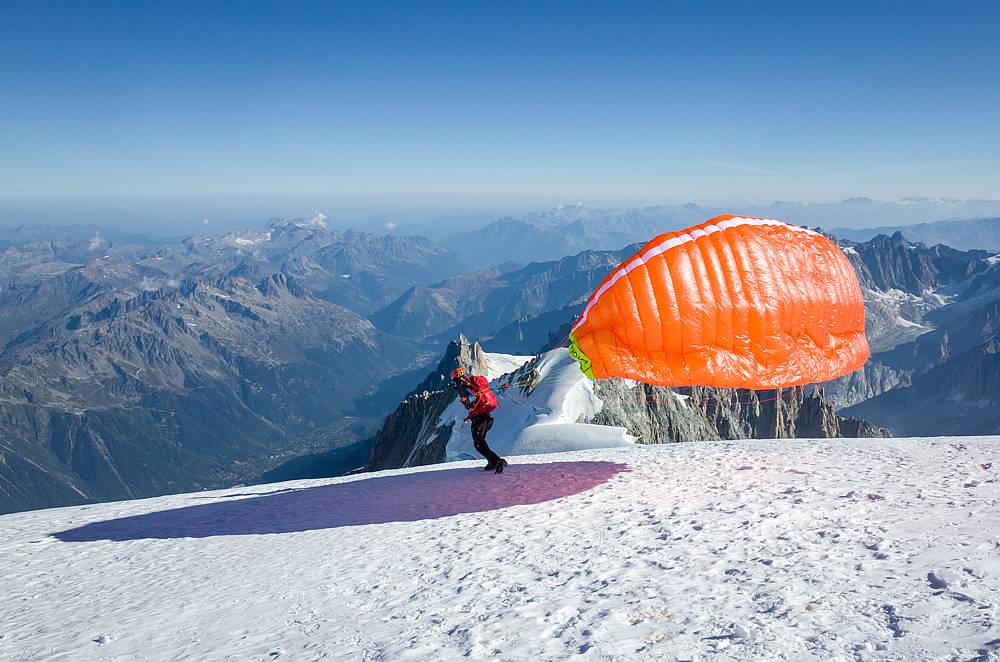 In pleasant temperatures and with nil-wind, we head to the Bosses ridge, which is exposed in places and requires some concentration while we continue on.  The combination of lack of sleep and oxygen doesn't help.  Finally, the ridge flattens steadily, becomes wider - and at 9.30 am we reach the peak of Mont Blanc.
Only five other mountaineers are with us at the summit. We enjoy the view and cannot believe our luck - flying conditions look ideal. The wind is wafting at 5 km/h from the north, the snow is hard enough for a good run and the northerly "take-off" would be perfect even for a beginner.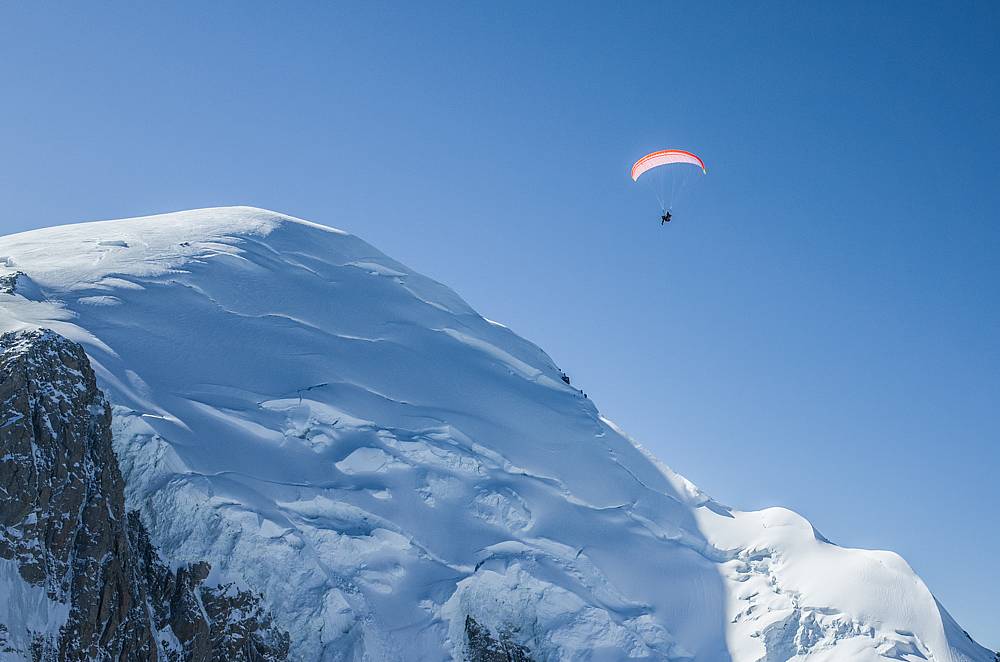 Luis opens his IBEX and I prepare my hike & fly prototype.  After a few steps we are airborn: we are flying from Mont Blanc! I take a few pictures and then put my camera away.  I want to enjoy the impressive views of the Mont Blanc massif.  We fly part-way along our ascent route.  Only now can I appreciate the magnitude of our night-time ascent.
After a quick search from the air, I spot where we started and land, nearly exactly 12 hours later, direcly next to the parking area.  I leave my rucksack and glider next to the car and want to have a quick sit down in the passenger seat before I pack my gear.  I must have relaxed as I slept for quarter of an hour upright in the seat.
After a couple of hours rest we celebrate with a big meal and head off to the Coupe Icare. Next year, if the forecast is as good on the way to the Coupe Icare, I am considering going up again.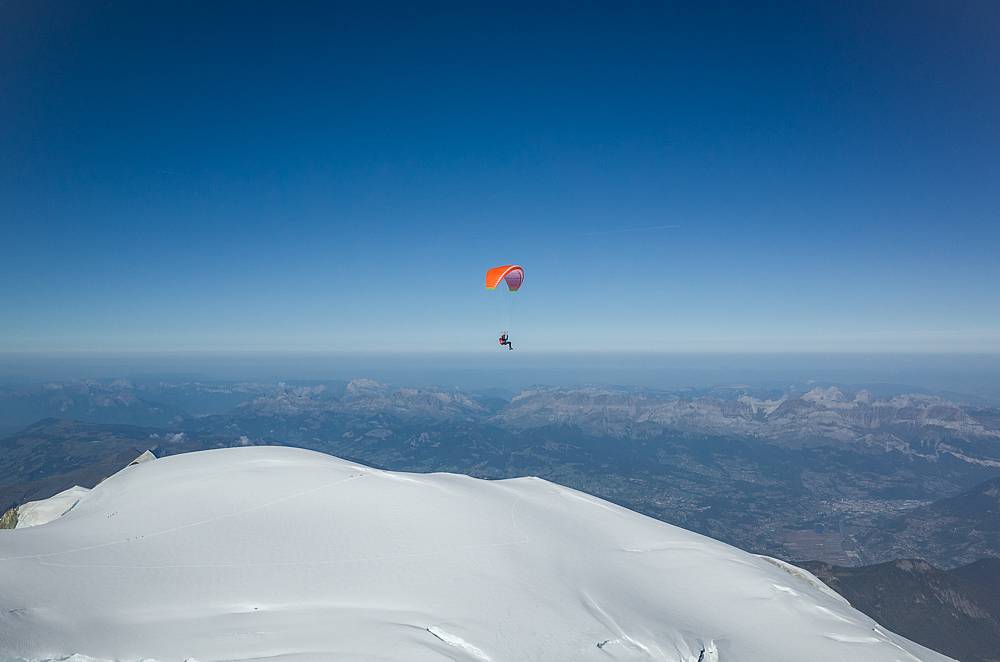 Info
There is a great deal of information on the internet on what mountaineering equipment is necessary to safely ascend Mont Blanc and it is essential to check this out before an attempt. For example, see here: http://kalnuklubas.lt/MontBlanc.pdf
Flying from Mont Blanc is strictly forbidden between the 1st of July and the 31st of August. The reason is because during this time there are hundreds of summit chasers on fine weather days, with the associated number of helicopter rescues.
During our entire ascent at the end of September, we only encountered about 20 to 30 people.