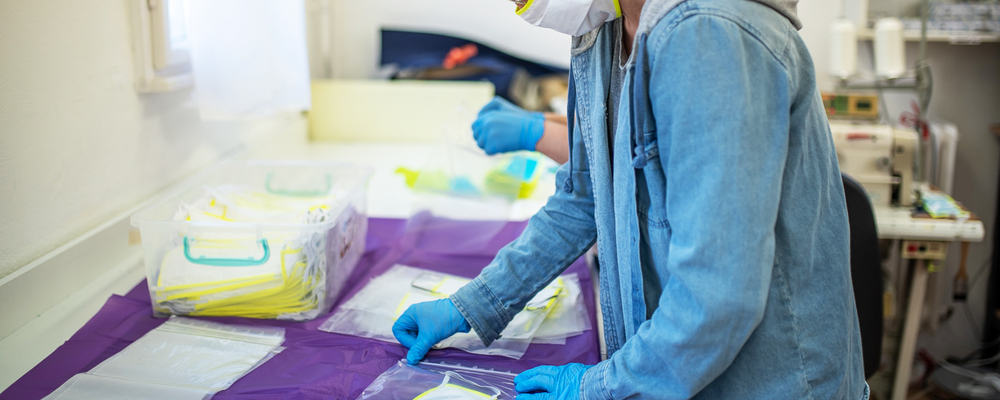 Flexible production in response to the coronavirus crisis
Masks & gowns instead of paragliders
Like the entire recreational aviation industry, the coronavirus crisis caught us unawares, because the demand for paragliders completely collapsed within two weeks. National associations stopped instruction and in some countries even recreational flying in prohibited. Also, travel restrictions are likely to make flying trips impossible for the next few weeks or months. But the short-term change in our own production facility is already having an effect: More than 31.000 masks* and 800 gowns* have been produced and sold within the EU, Switzerland, Norway, Liechtenstein and Iceland.
How come? Since 1990, NOVA has had its own production facility with a Hungarian partner as a joint venture. Thanks to their high degree of flexibility, they made a virtue out of necessity and have been sewing only a few paragliders lately - but masks* and gowns* instead. Even induvidually designed masks* can be printed. "The changeover was made possible within a few days", says managing director Sissi Eisl, "because the masks and gowns are much less complex than sewing paragliders." Currently the capacity of the Pécs plant is around 4000 masks per day, but this can be increased if necessary.
Sissi Eisl says: "In the interests of our employees and all those who will use our masks and gowns*, we are pleased that we were able to react so quickly. However, like presumably all paraglider pilots, I hope that the crisis will soon be overcome and we can go flying together again. And for NOVA it would of course be good news to be able to switch production back to paragliders again soon".
NOVA Mask*
Material // Inside: cotton, outside: Nylon Ripstop with water-repellent coating
Washable // 60°C
Size // One size 
Colours // White (orders over 1000 pieces can be delivered in custom colours)
Delivery time // 3 - 5 working days
Units // 50 (= minimum order quantity)
Individually designed NOVA Mask*
Material // Inside: cotton/polyester mix, outside: polyester (with individual print)
Washable // 60°C
Size // Adjustable size including nose fitting
Colours // Individual color and design
Delivery time // 10 -14 working days
Units // 100 (= minimum order quantity of one design)
NOVA Gown*
Material // Nylon RipStop fabric with one or two sided coating made from polyurethane and/or silicone.
Characteristics // The coating makes the material almost airtight (between 6 and 20 L/m2/min at 2000 Pa / according to ISO 9237:1995) and practically water-tight. Steam sterilisation.
Size // One size (measurement of the model 185 cm / 90 kg)
Weight // 30 - 45 g/m2 (in accordance with ISO 2286 - 2:1998]
Colours // Blue, red or brown. Alternative colour requests can only be considered for orders of 500 pieces.
Style // Different styles (e.g. with hood) are only possible at orders of 1000 pieces. 
Units // 10 (= minimum order quantity)
Delivery time // 3 - 5 working days
*please note: The masks are not FFP masks, so they are not certified medical items. Our gowns are also not certified.
The minimum purchase quantity is one pack. For large orders we are happy to give a bulk discount. Unfortunately smaller order quantities are not possible, because the logistics at NOVA are not set up for this. More information and our order sheet can be found at our Shop. Orders can also be placed by mail to: sales@nova.eu
Please stay healthy, safe and look after each other! Best wishes,
your NOVA team