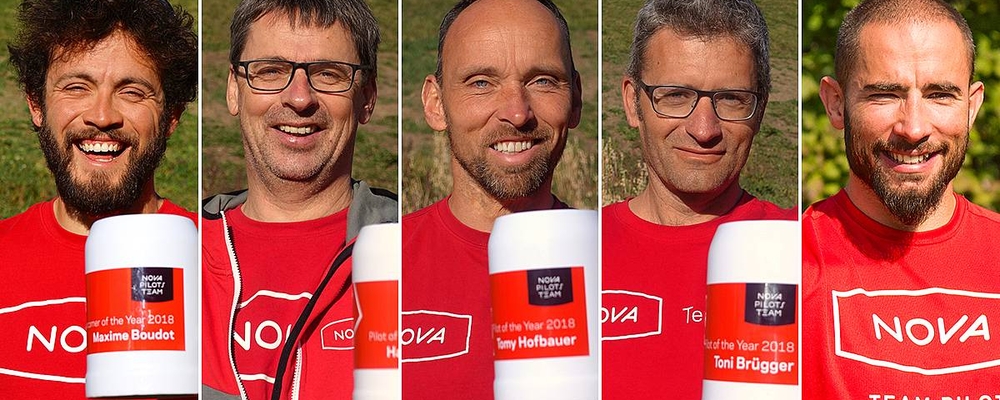 Experience and new blood – NOVA Pilots of the Year 2018
At the end of every season, the NOVA Pilots Team meet for their annual team meeting. A huge party! In 2018 the event took place in St Valentin at the Reschen Pass in Italy.  A major highlight is always the Pilot and Newcomer of the Year awards.  The prizes are given not only for sporting success, but also for commitment and enthusiasm.  As a reward, each prize winner received a voucher worth 400 euros towards their next glider as well as a personalised tankard as a keep-sake.
This year the selection process was particularly difficult, since there were at least a dozen other pilots who equally deserved the awards. We feel that we may have done one or two pilots an injustice, but it is not possible to award the prize to everyone...
Hans Tockner, 49, from the Austrian Styria, is a well-known contender. He has held the top position in the so-called "MENTOR-class" for years and won the global XContest standard classification in 2012 and 2013. After taking it easier of late, he and his club, the Transalpinexpress, wanted to win the team ranking of the 2018 Austrian state championships.  Not only that worked out: Hans also won the title of state champion in the Fun & Safety class. In the global XContest he finished in fourth place.
Swiss pilot Toni Brügger, 48, proved yet again the performance potential of the PHANTOM and became Swiss champion in the Fun & Safety category (up to EN B).  In the standard class of the XContest, he achieved 1845 points, placing him third world-wide. Toni always impresses with the incredible effectiveness of his flying style and the high average speeds he therefore achieves.
Austrian pilot Tomy Hofbauer, 45, stood out for his social media engagement as well as the multitude of great posts and videos on the NOVA Pilots Team blog.  The SECTOR pilot also stood out for his work as the co-organiser of the Bordairrace series.
The two newcomers Christoph Feichtl and Maxime Boudot only recently joined the NOVA Pilots Team.  Maxime Boudot, 32, from France is a passionate endurance athlete on mountain bikes, road bikes, cross-county skiing and of course, hike & fly. He impressed with this rankings in recent hike & fly races, where he and his MENTOR 5 did very well.  He also made thrilling posts on Facebook.
Christoph Feichtl, 28, earned his award not only because of his excellent flying achievements.  In only his second XC season, the trained smith completed two 200 km flights on a SECTOR and made a big impression with great photos of his flights and travels.
We congratulate all the winners and thank them for their excellent achievements and their commitment. Very well done!